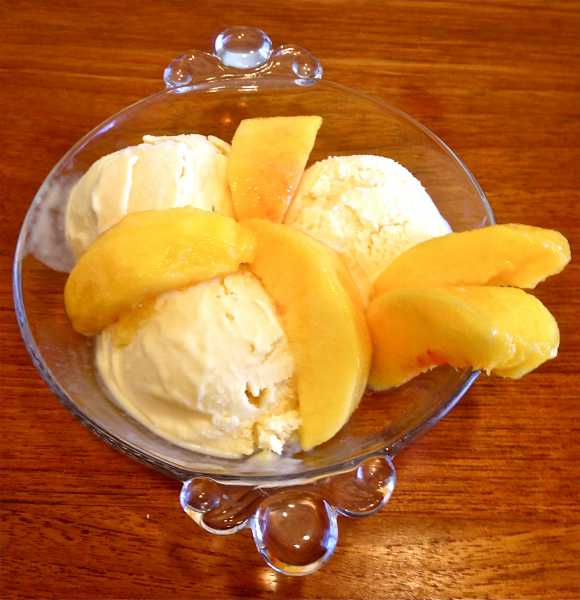 You can use this recipe to make nectarine, apricot or plum or mango ice cream. All of the stone fruits are so delicious freshly cranked. Top with lightly sweetened peaches or berries for a fruit festival!
Print
Peach Ice Cream
1–1/3 pounds ripe peaches (about 4 large peaches)
1/2 cup water
3/4 cup sugar
1/2 cup sour cream, Greek yogurt or crème fraiche
1 cup heavy cream
2 teaspoons Rain's Choice pure Vanilla Extract
A few drops of freshly squeezed lemon juice
Instructions
Peel the peaches, slice in half, and remove pits. Cut peaches into chunks and cook them with the water in a medium, non-reactive saucepan over medium heat, covered stirring once or twice, until soft and cooked through, about 10 minutes.
Remove from the heat, stir in the sugar, then cool to room temperature.
Puree the cooked peaches and any liquid in a blender or food processor with the sour cream (or substitute), heavy cream, vanilla and lemon juice, until almost smooth but slightly chunky.
Chill the mixture thoroughly in the refrigerator, then freeze it in your ice cream maker according to the manufacturer's instructions.
Look Delicious?
Pin it for the world to see!
Latest posts by Patricia Rain
(see all)