Pasta and Zoodles with Bacon and Saffron Cream Sauce
While pasta won't cure all the world's woes, it's reliable comfort food on a rainy, bluesie, day. This recipe's not all about carbs thanks to the zoodles (zucchini noodles for the uninitiated). But what about the bacon, you might ask? It's turkey bacon — lean but full of flavor. If you don't do bacon, no problem. This dish more than holds its own thanks to the saffron cream sauce!
You likely already have most of the ingredients on hand. Well, maybe not saffron. But here's a thought. Turkey bacon is cheaper than pancetta so you can splurge on saffron. Its bright color and unique flavor gives depth to the sauce, it keeps indefinitely in a cool, dark cupboard, and is a must in Persian Rice, delicate Saffron Bread, Paella or Arroz con Pollo. The list goes on. Saffron threads can also be made into a soothing, healing tea. Before you purchase saffron however, I highly recommend that you read, The Important Truth About Saffron.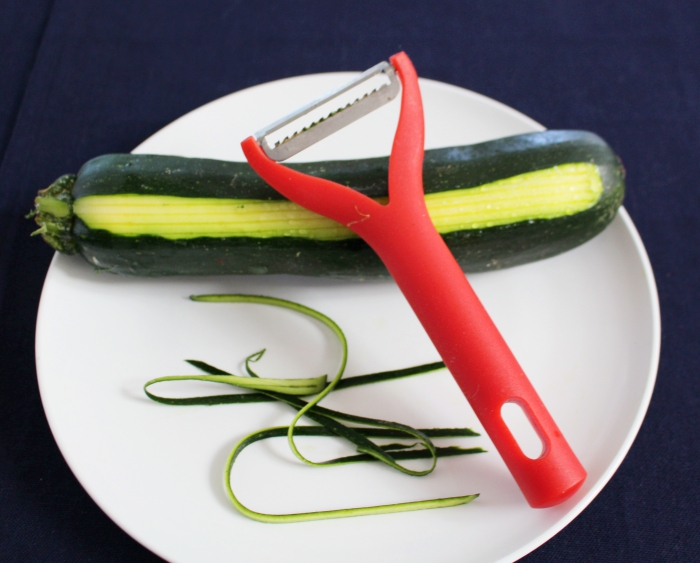 There's no need to purchase a spiralizer to make zoodles; if you have one, terrific, if you don't, purchase an inexpensive peeler like the one in the photo above. I've used this handy tool for five years and love it.
I'm embarrassed to admit this, but when I made this recipe the first time, I ate it all by myself in two days! It's that good. And comforting. And fun!
Print
Pasta and Zoodles with Bacon and Saffron Cream Sauce
Scale
Ingredients
8 ounce

s dried spaghetti noodles (I used brown rice noodles)

4

–

5

slices turkey bacon

1 tablespoon

extra-virgin olive oil

3

medium zucchini (about

1

–

1/2

pounds) *

1 teaspoon

saffron threads, snipped into fine pieces

3/4 cup

heavy cream

1 teaspoon

Rain's Choice pure Vanilla Extract

1/2

–

3/4

cup good quality Parmesan cheese plus more for serving
Instructions
Cook the pasta according to package directions. Drain, but save about 1/2 cup of pasta water. Set aside.
While pasta cooks, cook turkey bacon in a cast iron skillet or heavy bottomed skillet. When crisp set aside to cool.
Add olive oil to skillet and saute zucchini noodles, lifting with a fork or tongs to coat completely. Add cream and increase heat to medium-high. When cream comes to a boil, remove immediately from heat. Add vanilla and then spaghetti and blend with the zucchini using 2 forks. Add the bacon a little at a time and blend Sprinkle all ingredients with Parmesan cheese, and toss the noodles, zoodles and bacon until they are coated with the cheese. Add some of the reserved pasta water until the dish becomes very creamy.
Pour all onto a serving platter (or serve from the skillet) with extra cheese at the table.
Notes
Use a spiralizer if you have one. If not, use a specialty peeler to create zoodles out of the zucchini. If you can't find this tool, use the largest holes of a grater and grate the zucchini. Use all of the zucchini except the center core with seeds to make zoodles.
Patricia Rain
is an author, educator, culinary historian, and owner of The Vanilla Company (www.vanillaqueen.com), a socially conscious, product-driven information and education site dedicated to the promotion of pure, natural vanilla, and the support of vanilla farmers worldwide. She also does culinary presentations for food professionals, cooking schools, trade shows, food fairs, and private groups, and is a regular radio and TV guest.
Latest posts by Patricia Rain (see all)
Tags: Comfort Foods, Pasta and Zoodles with Turkey Bacon and Saffron Cream, Saffron Cream, Spaghetti, turkey bacon, Zucchini Noodles