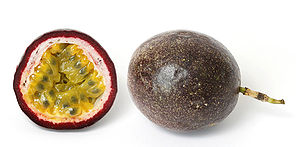 Passion Fruit, Passiflora edulis, known also as "'Maracuya," "Parcha" and "Maracuja," is a delicious fruit that is native to Southern Brazil, Paraguay and Northern Argentina, and is now grown in frost-free regions throughout the world. While it, technically, is sub-tropical, it is intolerant of frost and wind, as well as intense heat, but does very well in a warm, humid climate. It grows on a hardy vine that produces a single fragrant flower at each node on the vine.
The fruit is round to oval and is either yellow or dark purple at maturity. The interior of the fruit is filled with a flavorful pulp with many seeds. In each region where it now grows it has a local name. The yellow passion fruit grown in Hawaii is known as lilikoi and is eaten raw or made into juice, syrup for shave ice, pies, jams and jellies. The yellow fruits can grow to the size of a large grapefruit; the purple variety is smaller than a lemon and has a thicker skin. Both varieites are very popular in beverages for both their flavor and aroma.
Hawaii is famous for lilikoi pie. If you're there, be sure to order a slice.
Latest posts by Patricia Rain
(see all)