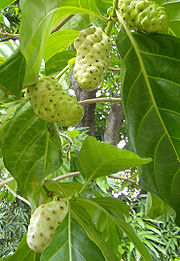 Noni, Morinda citrifolia, also sometimes called "cheese fruit" (or even "vomit fruit") is native to Southeast Asia, but was spread spread throughout Oceania by the Polynesians. It is predominately grown in Tahiti, where it is considered a valuable medicinal plant.
Noni is an evergreen shrub. It grows in sandy regions and shady forests, and reaches maturity in 18 months. It then produces 8 to 18 pounds of fruit monthly. The leaves and especially the fruit are consumed in different forms throughout the world. Its ripe fruit has a strong butyric acid smell and flavor. Noni is considered an "acquired" taste. It is a staple in the diets of many Polynesians, but both the smell and taste can be repulsive to people new to the fruit, hence its derogatory names. The lumpy, oval fruits have a thin, green skin and white flesh, with many small seeds that are edible when roasted. Its root is used as a dye.
Because of its great popularity as a miracle cure in the form of juice, it is being carefully researched. Recent studies have shown that noni has antibiotic and antioxidant properties in vitro, but there is limited scientific evidence supporting the nutritional and medicinal values of noni in humans. However, both the fruit and damnacanthal, an anthraquinone compound extracted from noni roots, are currently being studied in the context of anti-cancer research, and Japanese scientists have been actively studying compounds from noni. If, in the future, the nutritional and medical values of the noni can be assessed, especially its anti-cancer activity, this fruit could play a noticeable economic role in producing countries.
Latest posts by Patricia Rain
(see all)