Mini Gateaux Breton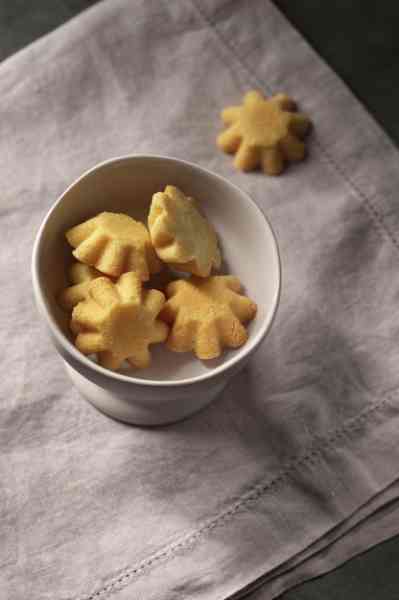 Excerpted from THE BAKING BIBLE, © 2014 by Rose Levy Beranbaum.
Reproduced by permission of Houghton Mifflin Harcourt. All rights reserved.
Mini Gâteaux Breton
Makes Thirty-eight 1⅝ inch cookies
Oven Temperature 325°F/160°C
Baking Time 14 to 16 minutes
Rose says, "This classic French cake from Brittany makes the most buttery cookies I know. They will keep for as long as a week at room temperature, making them perfect for holiday gift giving."
Special Equipment 38 mini brioche pans, 1 inch at the bottom, 1¾ inches at the top (1 tablespoon capacity), uncoated (if you do not have enough brioche pans, bake in batches) | A baking sheet | A long, thin sewing needle for unmolding
Cookie Dough
Makes 13.4 ounces/380 grams
1/4 cup (0.9 ounces, 25 grams) blanched sliced almonds
¼ cup plus 2 tablespoons, divided (2.6 ounces,75 grams) superfine sugar
1/8 teaspoon (0.7 gram) fine sea salt (see Notes, page 390)
9 tablespoons (1 stick plus 1 tablespoon) (or 1¼ sticks) unsalted butter (4.5 ounces or 5 ounces, 128 grams, or 142 grams)
(preferably high fat or high-quality unsalted butter), 65° to 75°F/19° to 23°C
2 large egg yolks, at room temperature (2 tablespoons plus 1 teaspoon, 35 ml, 1.3 ounces, 37 grams)
1/2 tablespoon (7.5 ml) kirsch, dark rum, or water
3/4 teaspoon (3.7 ml) pure vanilla extract
1 cup bleached all-purpose flour, lightly spooned into the cup and leveled off, plus ½ tablespoon (4.4 ounces, 125 grams)
Preheat the Oven Twenty minutes or longer before baking, set an oven rack in the middle of the oven and preheat the oven to 325°F/160°C.
Toast the Almonds Spread the almonds evenly on a baking sheet and bake for about 10 minutes, or until pale gold. Stir once or twice to ensure even toasting and avoid over browning. Cool completely.
In a food processor, process the almonds with 2 tablespoons/0.9 ounce/25 grams of the sugar and the salt until fairly fine but not powder fine. Alternatively, use a nut grater to grate the almonds finely, and then combine with the 2 tablespoons sugar and the salt.
Mix the dough In the bowl of a stand mixer fitted with the flat beater, mix together the remaining sugar and the butter on low speed for about 1 minute, or until smooth and creamy. Scrape down the sides of the bowl.
On low speed, beat in the egg yolks, 1 at a time, beating for about 20 seconds between each addition. Scrape down the sides of the bowl. Add the almond mixture, liquor or water, and vanilla and mix on low speed until the almond mixture is moistened. Beat for about 20 seconds until evenly incorporated.
Add the flour in four parts, turning off the mixer between additions, and beating on the lowest speed for about 15 seconds between each addition. Detach the beater and, with a silicone spatula, finish mixing any flour that may remain, reaching to the bottom of the bowl.
Scrape the dough onto a piece of plastic wrap. Wrap tightly and refrigerate the dough for 30 minutes, or until firm.
Fill the Brioche Pans Scoop out rounded teaspoons of the dough (0.3 ounce/10 grams). Roll each piece of dough between the floured palms of your hands into a 1 inch ball and set it into a brioche pan. (Be sure to flour your hands or the gâteaux will stick to the molds when baked.) Press the dough balls into the pans. They will come almost to the top of each pan. If the dough is sticky, refrigerate the dough until firmer. Use your pinky finger to press the dough into the fluted edges. Set the dough-lined brioche pans at least ½ inch apart on the baking sheet.
Bake the Gâteaux Bake for 14 to 16 minutes, or until deep golden brown. (An instant-read thermometer should read about 205°F/96°C.)
Cool and Unmold the Gâteaux Set the baking sheet on a wire rack to cool for 10 minutes. Use the needle to slip between one of the edges of the pan and the gâteaux to loosen it and invert it onto another wire rack. Cool completely.
Store Airtight: room temperature, 5 days; refrigerated, 10 days; frozen, 3 months.
Notes Golden baker's sugar from India Tree (see page 511) imparts an especially lovely flavor to this cookie.
Vermont salted butter, which is very lightly salted, has just the right amount of salt for this recipe (other salted butters usually contain more salt). If using it, use only ¹⁄₁₆ teaspoon salt. Butter with 80 percent fat contains about 1 tablespoon more water than the 86 percent, which will result in a slightly moister crumb. If this is your preference and you want to use the higher 86 percent butter, you can add the water to the batter when adding the almonds.
Look Delicious?
Pin it for the world to see!
Latest posts by Patricia Rain
(see all)
Tags: Breton (French) Small Cakes, Mini Gateaux Breton, Rose Levy Beranbaum
Patricia Rain
Patricia Rain
is an author, educator, culinary historian, and owner of The Vanilla Company (www.vanillaqueen.com), a socially conscious, product-driven information and education site dedicated to the promotion of pure, natural vanilla, and the support of vanilla farmers worldwide. She also does culinary presentations for food professionals, cooking schools, trade shows, food fairs, and private groups, and is a regular radio and TV guest.