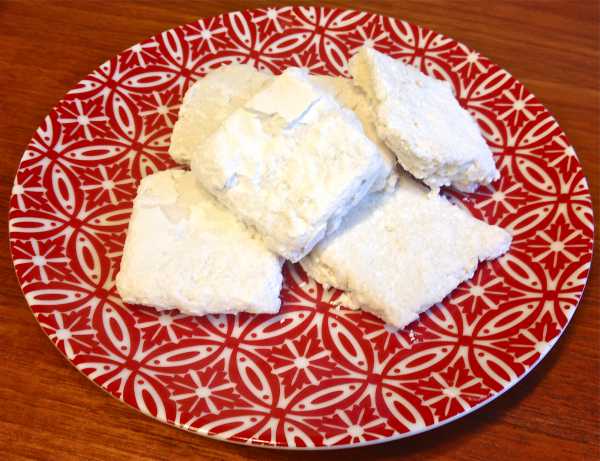 Marshmallows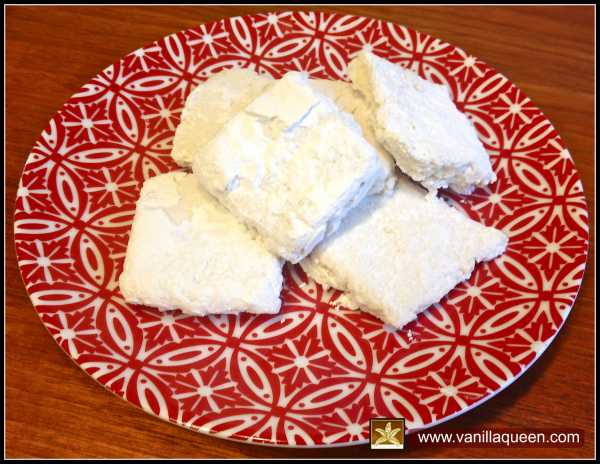 Courtesy of Chef David Lebovitz: www.davidlebovitz.com
Print
Marshmallows
2 envelopes powdered gelatin
1/2 cup + 1/3 cup cold water
1 cup sugar
1/3 cup light corn syrup
4 egg whites
pinch of salt

2 teaspoons Rain's Choice pure Vanilla Extract
Instructions
In a small bowl, sprinkle the gelatin over the 1/2 cup of cold water to dissolve and soften.
In a saucepan fitted with a candy thermometer, mix the sugar and corn syrup with 1/3 cup of water. Place over medium-to-high heat.
In the bowl of an electric mixer, pour in the egg whites and beat on low speed until frothy. Add the pinch of salt.
When the syrup reaches between 210 and 220 degrees, increase the speed of the mixer and beat the whites until they are thick and fluffy (do not overbeat).
When the syrup reaches 245 degrees, while the mixer is whipping, pour the syrup into the whites. Pour so that the syrup does not fall on the whip, otherwise much of the syrup will splatter onto the sides of the bowl, not into the egg whites.
Scrape the gelatin and water into the pan that you used for the syrup and swirl it to dissolve (it should be hot enough from the syrup to dissolve it). Pour the liquified gelatin into the whites as they are whipping. Add the vanilla and continue to whip for 5 minutes.
Dust a baking sheet evenly and completely with cornstarch (I use a sifter for best results). Use a spatula to spread the marshmallows in an even layer on the pan. Allow to dry for at least 4 hours, preferably overnight, uncovered.
Use a sharp knife or scissors to cut the marshmallows into pieces and toss in the powdered sugar and cornstarch mixture. Put the marshmallows in a colander or strainer and shake off the excess cornstarch mixture. (If they are too sticky, spray the knife with cooking spray, or dip it in hot water.)
Makes one baking sheet
Notes
Store in an airtight container for up to 2 weeks.
Look Delicious?
Pin it for the world to see!
Latest posts by Patricia Rain
(see all)
Tags: David Lebovitz, Fresh Marshmallows, homemade confections, marshmallows
Trackback from your site.
Patricia Rain
Patricia Rain
is an author, educator, culinary historian, and owner of The Vanilla Company (www.vanillaqueen.com), a socially conscious, product-driven information and education site dedicated to the promotion of pure, natural vanilla, and the support of vanilla farmers worldwide. She also does culinary presentations for food professionals, cooking schools, trade shows, food fairs, and private groups, and is a regular radio and TV guest.