Maple Vanilla Custard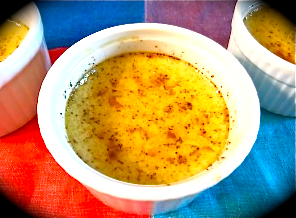 Fresh vanilla bean makes this custard recipe extra special!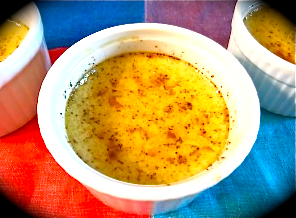 Maple Vanilla Custard
2014-06-26 06:14:24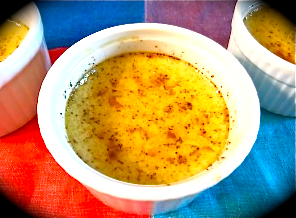 Ingredients
1/2 vanilla bean (Tahitian if possible)
2 cups light cream
1/2 cup maple syrup
2 eggs and 4 egg yolks
Instructions
Place vanilla bean piece and cream in a saucepan and heat over medium heat until cream begins to bubble. Turn off heat and allow to sit for 30 minutes. Bring heat up to warm. Stir the syrup into the egg yolks. Mix in a little of the warm cream, then mix in the rest of the cream, stirring constantly. Strain into a pitcher and pour into custard cups or pots de creme. Bake in a hot water bath in a preheated 325-degree oven, lightly covered with foil — just lay a sheet of foil on top. Bake for about 40 minutes or until custards are set in a ring about 1/2-inch wide around the outside edge. They should still be soft in the center.
Serve warm or chilled.
Makes 6 half-cup custards
https://vanillaqueen.com/
Look Delicious?
Pin it for the world to see!
Patricia Rain
is an author, educator, culinary historian, and owner of The Vanilla Company (www.vanillaqueen.com), a socially conscious, product-driven information and education site dedicated to the promotion of pure, natural vanilla, and the support of vanilla farmers worldwide. She also does culinary presentations for food professionals, cooking schools, trade shows, food fairs, and private groups, and is a regular radio and TV guest.
Latest posts by Patricia Rain (see all)
Tags: custard, maple, maple vanilla custard
Trackback from your site.