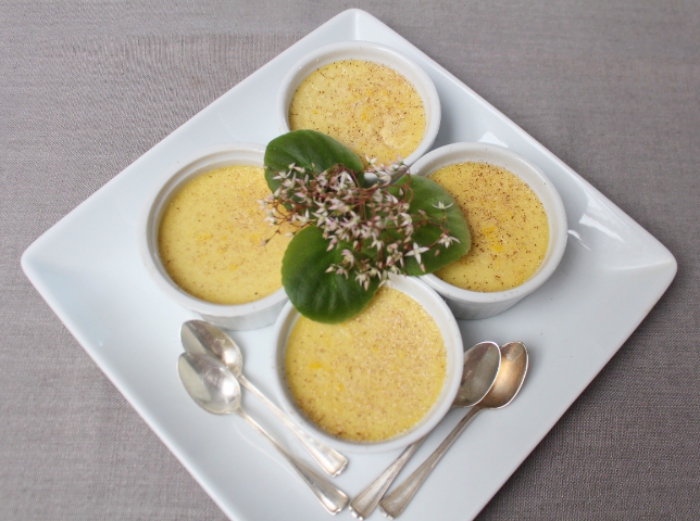 Custards are a special comfort food that kind of fell off our collective radar in the last 30 -40 years, but they really deserve a place at the table. Eaten warm on cold, rainy or snow-slushy days, or room temperature, even chilled with fresh fruits in warm, sunny weather, they offer us a sense of well-being. What I love about Maple Vanilla Custard is the symbiosis of these two flavors as they play off each other. Maple syrup brings a delicate, almost woodsy sweetness that is complemented by the more complex flavor profile of pure vanilla. The magic happens when the flavors explode on the palate and tongue. Worries fall away, the awfulness of a sore throat eases, and for a few minutes all's well with the world.
Okay, maybe that's a bit over-dramatic, but I hope it will encourage you to enjoy the pleasures of custards and bring them to the table more often. It's almost like getting to step back in time to a calm moment where we felt fully nurtured. Treat yourself; you'll see what I mean.
Print
Maple Vanilla Custard
1/2 Vanilla Bean (Tahitian if possible)
2 cups light cream
1/2 cup maple syrup
2 eggs and 4 egg yolks
Instructions
Place vanilla bean piece and cream in a saucepan and heat over medium heat until cream begins to bubble. Turn off heat and allow to sit for 30 minutes. Bring heat up to warm. Stir the syrup into the egg yolks. Mix in a little of the warm cream, then mix in the rest of the cream, stirring constantly. Strain into a pitcher and pour into custard cups or pots de creme. Bake in a hot water bath in a preheated 325-degree oven, lightly covered with foil — just lay a sheet of foil on top. Bake for about 40 minutes or until custards are set in a ring about 1/2-inch wide around the outside edge. They should still be soft in the center.
Serve warm or chilled.
Makes 6 half-cup custards
Look Delicious?
Pin it for the world to see!
Latest posts by Patricia Rain
(see all)