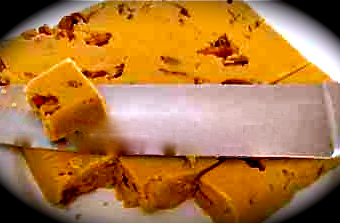 If you've read my blog on a regular basis, you know how crazy I am for pure maple anything. Not a conflict of interest here as vanilla and maple complement each other perfectly. After all, they're both flavors of the Americas! So when I first met my friend Andrew Jue and learned that he is an exceptional fudge maker, I asked if he had a good recipe for maple fudge.
The first recipes he had called for maple extract, which isn't the same thing at all, of course. So he dug around and finally came up with a winning recipe, which knocked my socks off. But, this wasn't enough. I wanted to learn how to make fudge, as my efforts always went south on me at some stage in the process. Granted, I didn't understand how very important it is to be focused and follow the recipe precisely, especially the first times you make it. Then you can experiment to see if you can substitute ingredients or if the set time can be altered.
Finally, Andrew and I were able to coordinate our schedules, and I made my first successful batch of fudge under his watchful eye. And, I'm happy to say that you can make fudge successfully as well — the real true old-fashioned fudge — as opposed to the marshmallow creme variety that became quite popular mid-century when lots of people wanted to cut corners.
There are some things that really matter when making fudge.
A three-quart, straight-sided pot with a heavy base or triple-core bottom to it. If your pot looks like it will work but you aren't certain, invest in an inexpensive heat diffuser to put under it on the burner. Why? The mixture can easily scorch.
A good candy thermometer that you can easily read even if it gets steamed up. Andrew felt that mine was not easy enough to read as one or two degrees can make a big difference in how the fudge turns out. I got one at Bed, Bath and Beyond for $9.99. It's heavy-duty and the same as the one Andrew uses. However, if you can find a really good digital thermometer (we want to), it would be well worth the investment.
Make sure you don't have a draft over the stove (from a fan or anything else that can cause sugar crystals to form).
If you don't have a heavy-handled wooden spoon, invest it one. You need a spoon that will stand up to heavy beating and stirring. A good strong handle!
You will also need: an 8-inch square baking pan, a good whisk, a sturdy rubber scraper, a pastry brush for removing sugar crystals from the side of the pan (not necessary for all fudge recipes, but a good tool to have around) and aluminum foil. Once you have the above in place as well as the following ingredients, you're ready to start!
Print
Maple-Vanilla Fudge with Pecans
1–1/2 cups pure maple syrup
1–3/4 cups sugar
2/3 cup heavy cream or 1 can 5-ounce evaporated milk
1/4 teaspoon salt
4 tablespoons unsalted butter, cut in small cubes
1 teaspoon Rain's Choice pure Vanilla Extract
1 cup chopped pecans (or walnuts), lightly toasted
Instructions
Line an 8-inch square baking pan with non-stick aluminum foil, extending the foil several inches over the sides and then line the pan in the same way over the other two sides, creating a sling. Press the foil into the edges of the pan so that it fits snugly. This "sling" will help to release the fudge easily from the pan.
Combine maple syrup, sugar, heavy cream and salt in a 3-quart saucepan. Add the candy thermometer and attach it to the side of the pan.
Bring the mixture to a rolling boil over medium-high heat while stirring gently with a whisk. Be very careful not to allow sugar crystals to form on the sides of the pan. Once the mixture comes to a boil, stop stirring and let the mixture boil, unstirred, for 7 to 8 minutes or until the thermometer registers 240 degrees. It will bubble up but will not go over the top of the pan.
Immediately remove the pan from the heat and add the butter but don't stir it in. Now let the mixture rest until the temperature has dropped to 110 degrees F. This will take some time. Either do something else in the kitchen or set the timer for 10 minute intervals so that you're keeping a close eye on the temperature. Make sure there is no draft. When the fudge has cooled, add the vanilla and begin to beat the mixture with a heavy wooden spoon. This requires some focused muscle and energy. Pay close attention to the color and texture as you beat. The fudge will go from glossy to creamy and opaque and be more difficult to stir. As soon as the changes start, add the nuts then continue mixing until it is nearly fully opaque.
Immediately pour the fudge into the pan. If it has gotten too thick to pour easily, use a rubber scraper. Gently dab the fudge in the pan with the wooden spoon so that it spreads evenly. Don't try to even it out as you'll end up with a mess.
Let the fudge rest for two to three hours, or until it is very firm. Don't refrigerate until it is firm. Remove the fudge from the pan, using the sling, and wrap it in the foil or with plastic wrap. Chill and then cut it into squares. You can also store it in the refrigerator as a block, and cut pieces off or you can also store it in an air-tight container.
This recipe makes approximately 36 pieces.
Notes
My favorite way to eat it? With a cup of tea!
Latest posts by Patricia Rain
(see all)