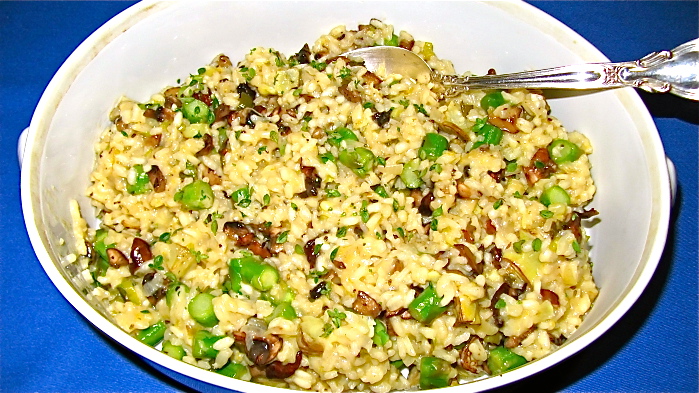 Risotto, when it's good, is right up there on my comfort food list. I never had risotto, polenta or gnocchi until I was an adult as pasta was the signature Italian dish where I was growing up. For all I knew, pizza, spaghetti, meatballs, and lasagne were what Italians ate every night.
Fortunately, that all changed and I could hardly wait when I finally made it to Italy, to have authentic gnocchi, risotto and polenta. I had gnocchi with truffle sauce the first night and it was swoon worthy. When we arrived in Venice, I found risotto on the menu of a little restaurant by a canal. I'm sorry to say, I was greatly disappointed. It was barely mediocre, but worse, the rice was really al dente. As in barely cooked. A certain amount of chew, sure, but rice that could crack a tooth? I kept hoping for another chance to set things right, but it never happened. However, with all the fresh cheeses, wine, produce and fabulous cookies and pastries, it didn't really matter.
If you've never made risotto from scratch, it does require some time and focus. If you're thinking about including it in a special meal for guests, do a practice run first. But if you're not pressed for time, I find the entire process a lovely meditation on being present and observing the aromas and creaminess to develop, then finally, sitting down to enjoy the delicious blend of the rice and vegetables.
A comment about the ingredients. I had access to fresh "baby" artichokes, which I peeled, but and put into lemon water ahead of time. As it's increasingly difficult to find the small artichokes, you have options. You can substitute frozen baby artichokes and cut them in half if you wish or you can substitute fresh fava beans or peas or even fresh corn kernels. Choose what's fresh in the market that appeals to you. I made this risotto with homemade chicken broth but if you prefer, use vegetable broth. You could also add shellfish like shrimp, crab or clams. Or make the risotto ahead of time and serve it with freshly grilled meat. Make this your signature comfort food. And if you like really al dente rice, be my guest!
Print
Luscious Spring Risotto
6 medium cremini mushrooms (2 cups chopped)
1 package frozen artichoke hearts, thawed, cut in half if large.
8 – 10 asparagus spears, trimmed and chopped into 3/4-inch pieces
3 tablespoons olive oil, divided use
1 cup onion, cipollini or Maui if available, diced
2 cloves garlic, minced
1–1/4 cups arborio rice
1/2 cup white wine
1–1/2 tablespoons lemon juice
1 tablespoon lemon zest
4–5 cups broth (vegetable or chicken) (you may not use all of it, but have it ready in case)
1/2 Vanilla Bean or 1 teaspoon Rain's Choice pure Vanilla Extract
Sea salt and black pepper, to taste
1/4 to 1/2 cup shredded Parmesan or Romano cheese
1 tablespoon fresh thyme leaves
Chopped parsley or chives for garnish (optional)
Instructions
Place artichokes in a medium-size bowl, sprinkle with lemon juice, and set aside. Bring a medium saucepan of water to a boil. Add the asparagus spears and blanch roughly two minutes, or until they're tender but still have a bit of crunch. Remove them from the pan and run under cold water to stop them from cooking further. Place asparagus in a bowl and add to the bowl with the artichoke hearts. (Save the cooking liquid to add to risotto.)
Heat 1-1/2 tablespoons of the olive oil in a large pot or Dutch oven. Add mushrooms and cook on medium heat until they brown lightly and soften. Add the mushrooms to the bowl with asparagus and artichokes.
Add the remaining 1-1/2 tablespoons of oil. When heated, add the onions and cook for 4 minutes, or until they begin to soften. Add the garlic and cook another 3 minutes.
Add the rice, stirring constantly, for about 2 minutes. Lower the heat to medium-low. Scrape the seeds from the vanilla bean (if using) into the white wine, lemon juice, and lemon zest, and cook, stirring gently but consistently, until the wine is absorbed. (Save the bean itself for your sugar jar.)
Add a cup of broth to the pan and cook, stirring as needed, until the liquid is absorbed. Continue adding broth in 1/2-cup amounts, stirring until the broth is absorbed. (You may not need all five cups of broth to make the rice creamy and soft.) When the rice is tender but still has a slight chew, stir in the vanilla extract (if using) and thyme, along with salt and pepper to taste. Stir the artichoke hearts, asparagus and mushrooms into the rice and heat through. Add the Parmesan and blend thoroughly into the rice.
Spoon Risotto into a serving bowl. Garnish with chopped parsley or chopped chives if desired, and serve additional cheese in a bowl.
Latest posts by Patricia Rain
(see all)