Longon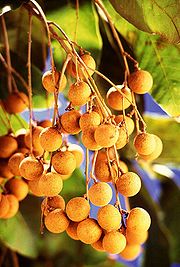 Longan, Dimocarpus longana, fruits are similar to lychees but come from a different family of plants, Sapindaceae. They are known in Chinese as "dragon eyes" and in Indonesian as "cat's eyes," as they are a perfectly round fruit. When their light brown shell (husk) is removed, they reveal translucent skin and a dark seed that shows through, appearing like the dark pupil/iris, which is what gives them their name.
Longan originated in Southern China. They grow in bunches on the trees and are harvested at the same time of year as the lychee. They are sweet and refreshing and are used in desserts, juices, sweet soups, and sweet and sour dishes. I had them first in China and later, in Hawaii, where I learned their Western name. If you have the opportunity to have longons, I recommend them as they're quite good.
Patricia Rain
is an author, educator, culinary historian, and owner of The Vanilla Company (www.vanillaqueen.com), a socially conscious, product-driven information and education site dedicated to the promotion of pure, natural vanilla, and the support of vanilla farmers worldwide. She also does culinary presentations for food professionals, cooking schools, trade shows, food fairs, and private groups, and is a regular radio and TV guest.
Latest posts by Patricia Rain (see all)
Trackback from your site.