Receiving the Award for Enterprise in Sustainable Development, Sent by Queen Elizabeth II, Delivered by the Lord Lieutenant
Serendipity. I love this upbeat, joyful word that heralds its meaning: "the occurrence and development of events in a happy or beneficial way." It perfectly describes my friendship with Janet Sawyer. We met by chance when Janet threw a fundraiser featuring vanilla for her hamlet in Farringdon, Devon, in Southern England, and a close friend of hers ordered a case of my vanilla cookbooks for attendees. At the time, Janet had no thoughts of opening a vanilla company. But that's what ultimately happened. Less than a decade later, Janet experienced the ultimate in serendipity: Her business, LittlePod, was honored by Queen Elizabeth II with the Award for Enterprise in Sustainable Development, the highest honor bestowed on a business in the UK! Up to 200 companies are honored each year, but nearly all are well known, large, established businesses. Janet's business acumen and creative marketing put her company, LittlePod, on the Queen's radar a couple of years ago, but she never imagined that they would receive such a prestigious award.
For eight years Janet and I have considered ourselves "sister companies." We were regularly in touch since the fundraiser and finally met in person in
late May of 2011, when LittlePod's first anniversary celebration was held at the Chelsea Physic Garden, the oldest botanical garden in London. It happened to coincide with my being in London for a couple of days (more serendipity). Four of the videos on my site were filmed there that day.
In 2013 I celebrated the first Real Vanilla Day with Janet and company at Bickleigh Castle, in the South Devon countryside. I began the event with a presentation on vanilla worldwide. This was followed by wonderful demos by name chefs, a children's baking party, sumptuous meals (yes, the English can cook and bake well!) and additional presentations, including the launch of Janet's cookbook, Vanilla. What makes all this uniquely special is that until Janet opened LittlePod, there was only one English company that sold vanilla extract to bakers and supermarkets. However, unlike the United States, Europe has primarily used vanilla beans. Instead of extract, imitation vanilla flavor and imitation vanilla powders were the only other options for bakers. Janet, who sells high quality vanilla extract, beans, vanilla powder and paste, has been a change agent by both educating the public about real vanilla and expanding the use of pure vanilla in the UK, one event at a time.
Even before launching LittlePod, Janet's vision has been to provide young adults in Devon with meaningful employment after completing secondary school or university. Like so many agricultural areas worldwide, young people have typically left Devon and headed to big cities. Janet, who taught school for many years, has provided employment and training for a significant number of young people since launching her business in 2010. Some have chosen to work in Devon and some have left for the city, but all have remained in touch with Little Pod and several have returned to attend the company's special events. She also worked with Made Setiawan, an Indonesian vanilla farmer with a PhD and lives in Oxford, who has worked tirelessly with smallholder Indonesian growers to stop them from burning peat bogs and planting palm oil. Instead, he has encouraged them to grow needed sustainable products like cacao and vanilla.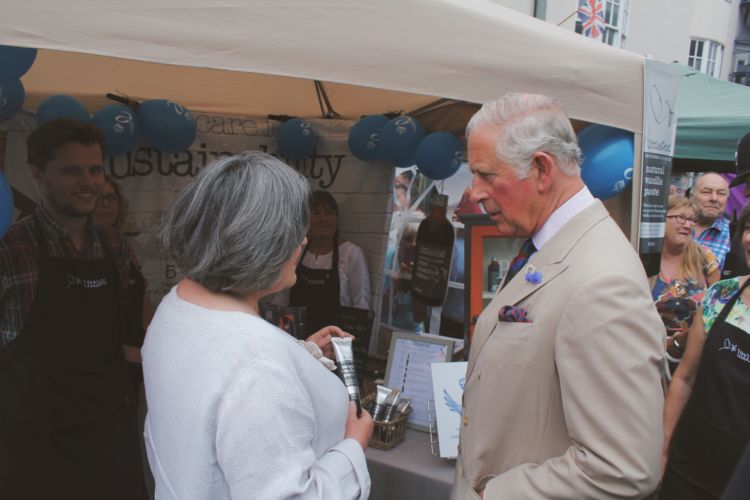 The sum total of all the many things Janet has done in support of her community locally and globally, has been recognized in a big way! By receiving the Award for Enterprise, LittlePod is able to post the Enterprise labeling on their products and site for 5 years. As the Commonwealth is notified of the winning companies, Janet is suddenly in great demand as a speaker and consultant as Great Britain determines the path ahead after they exit the European Union. Their company was visited by Prince Charles (who, by the way, adores vanilla), and has received recognition from individuals and companies throughout the UK. She has also attended two events at Buckingham Palace by invitation from Queen Elizabeth!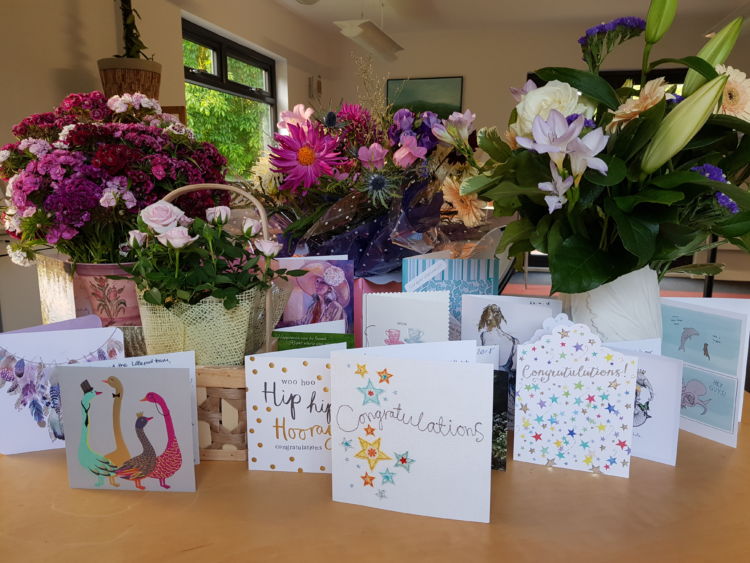 As if this weren't enough excitement for one year, Janet, who is a truly unstoppable woman, along with her equally dedicated husband, have been very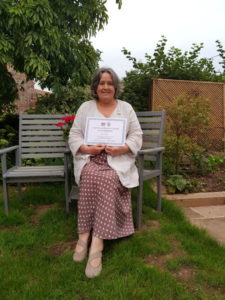 active in the arts. For years they have hosted Shakespeare plays and other theatrical events in their beautiful garden, which is bordered at one end by an 18th century church. This year their community nominated Janet for the East Devon District of Arts Council Champion Award. She and Dave were invited to attend the EDDC summer garden party, without their having any knowledge of Janet's having been nominated for the award. It was a huge surprise when the citation was announced by the Town Crier for Janet for her outstanding commitment to her local community.
Needless to say, I'm so proud of Janet's accomplishments and also have absolutely loved how the British celebrate in grand style whereas here in the States, we don't have Lord Lieutenants and Town Criers knocking on the door nor do we have an Enterprise Flag flying in front of our businesses to let the world know of our success.
Hooray, for pomp and circumstance and a lovely way to honor the hard work of our unsung heroes and heroines! And hooray for Janet Sawyer and her team for their hard work and perseverance, but in their business and in honor of the arts!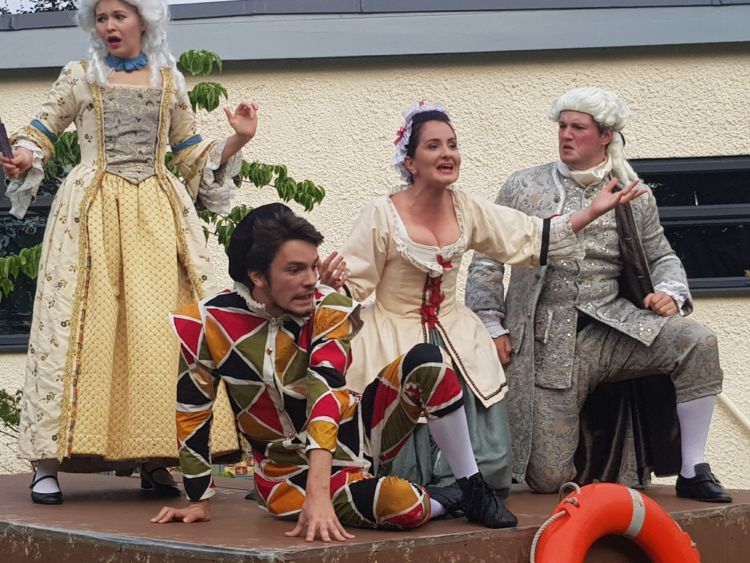 The 2018 Production of The Isles of Slaves by Marivaux
Latest posts by Patricia Rain
(see all)