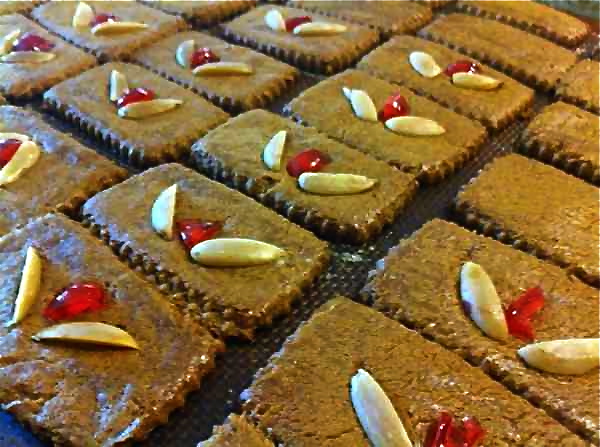 Courtesy of Chef Stephen Block: www.kitchenproject.com
Stephen wears several hats. He is a chef, cooking school instrutor and also has at least two culinary websites. The Kitchen Project is a good place to start to learn more about Stephen's work. The following is his commentary about the German holiday cookie, lebkuchen or "love cookies." One of his sites is devoted strictly to German cuisine and culture.
Stephen says: This recipe is truly baked in the old-fashioned German way. The dough, which had to sit for 3 weeks in a cool basement, was made early in December so the cookies would be ready by the Christmas holidays. They are still great if you don't have the full 3 weeks. But the flavors really have time to marry this way and they have such a wonderful flavor.
Again I have added to my grandmother's recipe the wonder of pure vanilla.
These have molasses in them, however some recipes use honey, both of which work well.
Print
Lebkuchen
3 lb. flour (about 6 cups)
1 lb. molasses (about 3 cups)
1 cup brown sugar
5 oz lard or shortening
2 oz candied orange peel
1 cup rose water (or 1 cup water)
1 Vanilla Bean, split lengthwise
1/2 oz cloves
1/2 oz cinnamon
1 grated lemon rind
1 cup almonds, blanched and split in halves
Vanilla Candied Fruit and Raisins. (From 3/4 to 1-1/2 c)
Instructions
Heat the molasses, sugar and shortening to melt and dissolve the sugar.
Let cool, then stir in everything else, with the flour being last.
Let the dough stand covered, at room temperature for 3 weeks. If you don't have that much time, it's okay.
Roll out fairly thin, cut into rectangles 1-1/2 inches by 3 inches (4 x 8 cm) with a fluted cutting wheel or a knife.
Bake in a 325 degree oven for 10 minutes, then let cool. Check the texture. If you desire a crispier texture, bake an additional 5 min.
In the center of each cookie put either an almond half, or a candied cherry.
This recipe makes lots of cookies, but they keep well if kept in a tightly covered cookie tin, a plastic storage bag, or in the freezer. These cookies get better with age.
Look Delicious?
Pin it for the world to see!
Latest posts by Patricia Rain
(see all)