The first autumn showers arrived today after two days of beautiful, billowy cumulous clouds hanging on the edges of the Santa Cruz mountains and mildly humid weather suggesting that maybe a few sprinkles would come our way.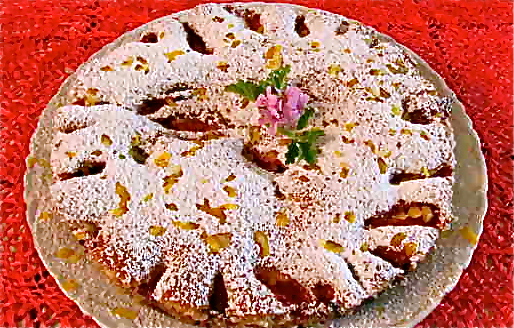 Unfortunately, it has been just that — sprinkles. Not enough to make the air smell of fresh rain on the pavement, not even enough to register in my rain gauge. The sky grew ominous — then the clouds moved on. I will need to water tomorrow.
Teasers like the rain forecast are the proverbial "death knell" for summer fruit. For the rest of the month we'll be pushing pumpkins and apples at the store (with a few grapes and pomegranates for good measure) and the days will grow progressively darker. Which is why I'm sneaking in one more bit of late summer goodness before I fully give in to autumn.
We've had some plums in the market that had a few bumps or bruises and were passed along to store employees. I gathered 10 of them up with the intention of trying a lovely sounding plum cake that Maria Springer posted in her blog. It reminded me of a cake I used to make using what are often called Italian or French plums — the small, bluish-purple plums dried for prunes. Not particularly tasty on their own, they "wake up" when made into dessert, whether poached or baked and, of course, are delicious when dried.
The plums I rescued were round, a deep red bordering on burgandy. They were bland and flavorless, hardly worth saving. But a secret I've known for years is that stone
fruits can magically be revived through cooking, poaching, baking and canning. I don't know the science behind why this happens, only that it does, so I forged ahead and made the cake. It was a very good decision!
I nearly always make small (sometimes major) changes to recipes to tweak them to my taste. I did this with this cake recipe by making it gluten-free and adding more vanilla. And then I did something totally ridiculous: I jammed in far more plum pieces than the recipe called for.
Why? Because I really like fruit and I had more plums than were needed but not enough to do something more with the leftovers. I knew at the time that I was pushing the boundaries, but I couldn't stop and shoved them into the pan.
Fortunately I was wise enough to put the tart pan on a rimmed-baking sheet as I was pretty sure it would overflow. And boy, did it! I'm only sorry I didn't take a picture for you to see the "blob from outer space" that I pulled from the oven. I was already on overwhelm and didn't want to add to my stress level by getting out the camera, so use your imagination.
This "mistake" actually provided me with the perfect opportunity to talk about making and "fixing" mistakes. Ironically, this morning on Food 52, Melissa Clarke also wrote about fixing mistakes.
I'm always running short on time or being a little too creative, and I pay for it with less than "perfect" appearing desserts, entrees and everything in between. There is so much food porn everywhere with picture-perfect souffles, mega-cakes, bronzed poultry and gala events decorated to the max, that it's easy to feel like a complete failure when a cake goes flat or wonky, the rice burns or we haven't finished cleaning when the guests arrive. I say, welcome to the real world!
And so does Melissa Clarke. Given that she writes for the New York Times, it's refreshing to have someone like her agree that things happen! In fact, her suggestion is when something fails, change it into something else and/or rename it! Why not?
In the case of the Plum Cake, I cut off the long blobs of baked dough hanging onto the sides of the tart pan as well as those that had spread onto the baking sheet and put them on a plate. My assistant joyfully ate them. The leftover crumbs fed a flock of gold-crowned sparrows visiting my back yard.
This morning I warmed the cake enough to make it flexible. I took a thin, sharp knife and carefully cut around the inside edge of the tart pan so that nothing was glued to the sides. Then I carefully lifted the pan bottom up and transferred the cake to a serving platter.
Instead of having perfectly browned and fluted edges, they had raw edges . However, by the time I dusted the cake with powdered sugar and added some scented geraniums, who cared? Served with a spoonful of whipped cream, I can assure you that no one would notice unless you point it out. So don't!
Using Melissa's rationale, let's say that the cake was so badly stuck to the pan that it broke into chunks when I attempted to remove it and there was no way to repair it. Turn it into bread pudding or break it up further and make plum cake parfaits. Why not? Nearly everything is better with whipped cream and almost everyone is just happy to have a homemade dessert.
However, I'm happy to say that this European Plum Cake is delicious and I highly recommend that you search the produce department or farmers market for the last of the stone fruits and make it quickly before it's too late! We enjoyed it with hot tea as we watched the clouds scuttle across the sky, happy to savor that last little bit of summer as we watched it morph into autumn.
Did you like this post?
"Like" it, and share your thoughts in the comments below!
Latest posts by Patricia Rain
(see all)