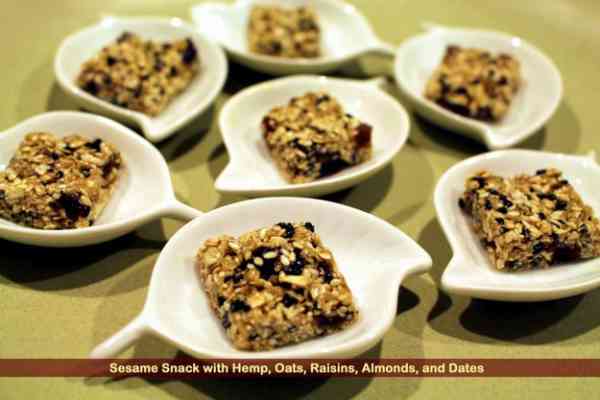 Oat Squares
Courtesy of June Pagan
Chef June Pagan was legendary in Hollywood circles as she provided the stars with daily meals, glamorous party fare and even delicious emergency diet delights when called upon by the likes of Liz Taylor, Al Pacino, Sally field and Diane Keaton, among many others.
June later redirected her culinary focus on highly nutritional foods that are good for the health of our bodies and the health of the planet. June took her knowledge and skills to inner-city teens, getting them excited about more than junk food and sodas and providing them with the tools and resources to excel in their daily life and education.
This blog is dedicated to June Pagan and her work. To learn about her new book, Purple Pizza and Other Healthy Flavors to Savor and her work, you can visit her at June Pagan.com.
June says: Sesame seeds are not only a plant-based source of calcium, they contain over 50% oil which is rich in essential fatty acids. I like them for their nutty taste, and find that they can easily be incorporated into your diet without much thought.
Since raw sesame seeds have a higher polyphenol profile I prefer them over roasted sesame seeds. You can pan-roast them yourself, just prior to use in a "low and slow" style that will protect the integrity of the oil. This intensifies their flavor.
Black sesame seeds have a higher iron profile than the white; the white seeds have a higher calcium content. I particularly like the flavor of black sesame seeds and use them for a dramatic garnish whenever possible. My favorite way to use them is to generously top a banana or zucchini bread loaf prior to baking.
In the Ayurvedic and Chinese healing traditions, sesame seeds are believed to have powerful anti-aging properties. You will find these fresh-tasting homemade bars simple to prepare and affordable and, tastier than anything you can find in the market. By making your own bars, you will be sure of maximum nutritional value and, at the same time, will not have to worry about the oil in the seed going rancid. Sesame seeds keep well for up to three months when refrigerated. Here's a simple recipe that's high in nutrition and flavor and takes advantage of all the deliciousness of sesame seeds.
Print
June Pagan's Oat Squares
½ cup gluten-free oats
¼ cup white sesame seeds
2 tablespoons cashews or almonds, chopped
¼ cup raisins, chopped
4 medjool dates, pitted and chopped
¼ cup raw honey
½ teaspoon Rain's Choice pure Vanilla Extract
2–3 tablespoons black sesame seeds, for garnish, optional
2 tablespoons raw hemp seeds (for added protein and Omega 3 fatty acids), optional
Instructions
Toast oats in a pan on top of stove over medium flame until lightly browned; set oats aside to cool.
Toast nuts in a pan on top of stove over medium heat until lightly browned; set nuts aside to cool.
Toast sesame seeds in the above manner and set aside to cool.
Add honey and vanilla to the empty pan, heating on low until blended and thinned out.
Add mixture of nuts, oats and white sesame seeds, stirring until the ingredients are completely coated.
When mixture has thickened, transfer to an oiled 8″x 8″ baking pan and press into an even layer.
Sprinkle raw hemp seeds and black sesame seeds and press into the mixture, evenly.
Refrigerate for 30 minutes; finish by cutting into bars or squares. Serve or keep refrigerated until use.
Did you like this post?
"Like" it, and share your thoughts in the comments below!
Latest posts by Patricia Rain
(see all)