Hummingbird Cake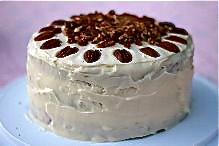 Courtesy of Lois Laidlaw
Hummingbird Cake
2014-11-15 10:02:31
Ingredients
3 cups unbleached flour
2 cups sugar
1-1/2 teaspoon each baking soda and ground cinnamon
1/2 teaspoon salt
3 large eggs
3/4 cup vegetable oil
2 teaspoons Rain's Choice pure vanilla extract
1 can (8 ounces) crushed pineapple in juice
2 cups mashed bananas (3 - 4 large)
1 cup pecan pieces, chopped
Cream Cheese Frosting
2 8 ounce packages Neufchatel or regular cream cheese
1/2 cup (1 stick) unsalted butter
2 teaspoons Rain's Choice pure vanilla extract
3 cups confectioners sugar
2 cups sweetened flaked coconut
Instructions
Adjust racks to divide oven in thirds Heat oven to 350 degrees F. You will need three 8 x 2-inch cake pans coated with cooking spray. Line bottoms with parchment paper; spray paper.
Note: You can also use a half-sheet pan (cookie pan with sides) if you prefer a sheet cake to a layer cake. Prep the same way as you would the cake pans.
Whisk flour, sugar, baking soda, cinnamon and salt together in a large bowl until well mixed.
In another large bowl, whisk eggs, oil, vanilla, crushed pineapple with juice, mashed banana and pecans until combined. Pour batter into pans, spreading evenly.
Bake 30 minutes until wooden pick inserted in center comes out clean. Cool in pans on wire rack 10 minutes.
When cake is cooked you can frost. Layers may also be wrapped and refrigerated or frozen up to a week before serving. Frosting can be prepared and refrigerated for up to a week ahead. Unwrap and let both come to room temperature before assembling and frosting. Sprinkle coconut over frosted cake.
Notes
Serves up to 16.
https://vanillaqueen.com/
Look Delicious?
Pin it for the world to see!
Patricia Rain
is an author, educator, culinary historian, and owner of The Vanilla Company (www.vanillaqueen.com), a socially conscious, product-driven information and education site dedicated to the promotion of pure, natural vanilla, and the support of vanilla farmers worldwide. She also does culinary presentations for food professionals, cooking schools, trade shows, food fairs, and private groups, and is a regular radio and TV guest.
Latest posts by Patricia Rain (see all)
Tags: banana, coconut, hummingbird cake, Lois Laidlaw, pineapple
Trackback from your site.