Hummingbird Cake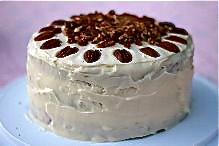 Courtesy of Lois Laidlaw
Print
Hummingbird Cake
3 cups unbleached flour
2 cups sugar
1–1/2 teaspoon each baking soda and ground cinnamon
1/2 teaspoon salt
3 large eggs
3/4 cup vegetable oil
2 teaspoons Rain's Choice pure Vanilla Extract
1 can (8 ounces) crushed pineapple in juice
2 cups mashed bananas (3 – 4 large)
1 cup pecan pieces, chopped
Cream Cheese Frosting
2 8 ounce packages Neufchatel or regular cream cheese
1/2 cup (1 stick) unsalted butter
2 teaspoons Rain's Choice pure Vanilla Extract
3 cups confectioners sugar
2 cups sweetened flaked coconut
Instructions
Combine first 4 ingredients in a medium saucepan; bring to a boil. Add flour, all at once, stirring vigorously over medium-high heat until mixture leaves sides of pan and forms a smooth ball. Remove from heat.
Stir in vanilla extract. Add eggs, one at a time, beating with a wooden spoon after each addition until smooth.
Pour oil 2 inches deep in a large Dutch oven or heavy large saucepan. Heat to 370 degrees. Spoon batter into a large decorating bag fitted with a large star tip. Pipe batter in 6-inch strips into hot oil, a few at a time. Fry 3 minutes or until golden, turning once. Lift out with a wire spatula, and drain on paper towels.
Put Rain's Choice Cinnamon Spice Sugar in a shallow dish. Roll churros in mixture. Repeat with remaining batter. Serve immediately. Makes 6 to 8 servings unless you have teenagers. In that case, make a double batch and hope that they last long enough to have some yourself.
Look Delicious?
Pin it for the world to see!
Latest posts by Patricia Rain
(see all)
Tags: banana, coconut, hummingbird cake, Lois Laidlaw, pineapple
Trackback from your site.
Patricia Rain
Patricia Rain
is an author, educator, culinary historian, and owner of The Vanilla Company (www.vanillaqueen.com), a socially conscious, product-driven information and education site dedicated to the promotion of pure, natural vanilla, and the support of vanilla farmers worldwide. She also does culinary presentations for food professionals, cooking schools, trade shows, food fairs, and private groups, and is a regular radio and TV guest.