Let's face it:  If you're a foodie and you go to Italy and Greece  for three weeks, you're going to gain weight.  It's a given.  In fact, the only thing that saved me from returning as a full-on  roly-poly, was that we walked five to nine miles a day.  How do I know this?  I wear a pedometer.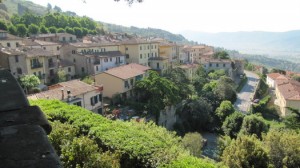 My five friends and I met up at the Rome airport, caught the shuttle to the train station and headed for Cortona, 2-1/2 hours to the north.  Cortona is an Etruscan hill town, roughly 2500 years old.  The road from the train station in Tarantola meanders up the hillside to Garibaldi Square, near the center of Cortona.  From there, the town continues its upward spiral toward the sky.  A castle and centuries-old church look down on the town, which, in turn,  looks down on beautiful, verdant Tuscany.  It's a breath-taking view.
We rented an apartment slightly down the road from the square.  From the outside it appeared just like the other places along the streets — a nondescript wall with a nondescript door.  Inside, however, it was charming — two stories, with open beamed ceilings, stuccoed walls and with occasional sections left open to expose the old stone, mud brick and wood.
By now it was nearly 8:30 and most of us had been on the road for many, many hours, so we headed to La Grotta, a charming Tuscan restaurant where I had  my favorite meal in Italy.
Before I continue, I need to interject that we were all traveling on a budget, so we did not dine on piatti after piatti of divine cuisine.  It was more like one piatto plus wine or dessert.    What we didn't eat in restaurants we made up for in delicious sandwiches,  bread and local cheese  and a righteous number of pastries purchased at little shops and bakeries that would suddenly appear like a mirage — except that they weren't.
So what did I have that was the best meal in Italy?  Light as clouds spinach and ricotta gnocchi with fresh truffle sauce!!  Washed down with crisp white wine.  I groaned with pleasure with each bite.  Later, when I toured the kitchen, I spotted a platter overflowing with truffles.  How could anything so ugly taste so good?
As truffles are killer pricey, here's a recipe for spinach and ricotta gnocchi with sage butter sauce.  Got truffle butter?  Use it!
Saturday mornings the farmers market comes to Cortona.  Except it isn't just a farmers market.  It's more like a traveling department store.  There were gorgeous purple artichokes, piles of fava beans, haricorts verts, sweet peas, strawberries, local apples and citrus.
There were also bins filled with enough hard candies to fill the Christmas stockings of all of Tuscany's children, shoes, belts and purses, dresses, shirts and slacks, leather goods, bolts of fabric including laces, Oriental rugs, and even pots and pans.
I was quite taken by vans with cold cases that slide out and are covered with a canopy.   Fresh cow, goat and sheep cheese, yogurts, Parma hams, proscciuto, poultry, fish and shell fish, chickens roasting on spits — all of this was set up for shoppers by 8:00 a.m.
Before I had even hit the market I discovered Banchelli's Bakery.  Of course I didn't have any idea that it is renowned in Tuscany nor did I know that it has the best Brutti ma Buoni in Tuscany.  I spied lumpy rolls lightly dusted with powdered sugar in the window and knew that I needed one.  Except, I quickly learned,  you can't very easily just eat one.
Brutti ma buoni means "ugly but good." Turns out it's a Tuscan fave and every town has their own version.  When I returned home, I immediately started a recipe search for these scrumptious uglies, but none is like Banchelli's uglies.  The recipes consistently call for egg whites, sugar, amaretto and sometimes frangelico, hazelnuts, almonds, walnuts, pine nuts or a mixture of nuts, and some even include chocolate.  They are all lumpy,  flat cookies.
Banchelli's are different.  They look more like small, misshapen dinner rolls and are made with almond paste, egg whites, sugar, aranci (candied orange) and almonds.  And they are soooo good!
I bought sheep's milk yogurt and strawberries at the farmer's market and joined the rest of my friends who were having espressos and rolls at a table in front of Banchelli's.  I immediately bought another brutti and passed it around.  Three of us immediately purchased them.  One of us bought a half dozen to take on the train when we went to Florence.  I kept hoping that I'd find them again on the road.  Alas, I didn't, but trust me, there were other regional delicacies to take their place and I seem to have a nose for finding the most divine of the local sweets.
One last comment about the brutti.  When I came up empty-handed, I wrote to my friend David Lebovitz in Paris.  He suggested that I contact Judy Witts Francini as she is a doyenne of Tuscan cuisine.  I wrote her this afternoon.  If I ever find the recipe, I promise to share it.  And…if any of you have the recipe, please share it!
Finally, my friends Sandra and Novia launched their search for the ultimate gelato while in Cortona.   Cortona was actually a practice session in preparation for Florence.
Allegedly Bernardo Buontalenti (very talented), a native of Florence  figured out a process for making better ice cream than  had been available to date, and introduced it to the court of Catherina dei Medici.  Later, a Sicilian named Francesco Procopio was the first to introduce gelato to the general public.
Gelato simply means frozen.  In Northern Italy,  dairy plays a major role, gelato and is  more like ice cream, whereas Southern Italy uses more fruit,  creating sorbetto.
It's really easy to eat a lot of gelato and sorbetto, not only because it tastes good, but because the gelato is much lower in butterfat than American ice cream, with 4 to 8% butterfat as opposed to 10 – 18 percent butterfat in American frozen desserts.  Gelato contains less air than ice cream, making the flavors more intense and creamier.  Finally, it is ready to eat immediately after processing and doesn't need to ripen, which means it's served 10 to 15 degrees warmer than ice cream, further enhancing the flavor.
All this and more added to the ultimate gelato experience.  And as it would be cruel not to leave you with a recipe, here is David Lebovitz' recipe for Gianduja (hazelnut) gelato, which seems especially appropriate as hazelnuts are adored throughout Europe.  Buon appetito!
Latest posts by Patricia Rain
(see all)