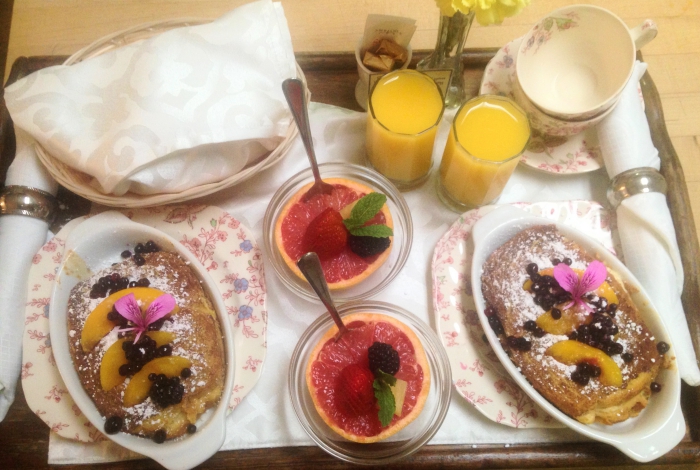 If you're looking for a perfect brunch recipe to serve for Mother's Day, a special birthday, or are hosting guests, this recipe from the Headlands Inn in Mendocino, CA will surpass everyone's expectations. Even the presentation creates a "Wow" response. First, a few words about the Headlands Inn and how we were served this beautiful breakfast.
A very dear friend of mine lives in Northeastern Vermont. She celebrated a milestone birthday this year, but with the nonstop snow, ice, and sub-zero temperatures there this winter and spring, we opted instead for a road trip to Mendocino on the Northern California Coast to celebrate.
For those of you unfamiliar with Mendocino, imagine a small town that could easily have been lifted from a 19th century New England whaling village. It is nestled on the headlands of the wild Northern California Coast, with towering redwoods and gnarled coastal junipers on one side of the side of the highway and the Pacific on the other. What makes it especially unique is that the local community decided to keep the traditional footprint of the town and no chain stores or restaurants have been permitted. The village depends on tourism, and provides well for those choosing a quiet escape from the pressures of daily life.
Although I lived on one of the oldest farmhouses on the Coast for nearly two years, it had been nearly 25 years since I last visited this beautiful region. I was tasked with finding us the perfect spot at a price we could afford. I studied the reviews of the many bed and breakfast options and settled on the Headlands Inn. Booking.com gave it an "exceptional" rating and reviews repeatedly mentioned the "legendary breakfasts." So I booked us for three nights with a day on each side for the long drive from Santa Cruz and back. I am so glad I did!
The Headlands Inn was originally built in 1868 as a barber shop on the main street in town. Later the second and third stories were added as living quarters for the barber's family. In 1884 it became a "high class" restaurant, the Oyster and Coffee Saloon. In 1893 it was moved to its current location on the corner of Howard and Albion streets (pulled by horses and rolled there over logs as was the method of the day). In 1924 it became known as the Betsy Strauss house as the Strauss family owned and lived there until 1979. Denise and Mitch McNicol are the owner-innkeepers now and have run this charming inn for 15 years.
Each room has a wood burning stove, is decorated in simple, attractive Victorian style, very much in keeping with the town, with feather beds, modern plumbing, a lovely garden that overlooks the headlands, and a sitting room on the floor landings where sherry, tea and cookies are complimentary every late afternoon. And yes, absolutely, the breakfasts are legendary!! Even better, your breakfast is delivered to your room on trays each morning between 8:45 and 9:00 and even includes the San Francisco Chronicle. (There are no rules saying you must read it, however, if you are serious about escaping dailiness!)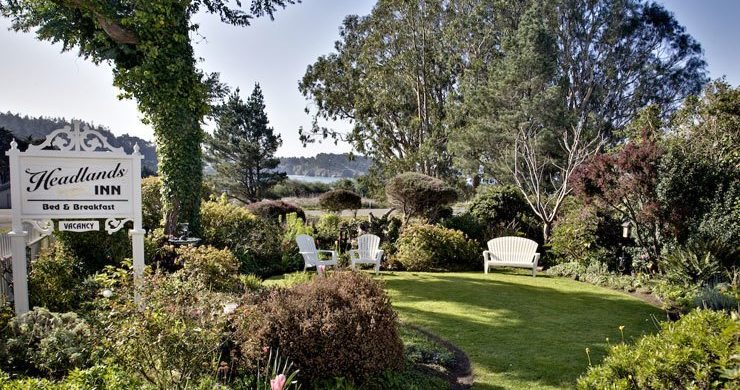 Learn more about The Headlands Inn and information for booking.
Needless to say, I was delighted not only by the quality of the breakfasts but also by the exceptionally artistic presentation of each dish. It's the little touches added by Denise and Mitch that make The Headlands so much more than the sum of its parts. As a result, I asked if Denise would share a recipe for my readers so that I could promote them while giving you a taste of a very special place. She obliged with the recipe for her Peach Baked French Toast below.
One last comment about the Mendocino Coast. Northern California is noted as most of you already know, for our wineries, and Mendocino County is no exception. It is a beautiful drive from Sonoma or Napa counties, but it is a destination spot on its own as well. There are numerous excellent wineries as you travel Highway 128 through the Anderson Valley, including Roederer Estate, known for its premium sparkling wines.
Mendocino offers fine dining, exceptional art galleries, musical events including jazz on the weekend, and much more. A short drive to the north to the town of Ft. Bragg are the Mendocino Coast Botanical Gardens and there are whale watching and kayak tours, forests to explore, river fishing, hiking trails and so much more.
In the meantime, I hope you will enjoy Denise's lovely recipe enough that you will be inspired to visit Mendocino too.
Print
Headlands Inn Peach Baked French Toast
12 slices sliced sweet French bread
8 ounces cream cheese
2 teaspoons Rain's Choice pure Vanilla Extract
1/2 cup peach preserves*
12 large eggs
1 cup heavy cream
1/2 cup pure maple syrup
4 tablespoons powdered cinnamon
12 tablespoons granulated sugar
Peach slices and berries for garnish
Instructions
Grease a 9 x 13 pan with 2-inch sides with oil or butter.
In a medium mixing bowl, blend cream cheese, preserves and vanilla extract, until smooth and light. Generously spread mixture on six pieces of French bread and add top each slice with the rest of the French bread to create "sandwiches." Place on the greased pan,
In a large mixing bowl blend eggs, cream and maple syrup, mixing until light with a whisk or electric mixer. Pour over the "sandwiches," beginning first around the edges of the pan, then distributing evenly until all of the sandwiches are evenly coated.
Soak for 5 minutes on one side, then flip each "sandwich" over so that each is soaked.
Mix together the cinnamon and sugar then sprinkle well on the top of each of the sandwiches. Cover with plastic wrap and allow to rest in the refrigerator overnight.
Preheat oven to 350 degrees.
Bring the French toast sandwiches out of the refrigerator and place in oven once it has fully heated. Bake 30 – 35 minutes or until set around the edges.
Plate onto a platter or individual dishes and dust with powdered sugar. Garnish with fresh peach slices and berries.
Notes
Serve warm.
Feel free to substitute raspberry, strawberry, apricot or plum preserves if preferred.
Denise McNicol
Latest posts by Patricia Rain
(see all)