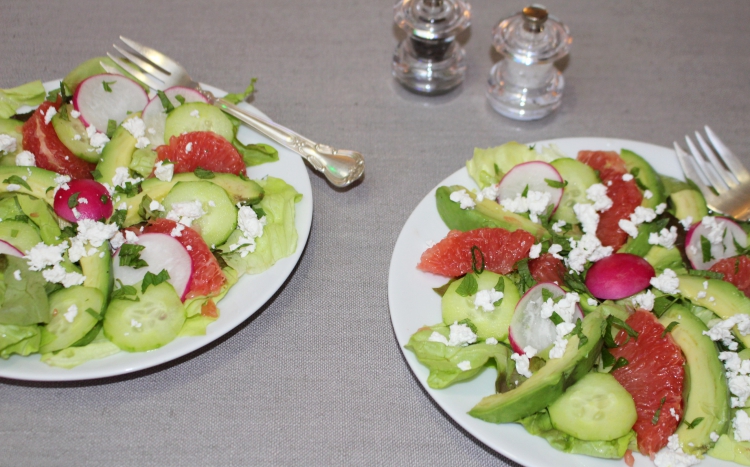 This is a refreshing winter salad when everything citrus shines. Ruby grapefruit are sweet and heavy with juice. If you can't eat grapefruit, navel oranges are in season and, if Cara Cara oranges are available, choose them; they're exceptional! Some people believe they are a cross between a grapefruit and an orange. They aren't, so don't worry if you can't eat grapefruit. Mandarins or tangerines are a snap to add in this salad as there's no need to segment them. Do take a moment to remove the "strings" off the segments, however.
Feel free to mix up the greens however you'd like. If you have access to watercress, for instance, it would add a nice peppery flavor or substitute thinly sliced fennel instead of cucumber and, especially if the available lettuce looks iffy, mix in sunflower sprouts or pea shoots. And, if you want the salad to be more than a side with a meal, consider ribbons of smoked salmon, rotisserie chicken or baked tofu or tempe slices for protein.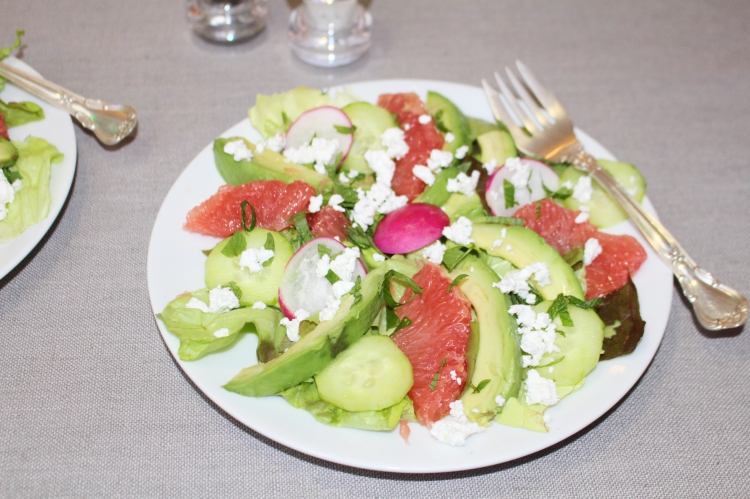 Print
Grapefruit and Avocado Salad with Citrus, Mint and Vanilla Dressing
1 large Ruby grapefruit or 2 large navel oranges, peeled vertically and cut into segments
1 avocado, peeled and sliced
1 small red onion, peeled and sliced into thin rings or substitute 2 sliced scallions
1/2 English cucumber, thinly sliced
4 or 5 radishes thinly sliced
6 ounces arugula, baby spinach, baby greens or head lettuce
3 ounces or a package of sunflower sprouts or pea shoots (optional)
Feta or blue cheese crumbled (optional)
Dressing
3 Tablespoons olive or nut oil
4 Tablespoons orange or grapefruit juice
2 Tablespoons rice wine vinegar
1 teaspoon Rain's Choice Vanilla Sugar or 1 teaspoon sugar and 1/2 teaspoon Rain's Choice pure Vanilla Extract
1 Tablespoon (or more) fresh mint, chopped
Sea salt and pepper to taste
Instructions
Peel the grapefruit or oranges with a knife, removing all the white pith possible. Separate the segments of the fruit from the thin filament as well as possible. Squeeze the remainder of the juice from the grapefruit or oranges for the salad dressing. Set aside.
Prepare the avocado, onion and cucumber.
Blend the salad dressing ingredients in a bottle or jar, shake and taste, adjusting flavors to taste.
Place the greens, cucumber, onions and radish slices in a large bowl or on individual plates. Add grapefruit or orange and avocado slices, and toss with dressing or spoon dressing over each plated salad. Top with cheese if desired.
Look Delicious?
Pin it for the world to see!
Latest posts by Patricia Rain
(see all)