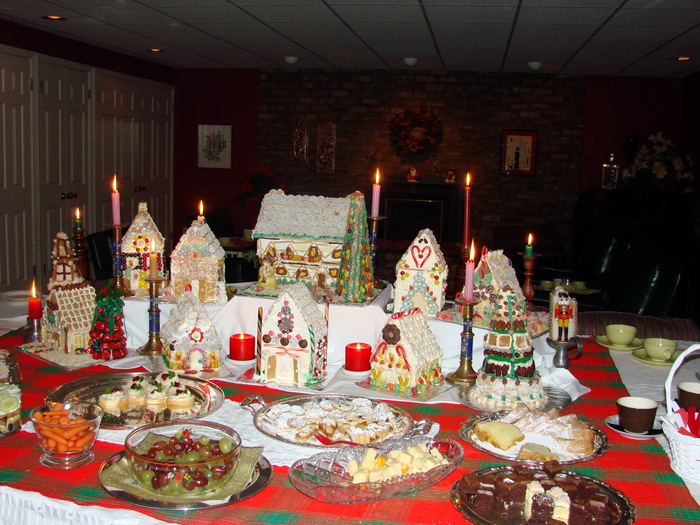 Maria Reisz has of way of creating magic and beauty, whether it's her exquisite European baking, sumptuous parties and teas, her rose gardens, flower arranging, or just about anything else her talented hands touch. Now Maria has brought out her much awaited book, Gingerbread Houses and Christmas Candlelight Teas: How to Create Your Own Holiday Traditions. This lovely book is filled with detailed instructions and lovely photos on how to help children create their own delightful gingerbread houses and how to turn simple-to-prepare foods into a celebratory meal with family and friends.
Maria, or Maja, her name in Croatian, experienced an early childhood filled with the old world charm of life in the Croatian countryside where her grandparents ran an inn and grew or raised nearly everything they needed. Her Austrian grandmother mentored her in the kitchen during her visits to Vienna where she watched and assisted her prepare cookies and cakes. Living with her extended family, she felt safe and very happy.
This idyllic childhood came to a sudden, painful halt as World War II closed in on the family. Repeated death threats forced her family to relinquish their inn and home, her family fled to Austria where they were officially listed as Displaced Persons. Ultimately they spent seven years living in refugee camps. Maria says, "Even with the meager ingredients we were able to get in the camp, my mother prepared delicious meals without the benefit of recipes and only minimal cooking tools and somehow made the holidays filled with wonder."
After the war ended, there were few jobs for the thousands of refugees. Her father, ever-resourceful, applied to five countries seeking asylum for his family. The United States was the first to accept them. Maria and her younger brother were astonished when they arrived in Louisiana on a military ship to see all the food, cars, and healthy, well-dressed people, and even more so when they reached bustling Los Angeles, their destination. Regardless, it was a major adjustment to live so far from home without their network of family and friends.
Maria majored in biology and began her career in medical research, working in the United States and Europe. After marrying, she began a tradition of creating gingerbread houses with her young son. "We spent an hour each day re-creating the fanciful gingerbread house from Hansel and Gretel, but without the wicked witch," remembers Maria.
Maria's lifelong love of food eventually led her to life as a culinary professional. She has studied in many famous culinary schools in both Europe and the United States and, for many years. She launched and ran Maja's Viennese Kitchen, a home-based cooking school and cake baking business for over 25 years. This included Gingerbread Decorating Afternoons and Christmas Teas. Maria not only has the ability to create the perfect cake or pastry crust but also the science background to understand and share why it works. She has also retained a loving, humble respect for people and animals, and a great passion for mentoring children in the kitchen just as she was once mentored by her beloved family.
Whether or not Christmas is part of your family tradition, this lovely, heartfelt book can assist you in creating gingerbread house parties where everyone enjoys the candies and frosting and no witches allowed! You will be inspired to hold your own happy, candlelit winter celebrations, bringing light, joy and fun with your own special traditions.
I encourage you to visit http://www.majaskitchen.com to see some of Maria's exquisite cakes and pastries.To purchase your copy of Gingerbread Houses and Christmas Candlelight Teas, contact Maria Reisz Springer at maria@majaskitchen.com or call her: 410-561-1157.
Latest posts by Patricia Rain
(see all)