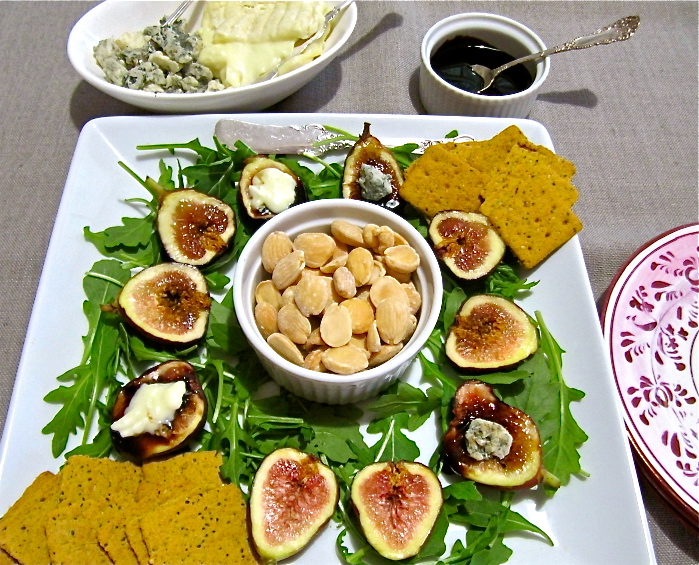 Planning a party takes time and energy. An impromptu party takes imagination. The trick to managing either is to have some strategic ingredients on hand or on a list under party supplies so you can pull a party together fast. Here are my personal favorites for small bites and small plates.
Cheese
Making a cheese platter? If you are keeping it to three or four cheeses, brie, aged cheddar, blue or Gorgonzola and chevre would be my top picks. I usually have a sheep's milk feta on hand for salads and other Mediterranean dishes. You can swap out Stilton for cheddar, Camembert for brie, add a harder cheese like an asiago or Ricotta salata, if you're serving beer or want specialty cheeses for sophisticated palates. New vegan cheeses are coming onto the market and are worth investigating, especially if friends are lactose intolerant or vegan, of course. Miyako and Kite Hill both produce excellent vegan cheeses made from nuts. I highly recommend them.
Fruits
Winter-Spring
Apples, pears and mandarins all go well with cheese and nuts. Dried fruits like apricots, dates and raisins work well on a cheese platter. Fig and apricot pastes are a sweet, slightly exotic addition that pair well with soft cheeses. Depending on where you live, strawberries start making an appearance sometime in April. If they look good, add them to your cheese and nuts plate. Everyone loves them and they're simple finger food.
Summer-Fall: Melons, berries, cherries, peaches or nectarines, plums and pluots, grapes and fresh figs. Buy a little extra of whatever looks appealing. Any leftovers can go into yogurt or smoothies for breakfast or fruit salad for dessert.
Nuts
I keep nuts in my refrigerator or freezer so they're always on hand for snacking, baking, salad toppers and cheese plates. Lightly toasted walnut pieces or halves (toasting cuts the tannic acid that bothers a lot of people), pecans, almonds, pistachios and cashews keep perfectly in the freezer. One of my favorites are Marcona almonds. Grown in Eastern Spain, they're smaller than standard almonds, almost heart-shaped, and usually lightly roasted and salted, they are perfect with wine and small plates as well as with cheese and fruits. Pecans tossed with maple syrup and a dusting of cayenne if you like spicy, then roasted in the oven until brown and toasty, are easy to make and add edginess. Finally, while they certainly aren't nuts, have some olives on hand. Like the almonds, they add a nice saltiness and they can double on their own as a small plate, especially if you get a variety of olives from the olive bars. If you have some fresh rosemary or sage in your garden, add one of the herbs to the olives for additional flavor.
Glaze
My favorite go-to glaze is my Port-Balsamic-Vanilla glaze. It's a multi-purpose sweet-tart glaze that helps to pull the pieces all together. It's exquisite on most fruits, goes very well with cheeses, can be used as a salad dressing and is amazing on grilled vegetables, meats and tofu.
In the photo above I've placed fig halves over arugula and have brie, Gorgonzola and Marcona almonds along with the glaze so that everyone can make up their own small plates. I put a piece of cheese on a few of the figs; you can assemble everything ahead of time if you want and pass the assembled plate around.
Instead of the glaze you can substitute honey, or a tart or spicy jam.
Bread
A good crusty bread is always welcome. Warm it before serving unless it's freshly baked. I keep a couple of loaves of partially-baked bread in the freezer and finish them off before a party. They taste freshly baked and are perfect for spreading with cheese and mopping up the glaze. Be sure to have some gluten-free bread or crackers available if you have friends with wheat or gluten issues.
Good Fruit/Cheese Pairings
Apples and cheddar are a wonderful combination as are pears and grapes with brie. Watermelon pairs well with feta, figs and dates with a blue or Gorgonzola, and citrus, dates and stone fruits with chevre.
Charcuterie like salumi, pate, smoked albacore or salmon, smoked poultry or roasted chicken wings, or slices of rare beef can be served as small plates. By adding meats or baked tofu or tempe for vegetarians and vegans, you have a full meal without all the work.
For Dessert, pieces of quality chocolate always works. Guittard now has a variety of chocolate bars with different percentages and they have baking wafers you can serve in a bowl. Some other good brands include Divine, Valhrona, Green and Black, Endangered Species and Chocolove. Another simple option would be granita, sorbet or gelato, especially if it's warm. My idea of a simple, impromptu dinner party!
Latest posts by Patricia Rain
(see all)