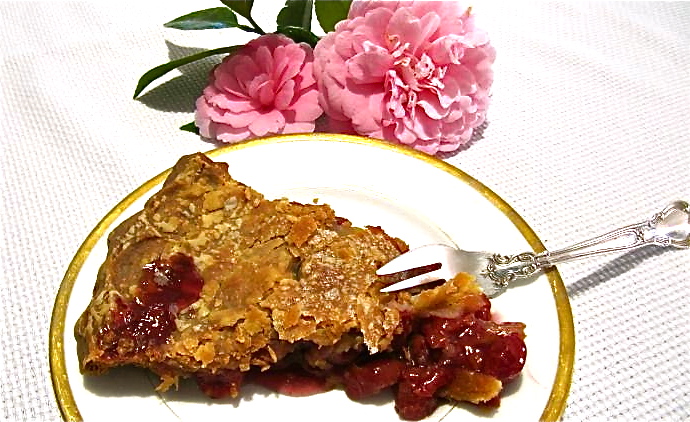 It's hard to imagine anyone who doesn't like cherry pie. Making it is another story, however, as putting together a good pie crust can be intimidating. I have my mother to thank for having demystified pie crust. Pies were her specialty and her crust was always delicious. Even better, it's really easy.
That said, I had a friend whose father began baking pies for his family after he retired. He bragged about how he could make any pie they wanted and he'd whip one up a couple of times a week. The family at first were astonished as he had never been a cook much less a baker. Finally, he was found out when a tell-tale pie crust package was found along with two cans of filling. The fact remains, he did "whip up a homemade pie," and if this feels safest, why not?
Unfortunately, there's only a brief window each summer to locate and bake with fresh sour cherries. Otherwise, you'll need to find canned sour cherries or use the pre-made cherry pie filling. Personally, I far prefer the plain sour cherries as you have far more control over the flavor and texture of the filling. While February is a long way from cherry season, it's awfully nice to have a warm piece of pie on a chilly February evening even if our first president never chopped down a cherry tree.
Feel free to use your own pie crust or you can use The Queen's Pie Crust, which I highly recommend. If time is an issue, feel free to purchase a packaged pie crust. Life's too short to stress over making the "perfect" pie — but if you're up for it, it's worth making it all by hand. My last tip is cherry pie is especially good with toasted almond ice cream, but even plain old vanilla works just fine!
Print
Fresh Homemade Cherry Pie
Pie crust for a two-crust, 9-inch pie
2 15-1/2 ounce cans of sour cherries in water or 4 cups fresh sour cherries, pitted
1 cup of cherry water (save the balance for a smoothie or fruit punch)
1 – 1-1/3 cups sugar (to taste)
4 tablespoons tapioca flour or 4 tablespoons flour, 2 tablespoons corn starch or 2-2/3 tablespoons instant tapioca
squeeze of fresh lemon juice

1 teaspoon Rain's Choice pure Vanilla Extract
¼ teaspoon almond extract (or to taste)
2 tablespoons butter (optional)
1 tablespoon water or milk
Rain's Choice Vanilla Sugars
Instructions
Prepare pie crust and allow to chill for at least two hours or overnight (for maximum flakiness).
Drain cherries of their liquid if using canned cherries, saving liquid separately.
In a medium saucepan over medium-high heat, add 1 cup cherry juice, sugar and tapioca flour, stirring well. Continue to stir until mixture comes to a boil and thickens. Remove from heat and add lemon juice, vanilla extract and almond extract.
Add cherries and blend well.
Roll out pie crust, and place in a 9-inch pie pan. Add cherry mixture. Place pea-sized pieces of butter on top of the filling if using and cover with second crust. Crimp the crust.
Using a pastry brush, lightly cover the entire crust with water or milk, the sprinkle vanilla sugar over the top of the crust. Place in the refrigerator and chill for at least 30 minutes.
Heat oven to 400 degrees.
Place pie on a cookie sheet to catch any drips. Bake for 20 minutes, then turn heat to 350 degrees. Continue to bake until crust is golden brown and filling is bubbly.
Cool on a rack.
Serve plain or with ice cream.
Latest posts by Patricia Rain
(see all)