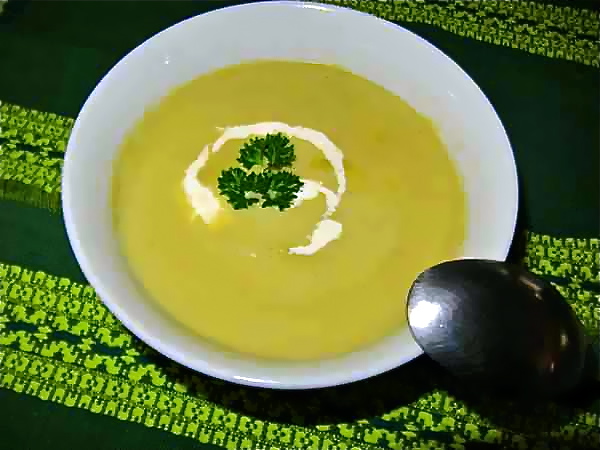 Celery soup appears to have fallen by the wayside over the years, as has celery in general. It's too bad as celery is a nutritional powerhouse as well as low in calories. And, it tastes good! I remember as a child even Campbell's canned soup had Cream of Celery, which was often used in condensed form for the liquid in the ubiquitous casseroles of the 50's. Actually, maybe that's reason celery soup fell out of fashion; the canned version wasn't anything to write home about. At any rate, I really like this soup and I hope you'll try it as it's really good. On a cold afternoon or evening, add a grilled cheese sandwich and you're set.
Print
Fresh Cream of Celery Soup
1/2 pound celery (about 2 cups) chopped (outside stalks are fine)*
1/2 cup chopped onion
1/2 cup peeled and diced potato
3 tablespoons butter and 3 tablespoons olive or avocado oil **
4 cups chicken or vegetable stock
1/2 to 1 cup milk or plant-based milk (optional)
2 teaspoons fresh dill weed (1 teaspoon dried)
Sea salt and freshly ground pepper
Splash of fresh lemon juice
1/2 teaspoon Rain's Choice pure Vanilla Extract
2 1/2 tablespoons Greek yogurt or plant-based Greek yogurt
Freshly grated nutmeg (optional but excellent)
Garnishes: dill weed, parsley, lemon slices, Greek yogurt or light sour cream.
Instructions
Cook celery, onion, and potato gently in the oil and butter in a covered pan for 10 minutes. Don't let the vegetables brown. Add stock and 1/2 teaspoon of dill weed. Simmer for about 20 minutes or until vegetables are fork-tender.
Blend the soup with an immersion blender or food processor. Strain to remove celery strings, then add milk or more broth if the soup is too thick. Heat the soup until hot but not boiling, season to taste with salt, pepper and more dill weed plus a splash of lemon juice.
Add the vanilla and Greek yogurt, and mix gently. Add freshly grated nutmeg if desired.
Garnishes: dill weed, parsley, lemon slices, Greek yogurt or sour cream (optional).
Notes
*Another option is a blend of chopped fennel and celery.
**If you don't want to use dairy butter, I recommend Miyoko's vegan "butter." It is by far the best substitute I've found to date. It keeps well in the refrigerator and is an excellent butter substitute for toast, pancakes, etc. I've also used it when making frostings. You can also use all oil and no butter if you prefer.
Look Delicious? Pin it for the world to see!
Latest posts by Patricia Rain
(see all)