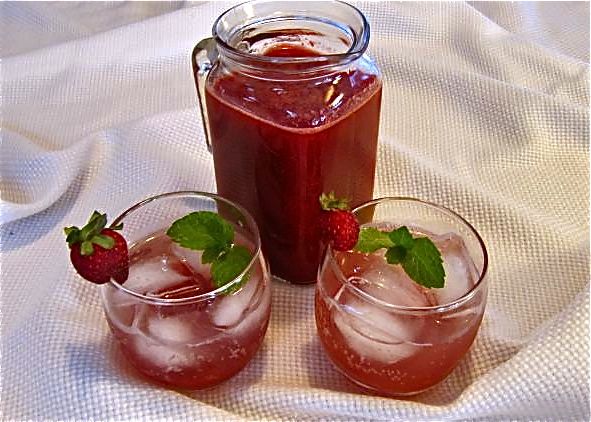 Have you noticed how food trends and recipes are recycled — what's long forgotten is once again the next best thing? Except it often reappears transformed. As an urban culture obsessed with food, we have access to endless ideas and techniques to tease out the best.
I especially noticed this about the trending popularity of shrubs. Shrubs are an old beverage. Old as in 1500's Renaissance era old, maybe even older. The word comes from the Arabic shurb, drink and/or the Hindi Sharbat, a brightly flavored syrup made from fruits or flowers and herbs, blended into cold water and enjoyed as a refreshing beverage.
When I was growing up my mother talked about drinking raspberry shrub at her grandparents' farm in Ontario, Canada. While I adored anything raspberry, I couldn't get past the vinegar, a key ingredient in shrubs. She said it was such a refreshing drink on a hot day. I wondered how anything containing vinegar could possibly be refreshing. Drinking something as sharp as vinegar on a hot day — really??
Fast forward to the current cocktail trend. For the last several years I've watched bitters, tonics and shrubs evolve to near rock star status in blogs, natural food stores, tony bars and upscale restaurants. I flirted with making it, but held off until a recent blog on Food 52 brought me to the cliff's edge.
I jumped…and I'm sooooo happy I did.
The blog, written by Caroline Lange, emphasizes that you don't need a recipe for making shrubs. She provides two ways of making shrub: hot process and cold process. She felt the hot process probably wasn't technically a shrub. I wondered. I looked through my recipe books that go back to the beginning of the 20th century. The only book with a recipe for shrubs (and it was raspberry) was in The Settlement Cookbook: Tested Recipes from The Milwaukee Public School Kitchens Girls Trades and Technical High School, Authoritative Dietitians and Experienced Housewives; 28th Edition. This book is a classic.
Written in a plain, no-nonsense style the author makes the big assumption that the reader knows her way around the kitchen or at the least, can follow simple, straightforward instructions. It covers canning, drying, and winter storage of fruits and vegetables, hardy recipes brought from all over Europe by immigrants. Above the title on the cover: The way to a man's heart.
The recipe for Raspberry Shrub calls for 4 quarts raspberries, 1 quart vinegar, and sugar. The berries are mashed and covered with vinegar. They are left to stand overnight or longer and then strained. "To each pint of juice, add 1 pound sugar, boil 20 minutes; then put in sterilized bottles and keep in a cool place. Use 2 tablespoons to a glass of water."
It's brilliant, really. The fruit is preserved as a syrup that keeps well and available to enjoy long past the fruit's expiration date even without refrigeration.
My strawberries and raspberries that were on their way out, which actually is just fine as you're going to mash them anyway. I decided to start my experiment with a cooked shrub. I used 1-1/2 pounds of fruit, 1-1/2 cups of sugar, 1-1/2 cups of water. I let the fruit and syrup remain on the stove overnight. I strained it in the morning, added 1 cup of champagne vinegar and 1 teaspoon of pure vanilla extract, and refrigerated it. If I had followed Caroline's ratio, it would have been closer to 3 cups vinegar. I recommend you try it with less vinegar then add more as you choose. Too sharp and it isn't refreshing. Your mouth puckers!
The cold process involves a 1:1:1 ratio. One pound of fruit goes into a bowl with 1 cup of sugar. It is covered with a dish towel and allowed to sit for one to two days. Strain as above and add 1 cup vinegar. I followed the first part of the instructions precisely but using the same ratio of strawberries to raspberries. Since then I've added the vinegar with the fruit and sugar before covering the bowl. If you use only fruit and sugar and the room is warm, it will ferment very quickly. I add the vanilla extract at the end of the process.
The point had been to compare the flavor of the two processes. What I found was (no surprise), the cold process tastes fresher. I added white balsamic vinegar to the cold process and used 1:1:3/4 ratio, which I like. So far I've used sparkling water and I added a little rum to our glasses once, but I plan to try it with Prosecco soon. Feel free to add some thyme or other mild herbs or spices for a more exotic flavor
The nice part is that you can make the shrub ahead and keep it in the refrigerator for a couple of months though mine never lasts more than a week or two; it's that good.
Print
Fresh Berry Vanilla Shrub
1–1/2 pounds very ripe fresh berries (strawberries, raspberries, blackberries)
1–1/2 cups sugar
1 cup light vinegar such as champagne or white balsamic
1 teaspoon Rain's Choice pure Vanilla Extract
Instructions
In a medium-large bowl, mash fruit (or run through a food processor). Add sugar and vinegar. Mix well then cover with a clean tea towel. Allow the mixture stay out for at least 24 hours and up to two days.
Strain the fruit through a fine mesh sieve into a clean bowl or pitcher. Press down on the fruit to remove as much juice as possible. You can keep the mixture clear or press further to add some of the pulp (your choice).
Add vanilla then taste. Add more vinegar if you'd like. Traditional shrubs contained a lot of vinegar.
Pour into a clean jar with a lid and keep in the refrigerator until using.
Notes
The shrub will last several months, though you'll probably use it up sooner!
Look Delicious?
Pin it for the world to see!
Latest posts by Patricia Rain
(see all)