Happy New Year and Welcome 2015!
As we move more deeply into winter in the Northern Hemisphere I enjoy setting aside some time to reflect on what inspired me the last year and how this inspiration can be a catalyst for change and opportunities in the coming year. There were a lot of inspiring moments for me in 2014 but five stand out as exceptional.
Serena Rain Joined The Vanilla Company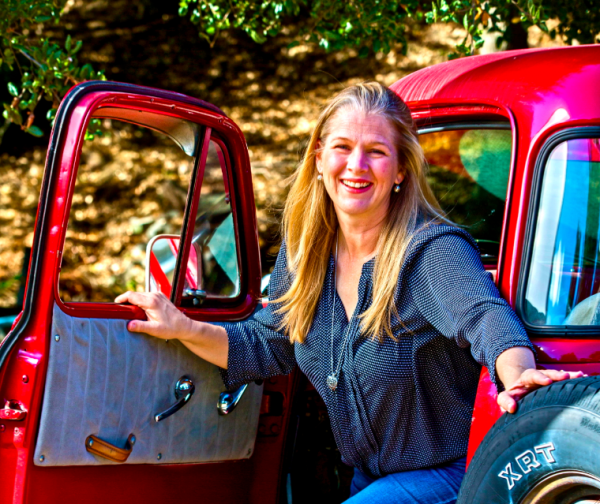 We're delighted that Serena became part of our team in May. She manages our social media marketing, handles our public relations and whips up new recipes and photos for our recipe section. I have been excited by her fresh ideas and the insights she brings to the business. We are now on Pinterest, new recipes are posted every few days on Facebook, Google + and Twitter and she believes in and supports our mission of focusing greater awareness about the value of pure vanilla.
I love that The Vanilla Company is now a full-fledged family business!
An Inaugural Class in Uganda

Those of you who receive our newsletter may already know that in 2013 I went to East Africa to join 19 women leaders who are actively bringing change and new opportunities to families, women and girls in both rural and urban communities. Together we created the Regional Alliance of East and South African Women Leaders. My vision was for us to share our training and to build a support network for women leaders unable to come to the US for the Global Women's Leadership Network (GWLN) training.
The Ugandan chapter of the Alliance brought this vision to life. In August of 2014 the first class took place in Masindi, Uganda, an area decimated less than ten years earlier by the Ugandan civil war with the Lord's Resistance Army. What an inspiring way to heal the region's energy by joining hands with fifteen more women leaders! I had the honor of accepting the Leader of Impact Award, on Ugandan women's behalf, at the GWLN's tenth anniversary celebration in late October. I'm deeply moved by the changes women leaders are making in the developing world.
Speaking at the Michael Caines Academy
I had the privilege to speak at the Michael Caines Academy in Exeter during my time in England. It always inspires me to be with students. Their energy, their excitement about learning and their desire to change the world through better food is always uplifting. I felt like a rock star with the English students. They were incredibly gracious and we were all excited about our day together.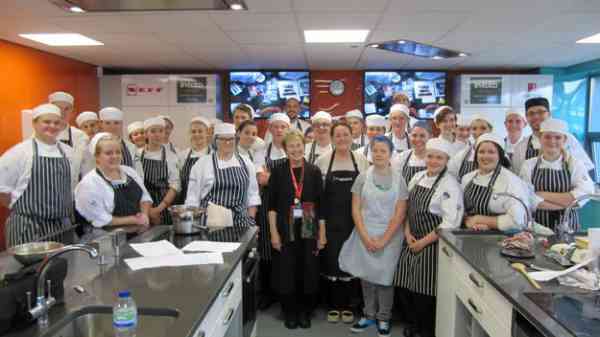 National Real Vanilla Day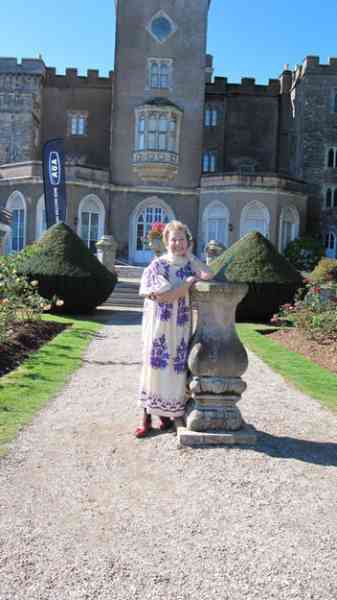 Spending time with Janet Sawyer, owner of Little Pod, a vanilla company in Farringdon, England was incredible. The use of pure vanilla is rare in England. Vanilla essence, another word for imitation vanilla, fills the shelves in the baking section of markets everywhere. Although chefs use vanilla pods in Europe, most home bakers use vanilla essence. Janet knew that I have long been promoting the use of pure vanilla on behalf of the farmers who struggle to support themselves and their families. She championed our goal by launching the first National Real Vanilla Day in England in mid-October.
She organized a two-day event filled with speakers, fantastic demos by name chefs, a children's baking class, food sampling and book signings. Needless to say, this was a revolutionary beginning for educating the English public about the use of pure vanilla. I was invited to be the keynote speaker and launched the two-day celebration. What a powerful and exciting way to draw attention to such an outstanding flavor!
A huge thank you Janet for stepping up to campaign for real vanilla.
Inspired by You, Our Customers!
I love hearing you share your thoughts about something I've written or offering a testimonial about our products. As a Web-based company we don't have the privilege of regular interaction with customers. We greatly appreciate your loyalty to our company and our products, especially as there are so many choices available in the marketplace. A sincere thank you to each of you for supporting us and the work we do!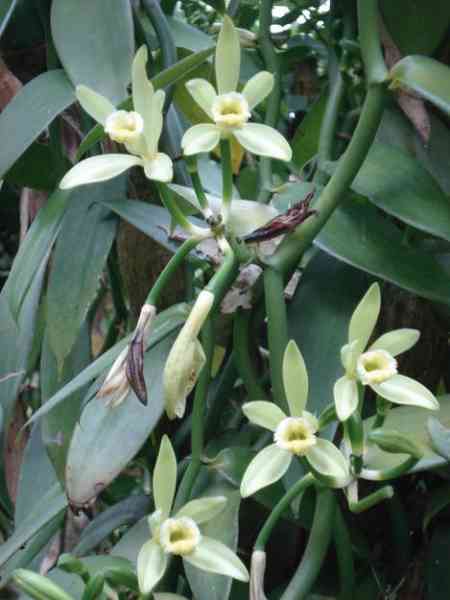 An International Campaign for Pure Vanilla?
In 2014, the first flavor made with computer generated DNA and highly genetically-engineered yeast, came to market. Synbio Vanilla, as it's known, can legally be labeled as a "natural flavor." This is one more obstacle for farmers as they cannot compete with inexpensive substitutes.
At the same time, there has been an ongoing shortage of vanilla beans and the last two years have been very challenging for everyone in the industry, from farmers to consumers. I believe that the time has arrived to launch an international campaign for pure vanilla. This will require a collaborative effort with vanilla companies across the country, and hopefully across the world. It will be interesting to see how this will evolve. I will keep you posted!
***
Wishing you a healthy, productive, peaceful year to come. Thank you again for supporting our efforts to promote pure vanilla and the growers who produce it!
Patricia Rain, Vanilla Queen
Did you like this post?
"Like" it, and share your thoughts in the comments below!
Latest posts by Patricia Rain
(see all)