Well over a year ago I started noticing ads for meal kit delivery services on Facebook. Hmmm, cool idea but not something I'd use. But the ads kept on coming, with enticing shots of produce and interesting entrees. In retrospect, I'm surprised I didn't bite sooner, but I love the farmers' markets, talking with the growers, tasting the fresh produce and deciding what to prepare for the week. And, I do love cooking.
What stopped me in my tracks was the headline for an article by Tom Philpott, a journalist who writes about food issues for Mother Jones. That Meal Kit Company That Sends You Dinner May Be Doomed. Whoa, really? But they've just really gotten going, haven't they?
Well yes, they have really gotten going, having begun in 2012! In fact, meal kit services are all but a modern day miracle for those of us who work full time, commute, have a family, or are bored with our recipes and culinary routine.
They take the drudge out of planning meals, shopping and making sure we have all the ingredients in place. They even do most of the food preparation. All that's required is to follow the easy instructions and we have the pleasure of accomplishment without the hassle. In fact, the concept is so intriguing that Venture Capital Firms have been generously underwriting the top meal kit companies. This is literally changing the way we look at food and meal preparation at home.
So, what's the problem?
Philpott says that according to Brita Rosenheim, founder of a consulting firm focused on food-related tech companies, only some of these emerging companies have a positive cash flow. She predicts that within a year or less, a lot of the services will go under or be absorbed by the most successful ones.
Nearly all food-related businesses operate on a very narrow margin-of-profit. This includes everything from supermarkets to food trucks, specialty food stores to restaurants and cafes and especially the small companies like mine. While meal kit services don't require expensive real estate to operate, They do need certified kitchens, offices, trucks and delivery centers if they're shipping perishable foods long distances or nationally.
Then there's the issue of packaging. Specially designed boxes, frozen gel packs, small containers for sauces and dressings, and plastic bags for everything from single scallions to two servings of couscous, vacuum packaging or shrink-wrapping for meats and fish. It all adds up. And, while this can be manageable if enough people are ordering, there are costs for marketing the services to bring in the customers. And did I mention high-quality food?
Rosenheim believes that the meal kit companies can make it work as long as it's on a large enough scale. The question is whether customers will maintain their subscriptions long-term as companies spend roughly $100 to bring in each new customer. As the movement continues, it may include fully prepared meals if consumers question why they're paying $10 – $15 per meal to take the final steps to put it on the table. It will be interesting to see how the trend evolves.
As I delved further into the world of meal kits, I posted on my Facebook page, "Have any of you tried a meal-kit delivery service?" Almost immediately I received a response from a friend who said she had tried one and didn't like it, but she was now using Blue Apron and was pleased with their meals. She said she was eating better because of Blue Apron and feeling more confident in the kitchen. She then offered to refer me to Blue Apron so I could receive a free week to try it out. How could I pass that up?
Connecting with Blue Apron
Within a few days I was contacted by Blue Apron. My choice was for a service for two or five. Each receives three meals a week. I chose the "Three Meals for Two" option with no restrictions on foods. Customers may indicate if they don't want certain meats or fish and there is also a vegetarian option. Had there been a gluten-free choice I would have taken it as I'm allergic to wheat but it currently isn't available. By now I was excited to see what my box would include.
When the box arrived it felt a little like my birthday even though by now I knew what to expect. The delivery box was sturdy and well designed; inside everything was wrapped in a large, sealed aluminum sack. I opened it to find all the ingredients carefully packaged and well-chilled. Unfortunately, some of the produce was too well chilled, and slightly freeze-burned. It's difficult to keep both produce and meats at a reasonable temperature in the same container. That said, if you are working when your box arrives, there are two large packages of frozen gel that will keep your food cold until you return home.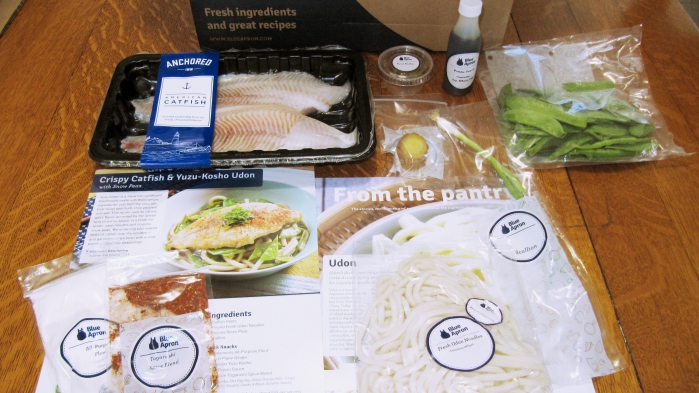 Meats and fish are vacuum-packed or shrink-wrapped and stored between the two frozen gel packs and on top of a cardboard square. Vegetables and fruits such as zucchini, cucumbers, garlic and lemons are loose and on top of another square of cardboard, while greens, scallions, pasta, barley, etc. are individually wrapped. The "knick-knacks," small containers of sauces, dressings, butter, spices and herb packets, are tucked into little paper bags. When I opened the bag to find miniature bottles of rice wine vinegar and ponzu sauce, I thought of my childhood passion for tiny containers that I could use for "preparing" meals for my dolls. Such fun!
My meals included…
Crispy Catfish and Yuzu-Koshu Udon with Snow Peas, Chinese Steam Buns with French Breakfast Radish and Cucumber Kimchi and Beef Tartines with Zucchini au Pistou. While this may sound rather sophisticated (read — difficult to prepare), the meals come together in less than 30 minutes, including cooking, and plating.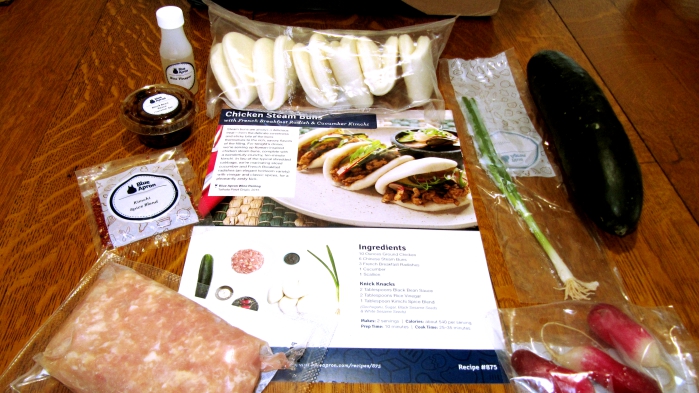 Each meal comes with an 8-1/2 by 11-inch card-stock direction sheet with full-color pictures and easy-to-follow instructions. Additionally, there was an information sheet on the history of udon, which added cultural panache to the meal. And, the udon and Chinese steam buns were delicious and worth using my inhaler to counteract my wheat allergy.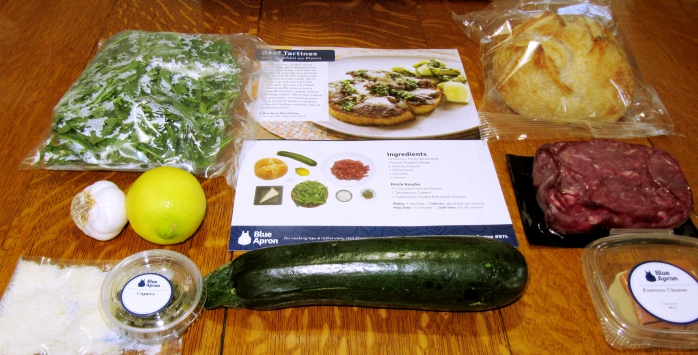 While the vegetables suffered some from the cold, the fish and meats were spot-on fresh and there was more than enough meat and produce for two. The meals would have benefited from two more steam buns, another handful of udon and more pugliese bread. Given that a lot of people eat at their desks or forego lunch entirely, there wasn't quite enough to fill up a hungry 30-something diner. Other than that minor shortfall and the slightly damaged produce, I absolutely give a two-thumbs up to Blue Apron.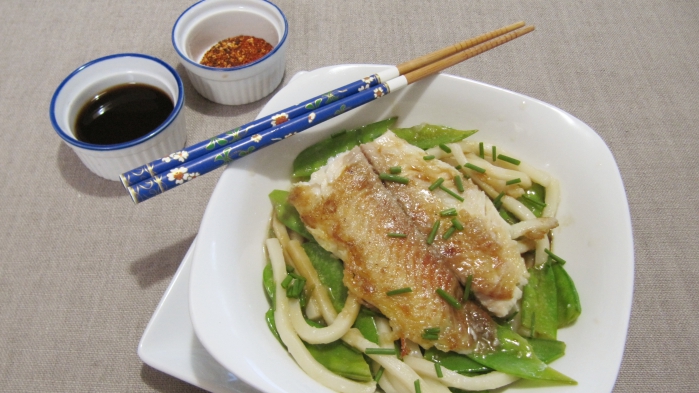 Who are the competitors?
Since my week with Blue Apron, I've learned considerably more about who is doing what in the meal kit community. Green Chef, a Colorado company, offers certified organic produce, and pasture-raised meats as well as gluten-free, paleo, vegetarian and vegan meal kits. Sun Basket, a California-based company, features gluten-free, vegetarian, vegan and paleo meals with carefully sourced meats and fish and organically grown produce. Purple Carrot is strictly vegan and New York Times food writer Mark Bittman spent more than a year creating unique recipes as their executive chef. Even Amazon and the New York Times have come onboard. The Times offers online cooking classes and has partnered with Chef'd, offering non-subscription, high-end meal kits that can be ordered on an occasional or regular basis.
The market is growing more crowded with at least 100 meal kit companies competing for a place in the hearts of diners, which is why Tom Philpott's prediction is accurate. While the market isn't saturated, without substantial funding, running a meal kit business is a high-stakes enterprise. The bigger, more established services can afford to weather the competition and evolve as needed to meet the needs of the customers while developing more innovative production and packaging methods and creating effective recycling options.
I'm betting on Blue Apron to be one of the survivors in the meal kits craze. One of the first to start offering meal kit deliveries, they now send out 8 million meals monthly. Amazingly enough, the cost per meal is $9.95 or $59.94 per week for three meals for two.
According to Bloomberg, Blue Apron is in preliminary talks about an initial public offering sometime within the year. Since launching in 2012 they've raised 2 million dollars and are currently valued at $2 billion. If they are able to raise the necessary funds and do go public they will be valued at $3 billion. Not bad at all for a pioneering food company!
Latest posts by Patricia Rain
(see all)