Exceptional Maple Sugar and Maple Syrup Vanilla Pies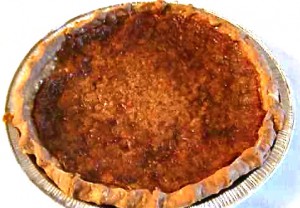 I admit I could never imagine Maple Sugar Pie or Maple Syrup Pie. I flat out love pure maple anything, but an entire pie made with maple sugar or syrup and nothing else to offset the sweetness — like pecans for instance — seemed like it would be cloying and a full-out sugar rush. Then a friend and I drove from Vermont to Quebec City in the early autumn of 2012. I knew that this would be my best chance to try Maple Sugar or Maple Syrup Pie. I was ready to convert — or not.
My first taste of the fabled pie was at Aux Anciens Canadiens, a traditional restaurant in one of the oldest buildings in the city. They serve classic Canadian fare, including wild game and, of course, Maple Syrup Pie. It was delicious! Warm and sweet. While it may sound like whipped cream would be overkill, it's necessary as it cuts the sweetness some, while adding a nice creaminess. I converted.
Now that I'd gotten my feet wet, I wanted more. The following day we ate at Caffe Conti a bistro-like restaurant with a more current menu. Their Maple Sugar Pie was completely different, more like a maple creme brulee, and very appealing.
The problem with maple sugar is finding it if you don't live in New England, Ohio or Canada. I recommend Goodwin Family Farm in St. Johnsbury, Vermont. I also purchase their syrup by the half gallon, which is far more affordable per-ounce than the small containers in the supermarkets. Get the amber or dark amber for a deep maple flavor, which is much better for baking. The best part about these pies is that they're a terrific holiday or winter dessert option. I can assure you that nearly everyone will love them. Those few who don't would probably prefer another serving of turkey or ham and a glass of wine to a dessert.
None of the recipes I found included vanilla. Not surprisingly, vanilla and maple complement one another nicely. I'm sure that if pure vanilla had been available to the Canadian settlers, they would have found this to be true. I know you will as well.
I spent some time prowling the Internet for the Aux Anciens Canadiens and, much to my surprise, found the recipe.
Print
Aux Anciens Canadiens Maple Syrup Pie
1 8- or 9-inch pie crust, partially pre-baked
1 1/2 cups packed light brown sugar or blend of brown and maple sugars
2 large eggs at room temperature
1/2 cup heavy cream
1/3 cup pure maple syrup (preferably dark amber)
1 teaspoon Rain's Choice pure Vanilla Extract
2 teaspoons unsalted butter, melted
Crème fraîche or unsweetened whipped cream for garnish
Instructions
Preheat oven to 350°F.
Roll out dough into an 11-inch round on a lightly floured surface with a floured rolling pin and fit into an 8-inch (3-cup) glass pie plate. Trim excess dough and crimp edges decoratively. Bake 20 minutes, or until very lightly golden brown but not completely baked.
Whisk together brown sugar and eggs until creamy. Add cream, maple syrup, butter, then whisk until smooth. Pour filling into pie shell.
Bake pie in lower third of oven until pastry is golden and filling is puffed and looks dry but still trembles, 50 to 60 minutes. Cool on a rack to room temperature (filling will set as pie cools).
Serve slightly warm with crème fraiche or unsweetened whipped cream.
Notes
Adapted from Aux Anciens Canadiens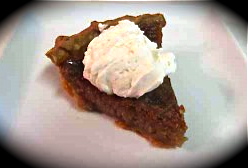 Print
Maple Sugar Pie from Conti Caffe
Pie Crust
2 cups (250 grams) all-purpose flour
6 tablespoons 3/4 stick butter (100 grams) unsalted butter, cut into pieces
1/3 cup (100 grams) sugar
2 large eggs
Filling
1–3/4 cups (440 grams) maple sugar (or brown sugar or a blend)
1 tablespoon (15 g) all-purpose flour
1 tablespoon (15 g) non-gmo cornstarch
3 eggs
112-ounce can evaporated milk (can use light cream)
1 cup (240 g) whole milk
1 teaspoon Rain's Choice pure Vanilla Extract
Instructions
In the bowl of a food processor, place the butter and the sugar and pulse until butter and sugar are completely blended and butter has become lighter. Add the eggs and pulse until mixture is smooth and creamy.
Add the flour and pulse until a ball begins to form. Remove the dough. Form a ball with your hands. Dust with flour and cover in plastic wrap.
Let it rest for about 6 hours in the refrigerator.
Preheat the oven to 350 degrees F. (180 degrees C). Roll out the dough and line a 9-inch pie tin. Set aside for 30 min. before putting the filling in.
In a bowl, combine the maple or brown sugar, evaporated milk, eggs and 3/4 (200 grams) of the milk. Blend well.
In another bowl, combine the flour and the cornstarch with the rest of the milk and vanilla. Blend well. Combine both bowls and Let the mixture to rest all night in the refrigerator.
Pour into the unbaked pie crust.
Bake 15 minutes and turn off the oven for 30 minutes. Bake again for 5 minutes and turn off the oven again until you get the same texture as a creme brulée. Be careful not to boil the filling.
Place pie on cooling rack until cool. Serve cool or slightly warm with or without whipped cream.
Look Delicious?
Pin it for the world to see!
Latest posts by Patricia Rain
(see all)
Tags: Maple Sugar Vanilla Pie, Maple Syrup Vanilla Pie Canadian Maple Pies
Patricia Rain
Patricia Rain
is an author, educator, culinary historian, and owner of The Vanilla Company (www.vanillaqueen.com), a socially conscious, product-driven information and education site dedicated to the promotion of pure, natural vanilla, and the support of vanilla farmers worldwide. She also does culinary presentations for food professionals, cooking schools, trade shows, food fairs, and private groups, and is a regular radio and TV guest.