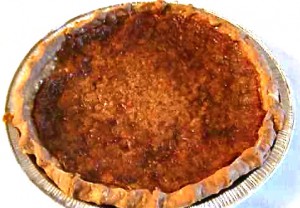 I admit I could never imagine Maple Sugar Pie or Maple Syrup Pie. I flat out love pure maple anything, but an entire pie made with maple sugar or syrup and nothing else to offset the sweetness — like pecans for instance — seemed like it would be cloying and a full-out sugar rush. Then a friend and I drove from Vermont to Quebec City in the early autumn of 2012. I knew that this would be my best chance to try Maple Sugar or Maple Syrup Pie. I was ready to convert — or not.
My first taste of the fabled pie was at Aux Anciens Canadiens, a traditional restaurant in one of the oldest buildings in the city. They serve classic Canadian fare, including wild game and, of course, Maple Syrup Pie. It was delicious! Warm and sweet. While it may sound like whipped cream would be overkill, it's necessary as it cuts the sweetness some, while adding a nice creaminess. I converted.
Now that I'd gotten my feet wet, I wanted more. The following day we ate at Caffe Conti a bistro-like restaurant with a more current menu. Their Maple Sugar Pie was completely different, more like a maple creme brulee, and very appealing.
The problem with maple sugar is finding it if you don't live in New England, Ohio or Canada. I recommend Goodwin Family Farm in St. Johnsbury, Vermont. I also purchase their syrup by the half gallon, which is far more affordable per-ounce than the small containers in the supermarkets. Get the amber or dark amber for a deep maple flavor, which is much better for baking. The best part about these pies is that they're a terrific holiday or winter dessert option. I can assure you that nearly everyone will love them. Those few who don't would probably prefer another serving of turkey or ham and a glass of wine to a dessert.
None of the recipes I found included vanilla. Not surprisingly, vanilla and maple complement one another nicely. I'm sure that if pure vanilla had been available to the Canadian settlers, they would have found this to be true. I know you will as well.
I spent some time prowling the Internet for the Aux Anciens Canadiens and, much to my surprise, found the recipe.
Print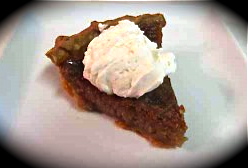 Print
Look Delicious?
Pin it for the world to see!