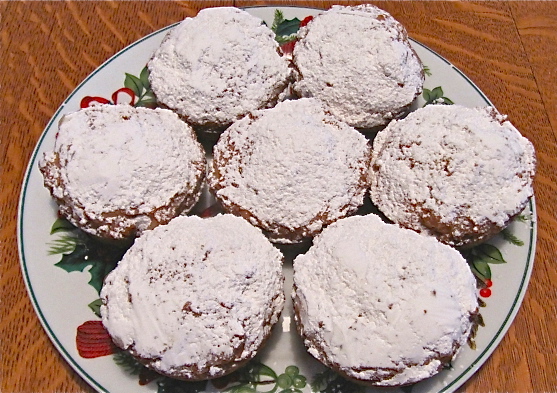 Eggnog Doughnut Muffins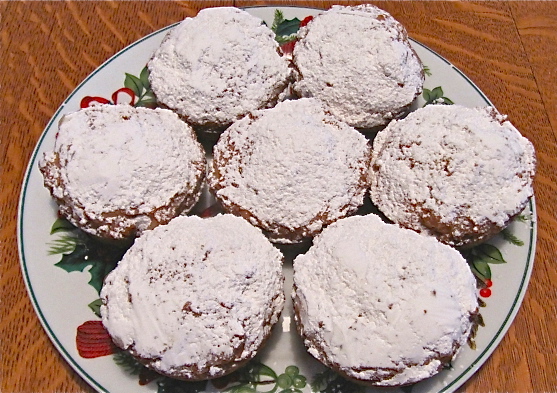 If you're looking for a holiday breakfast treat or wondering what to do with that leftover eggnog, here's the solution. Or, if you're an eggnog fan, make up a small batch just for these very appealing doughnut muffins and a little evening sipping.
These muffins have the flavor of eggnog, the texture of cake doughnuts, and are tasty any time of day, though if you love to dunk doughnuts, breakfast or mid-morning break is the ideal time to indulge. And if you need a justification for enjoyment, they're baked, not deep-fried.
Adapted from a recipe from Emma Christensen of Thekitchn.com, I added more nutmeg as well as allspice and vanilla as I wanted to emphasize the winter spice flavors. Warm any leftovers briefly in the microwave or oven; They'll taste freshly baked.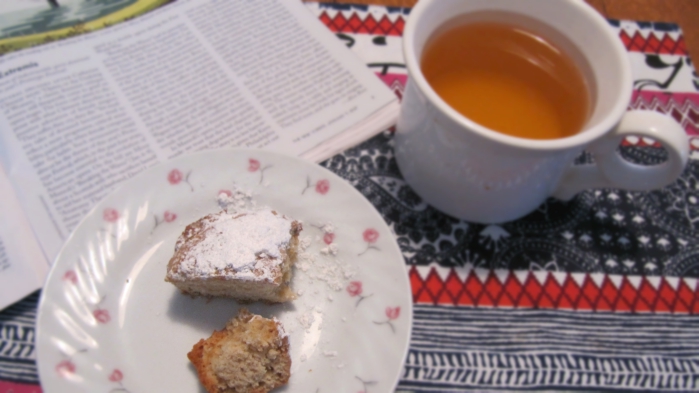 Print
Eggnog Doughnut Muffins
Scale
Ingredients
Muffins
3 cups all-purpose flour
2 1/2 teaspoons baking powder
1/4 teaspoon baking soda
1 teaspoon salt
1/2 teaspoon freshly grated nutmeg
1/2 teaspoon ground allspice
12 tablespoons (1 1/2 sticks) unsalted butter, softened
1/2 cup sugar
2 large eggs
2 teaspoons Rain's Choice pure Vanilla Extract
1 cup whole-fat eggnog
Topping
3 tablespoons unsalted butter
3/4 cup powdered sugar
Instructions
Heat the oven to 350 F with a rack in the middle position. Line a 12-cup muffin tin with muffin liners.
Whisk together the flour, baking powder, baking soda, salt, nutmeg and allspice. Set aside.
In the bowl of a stand mixer fit with a paddle attachment (or with a hand mixer), beat the butter on medium-high speed until creamy, scraping down the sides as needed. Add the sugar and beat until light, fluffy, and creamy, again scraping down the sides as needed. Add the eggs one at a time, beating until the batter is smooth.
Remove the mixing bowl from the mixer and use a stiff spatula for these next steps. Add a quarter of the flour mixture to the bowl and mix until just barely combined. Mix in 1/3 of the eggnog plus vanilla until the batter smooths out again. Continue adding the flour mixture and the eggnog alternately, ending with the last quarter of the flour mixture. At this point, the batter will be fairly thick. Try not to overmix, but make sure all the ingredients are fully incorporated.
Divide the batter between the muffin tins, filling each one almost to the top. Bake until the muffins have puffed up, are starting to brown around the edges, and a cake tester comes out clean, 25 to 30 minutes. Transfer the muffins to a wire cooling rack.
When the muffins are cool enough to handle but still warm, melt the butter in a microwave-safe dish (or on the stovetop) and use a pastry brush to paint the tops of the muffins with butter.
Sift powdered sugar over the doughnut muffins. For a heavy coating, do this twice.
Notes
Muffins are best when fresh from the oven, but are still very — addictively — good over the next day or two. You can also warm them quickly in the microwave.
Make-ahead tip: The batter can be prepared ahead of time, covered, and refrigerated overnight, and baked off in the morning.
By Emma Christensen
Adapted from Patricia Rain, Vanilla Queen
Latest posts by Patricia Rain
(see all)
Tags: doughnut muffins, Eggnog Doughnut Muffins, Emma Christensen, Holiday doughnut muffins
Patricia Rain
Patricia Rain
is an author, educator, culinary historian, and owner of The Vanilla Company (www.vanillaqueen.com), a socially conscious, product-driven information and education site dedicated to the promotion of pure, natural vanilla, and the support of vanilla farmers worldwide. She also does culinary presentations for food professionals, cooking schools, trade shows, food fairs, and private groups, and is a regular radio and TV guest.