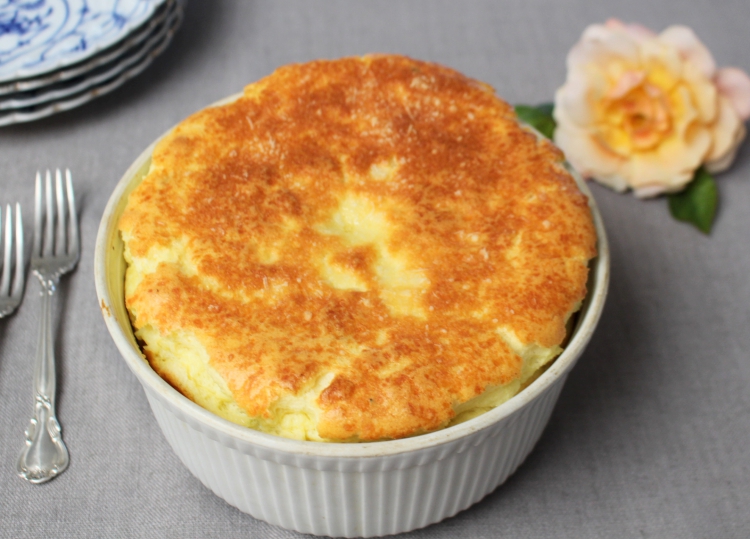 I have a confession to make. Until yesterday, I have never made a cheese soufflé. This is a somewhat startling revelation given I've been cooking since I was five years old. When I was younger, I was intimidated by the idea that it might fail and I would have what I assumed would look like a pancake. (It won't). This was of especial concern if I had guests waiting for a spectacular dinner that failed.

Ironically, it took a pandemic and the lead in a magazine that said, "Easy Cheese Souffle: a simple showstopper to lift spirits." Just below the title was a photo of a souffle in a glass bread pan that was a beautiful golden and, at the same time, slightly off kilter. That was somehow reassuring. (Mine, as you can see, is also slightly off kilter due to an uneven oven.)
Further, it was billed as something you can make when you are low on food, but have eggs, cheese and milk in the refrigerator. I bit. And I am so glad I did. You will be too. And, while I used wheat flour instead of gluten-free flour, I'm now ready to try it gluten-free as it doesn't depend on the gluten for its rise.
Have all your ingredients prepped, pans, whisks and beater ready and oven heated before you start. And guests or family ready to come to the table as soon as the soufflé comes out of the oven. It will start to drop slightly within five minutes, and will continue to drop – but it won't be a pancake and it's even tasty when reheated.
If you don't have a shallot around, you're fine using finely chopped scallions. You can use grated Guyere, Cheddar, Swiss or Gouda. I used a New Zealand cheddar that wasn't overly sharp.
I called my friends on the spur of the moment and said that I had the soufflé in the oven and to come to my back deck with a plate and fork in 25 – 30 minutes as I needed to shoot photos first.
We had soufflé, strawberries and Fume Blanc and felt so much lighter and happier as we visited six feet apart, and everyone agreed it was beyond delicious. Another friend came over several hours later. I warmed her piece for 30 seconds in the microwave, and it held its own. It's light in texture but hearty and completely satisfying.
Print
Easy, Delicious Cheese Souffle
Ingredients
3 tablespoons butter, plus extra for greasing the dish
1/4 cup grated Parmesan cheese, divided
1 shallot, minced (can substitute scallions)
3 tablespoons all-purpose flour
1 cup whole milk (plant milk works)
3 large eggs
1/4 teaspoon cream of tartar
4 ounces (1 cup) Gruyere, Cheddar, Swiss or Gouda cheese
1/2 teaspoon salt or to taste
1/4 teaspoon pepper
1/4 teaspoon Dijon mustard
Large pinch of nutmeg

1/2 teaspoon pure vanilla extract
Instructions
Place an oven rack in middle position and heat oven to 350 degrees. Grease the bottom and sides of an 8-1/2 by 4-1/2-inch glass loaf pan, a 1-1/2 quart soufflé dish, or a 1-1/2 quart ovenproof pot. Sprinkle 2 tablespoons Parmesan into the pan and shake to coat evenly.
Melt 3 tablespoons butter in a medium saucepan or skillet, over medium heat. Add shallot and cook until softened, about 2 minutes. Stir in flour and cook until golden, about 1 – 2 minutes. Slowly whisk in milk. Bring to a simmer and cook, whisking until thickened and smooth, about 1 -2 minutes. Remove from heat, whisk in cheese, salt, pepper, mustard, nutmeg and vanilla. Transfer mixture to a large bowl. Whisk in egg yolks until completely incorporated and set aside.
In a separate bowl, beat egg whites and cream of tartar (with an electric mixer at medium-high speed or whisk by hand) until stiff peaks form.
Working with a quarter of the whipped egg whites at a time, gently fold them into the yolk mixture until almost no white streaks remain. Pour mixture into prepared pan and sprinkle with remaining 2 tablespoons Parmesan. Bake until top is nicely browned and center jiggles slightly, 25 – 30 minutes. Bring the soufflé straight from the oven to the table. Serves 4
Latest posts by Patricia Rain
(see all)