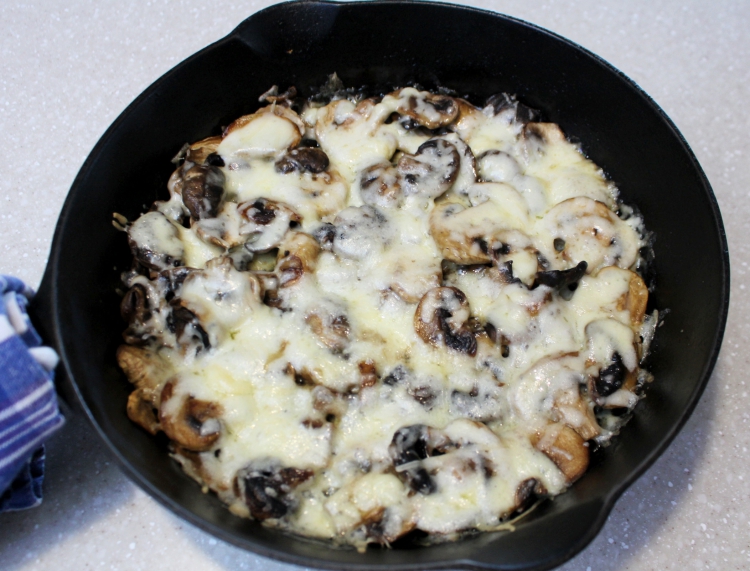 Mushrooms are so amazing! They make a flavorful meat substitute and help to strengthen our immune system, a big plus during the winter and early spring. Using a variety of mushrooms adds more flavor and texture to this easy-to make dish. The mushrooms can be cooked ahead of time, then baked just before dining. It's good as an entrée, side dish or appetizer. Use a cast iron skillet as I did, and it can go from oven to table and remain warm as cast iron cools down slowly.
For cheeses, consider Havarti, Fontina, Gruyere, Swiss or Jack. Trader Joe's has a grated cheese blend called "Cuatro Fromaggio," which is a blend of Parmesan, Asiago, Fontina and mild Provelone. This is one of my go-to blends for pizza and pasta and is ideal for this dish as well.
Two details to remember: Mushrooms cook down so you will need a minimum of a pound for four people if you're using this as a side dish or entree. I used a half-pound for this photo; otherwise I would have been eating this addictive dish for days. The other is that you can use as much or as little cheese as you want. Use crusty bread or sturdy chips if you're using this recipe as an appetizer, though thick French fries could be a tempting match — your call. Adding vanilla to the recipe helps to accentuate the delicate flavor of mushrooms.
Print
Earthy Delicious Baked Mushrooms with Cheese
1 – 2 pounds mushrooms, cleaned and cut into slices or pieces
1 – 2 Tablespoons olive oil
1 – 2 Tablespoons butter
1 – 2 teaspoons pure vanilla extract
8 – 16 oz cheese of your choice, shredded or sliced*
Dash of Hot Sauce (optional)
Salt and pepper to taste
Chopped parsley to sprinkle over mushrooms (optional)
Instructions
Preheat oven to 350 degrees F.
In a sauté pan or cast iron skillet, melt butter and oil (the amount you use depends on the amount of mushrooms you are cooking). Add mushrooms and sauté until they relax and soften.
Place the mushrooms in a roasting pan (or keep in the cast iron skillet) cover with cheeses and bake until cheese is bubbly.
An optional addition is Asiago or Parmesan cheese sprinkled on in the last five minutes of baking.
Serve with warm bread. If you prepared this dish in a cast iron skillet, set it on a trivet on the table so guests can serve themselves. You can place the hot mushrooms and cheese on baguette rounds, over roasted potatoes or French fries or with chips. Sprinkle with a little chopped parsley.
Latest posts by Patricia Rain
(see all)