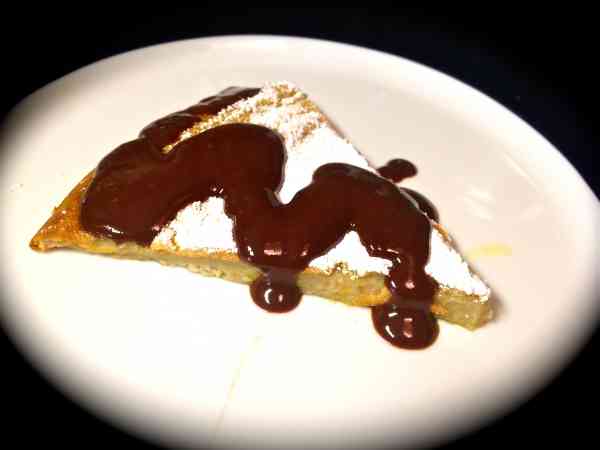 Courtesy of Stephany Zonis
My mother made a variation of this baked pancake for Sunday morning breakfasts. There really isn't much to it, but it somehow manages to rise dramatically as it bakes. I have improved the original recipe by adding a little sugar and lemon zest–and, of course, vanilla!
You'll need a 12 inch diameter frying pan that must be able to withstand an oven temperature of at least 400 degrees (I prefer 425 degrees F, as it browns better but 400 degrees F will work). Like time itself, this pancake waits for no one. Remove it carefully from the oven, using pot holders (the pan will be very hot), then cut and serve it at once. If you prefer, you can skip the chocolate sauce and whipped cream, and simply sprinkle a bit of confectioners sugar over the top of the Dutch Baby, and/or serve it with some good-quality preserves.
Print
Dutch Baby Pancake with Chocolate Sauce
Batter
1 cup unbleached all-purpose flour
1 tablespoon baking powder
1/8 teaspoon salt
1/2 cup sugar
6 ounces (1 1/2 sticks) unsalted butter, melted
2 large eggs
1/4 cup milk, any fat content is okay
1 teaspoon Rain's Choice pure Vanilla Extract
Filling
2 pounds ricotta cheese
1/2 pound small curd cottage cheese
2 large eggs
1/4 cup sugar
1/4 teaspoon salt
2 teaspoons fresh lemon juice
fresh berries or blueberry jam, optional
Instructions
Position a rack in the middle of the oven. Preheat the oven to 300 degrees.
Butter the bottom and sides of a 13 x 9 x 2-inch baking pan or ovenproof glass or ceramic dish.
Put the flour, baking powder, salt, and sugar in a large bowl and together. Add the melted butter, eggs, milk, and vanilla, and use a large spoon to stir the mixture until the ingredients are combined and smooth. Pour 1 1/4 cups of the batter in the bottom of the prepared pan, tilting the pan to spread it evenly. Set the remainder of the mixture aside while you prepare the filling.
Put the ricotta cheese, cottage cheese, eggs, sugar, salt, and lemon juice in a large bowl. Stir the mixture until the ingredients are blended together. Spread the filling evenly over the batter in the pan. A thin metal spatula works well for spreading it. Spread the remaining batter evenly over the ricotta cheese mixture. It will not cover the top completely, but spreads evenly during baking.
Bake the blintz for about 1-1/2 hours, or until the edges look brown and crisp and bubble gently. The top will be golden. Use a large serving spoon to serve the hot blintz. Serve with fresh strawberries, raspberries, or blueberries, or pass blueberry jam, if desired.
Look Delicious?
Pin it for the world to see!
Latest posts by Patricia Rain
(see all)