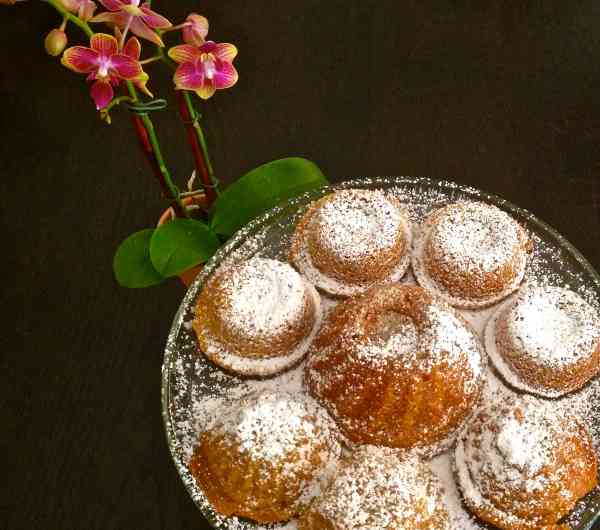 This is a gem of a cake. It's a rich, buttery cake with an orange and Grand Marnier glaze, a perfect completion to a lovely meal. I made the cake in the picture for a friend's birthday party. The Satsuma Mandarins had just come into the Farmers Market so I purchased a bag filled with the sweet orange orbs, and added lots of fresh zest to the cake batter. I didn't get a picture of the cut cake as I left before the party began, but I received a call later and received rave reviews. Highly recommended!
Print
Deep Down Orange Cake
1 cup (2 sticks) butter
1–1/2 cups sugar
3 eggs, separated
2 cups flour
1 teaspoon baking powder
1 teaspoon baking soda
1 cup sour cream or Greek yogurt
grated rind of one orange
1 teaspoon Rain's Choice pure Vanilla Extract
1/2 cup chopped, toasted walnuts (optional)
1/4 cup orange juice (ideally fresh)
1/3 cup Grand Marnier
walnuts for top of cake (optional)
Instructions
Heat oven to 350 degrees F. Grease a 9-inch tube pan or bundt pan.
Sift flour, baking powder and soda into a bowl or onto waxed paper. Set aside.
In a large mixing bowl, cream butter,1 cup of sugar and vanilla with a mixer until light and fluffy, about 3 minutes. Beat in egg yolks. Add half of dry ingredients and sour cream, blending well, then add the second half of each and blend well. Add in orange rind and chopped nuts if using..
In a medium bowl, beat egg whites until they hold stiff peaks. Add about 1/4 of cake batter and fold gently. Now add the egg whites, batter mix into the balance of the cake batter, and fold gently just until incorporated.
Pour batter into cake pan and even the top. Bake 50 minutes or just until done. A skewer inserted into the cake should come out clean. If the top begins to brown too much, cover with aluminum foil.
Place cake on a rack to cool.
While the cake is baking combine 1/2 cup sugar with the orange juice and orange liquor. With a skewer, poke holes in the hot cake when it comes out of the oven. Pour the glaze over the cake slowly so that it soaks into the cake.
When the cake is cool, turn it out onto a serving plate. Decorate with chopped walnuts if desired.
Look Delicious? Pin it for the world to see!
Latest posts by Patricia Rain
(see all)