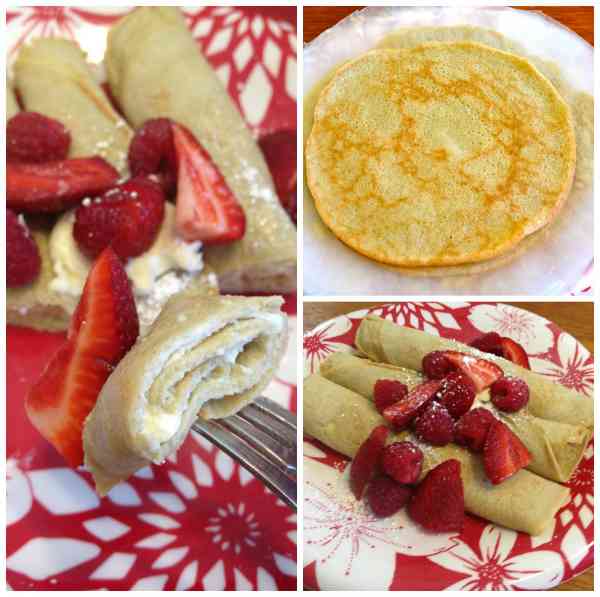 Print
Crepes
2 large eggs
1 tablespoon vegetable oil
1 cup whole milk
1/2 cup flour
1/4 teaspoon salt or to taste
1/4 teaspoon Rain's Choice Mexican Vanilla Extract
additional butter or oil
Instructions
In a medium-sized mixing bowl, beat the eggs until they're blended. Add the oil and beat well. Add the milk and continue stirring for 1 minute. Incorporate the rest of the ingredients and beat for an additional minute. Let rest for at least 15 minutes.
To make the crepes, heat lightly buttered or oiled crepe pan or sloping sauté pan over medium-high heat. Pour about 1/4 cup (2 oz.) of the crepe batter so that it coats the bottom of the pan. Move the pan in a circular motion about 3 times until the batter even coats the bottom of the pan.
Cook the crepe on 1 side 45 seconds to a minute. Turn using a thin spatula or your fingers (the edges of the crepe will be dry and pull away from the sides of the pan. Cook another 45 seconds to 1 minute, then set aside on a dish. Repeat until the batter is used up, lightly greasing the pan only if it becomes too dry. Lower the heat if the crepe pan starts to smoke or the crepes brown too quickly.
If you are making the crepes in advance, as each crepe cools, place it on a piece of waxed paper and then stack crepes on a plate. Cover when completely cool. Crepes can be made 1 day in advance and then brought to room temperature or warmed slightly before filling.
Look Delicious? Pin it for the world to see!
Latest posts by Patricia Rain
(see all)