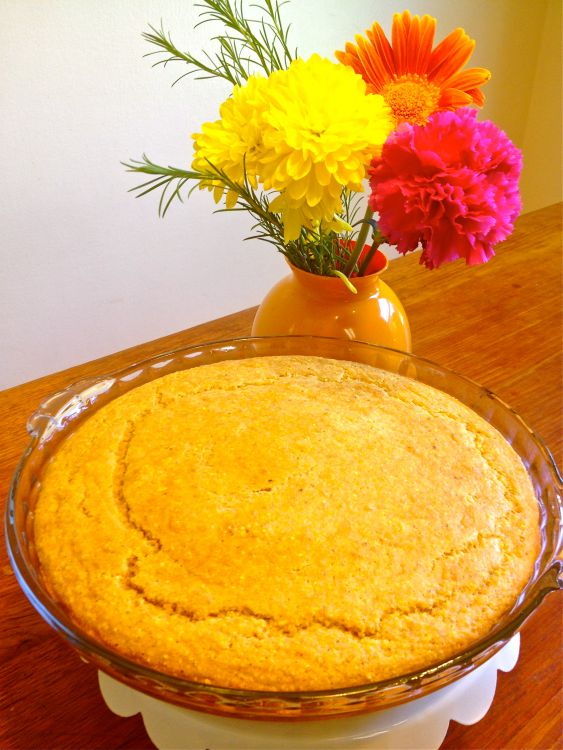 This sweet, moist corn bread has a delicate aroma paired with the grainy texture of the cornmeal. Utterly divine served piping hot with sweet butter and maple syrup, toasted with honey or jam, or for sopping up stews or barbecue.
Print
The Queen's Rich Corn Bread
1–1/2 cups yellow cornmeal, preferably stone-ground
1/2 cup unbleached all-purpose flour
2 tablespoons sugar
1/2 teaspoon salt
1 tablespoon baking powder
1/2 teaspoon baking soda
3 large eggs
1 cup milk
1/4 cup light cream
1 tablespoon Rain's Choice pure Vanilla Extract
6 tablespoons unsalted butter, melted
Instructions
Preheat the oven to 350 degrees F.
Combine the cornmeal, flour, sugar, salt, baking powder, and baking soda in a large bowl.
In a small bowl, mix the eggs, milk, cream, and vanilla with a wooden spoon or dough whisk. Add to the dry ingredients and pour the melted butter over the top of the batter. Stir just until all ingredients are moistened yet thoroughly blended; take care not to over mix.
Pour the batter into a greased 8-inch round spring form pan or square Pyrex pan. Bake in the preheated oven about 40 to 45 minutes, until golden around the edges and a cake tester inserted into the center comes out clean. Let stand 15 minutes before cutting to serve.
Latest posts by Patricia Rain
(see all)