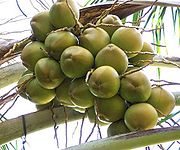 Coconut, Cocos nucifera, is a member of the palm family, which thrives nearly worldwide in lowland, moist, tropical and sub-tropical climates. Botanically, coconuts are a drupe (fleshy fruit with a single seed), and the "nut" that we purchase in the store is the seed. Its origin is uncertain, as the heavy outer husk of the coconut is impervious to salt water intrusion and coconuts can float for up to eight months in saltwater and still remain viable! Theories on their origins range from the Indo-Malaysian region to Africa to Polynesia and even the Americas. Wherever they originated, they are popular for their uses in beverages and food, for their high-quality oil, as a fermented alcoholic beverage, for their use in making rope and other building materials, as well as for use in crafts.
Coconut milk is made from the meat of the mature coconut that has been desiccated and squeezed for its rich liquid. Coconut cream is the fat-laden layer that floats to the top and solidifies when the coconut milk is chilled. Coconut water or juice is the liquid inside of young coconuts. Contrary to earlier beliefs, coconut oil and fat are healthy fats. Canned regular coconut milk makes an excellent substitute for cream in ice cream and chocolate ganache for truffles and frosting. Either regular or light coconut milk provides a delicious Asian and Caribbean flavor to rice or beans.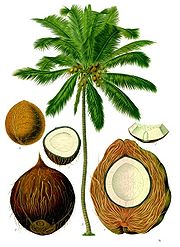 Coconuts are known for their anti-bacterial, anti-viral and anti-fungal properties, and are used in Ayurvedic medicines. They are also used to relieve mouth sores and ulcerations.
Latest posts by Patricia Rain
(see all)