Monteverde Cloud Forest Biological Reserve During the Dry Season
In my humble opinion, ecotourism is so much more fun and enlightening than staying at a resort full of amenities but short on soul. My visit to Costa Rica in March was full of soul, but even more, filled with many terrific experiences that I'll savor for years to come.
Costa Rica has positioned itself as a world leader in responsible ecotourism. This is a wise move for a developing country with so many natural resources, a diversified, literate population, a relatively low crime rate (and no army!) and a stable economy. The Ticos, as they refer to themselves, say they were lucky that their country didn't have resources like abundant gold, silver or oil, so their country was largely ignored instead of plundered like so many of the countries in the Americas.
Surfers discovered the Pacific Coast waves in Costa Rica in the 1980s. Word got out about Costa Rica's beauty and the many things to do and see there. By 1999 1.03 million people, mostly from the US, headed to Costa Rica. By 2012, that number had jumped to 2.3 million and annual revenue from tourism topped $4.2 billion and, since 2010, has accounted for 5.3% of the GDP. In fact, tourism brings in more revenue than their international sales of coffee, pineapples and bananas combined!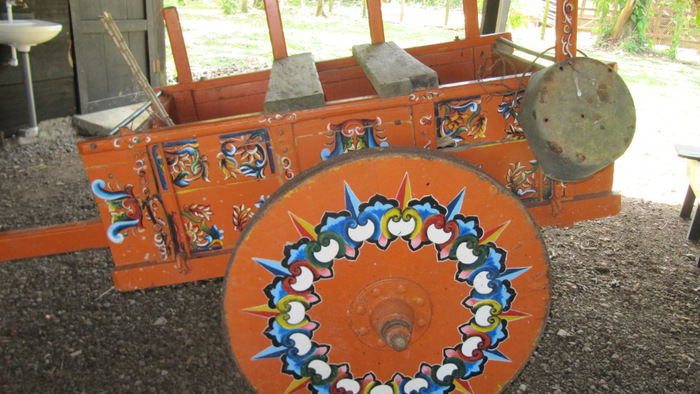 Traditional Ox Carts Used in Costa Rica
Fortunately, the Costa Rican government has realized the value of this resource. 25% of their land is under protective status and responsible tourism has lifted up tens of thousands of people in a country that was very poor in 1970. Even the country's small indigenous population has been able to purchase title to their land due to tourism!
Farm Growing Timber for Building Homes and Furniture
I came to Costa Rica to speak at a conference about vanilla, agroforestry, and wood and non-wood forest materials. It was here that I learned about Costa Rica's commitment to protecting their forests. Having lived in Central America and spent considerable time in an area of Mexico that was once nearly all tropical forest, I've seen firsthand the devastation of clear-cutting. I was impressed by how much forested area remains in Costa Rica and that they are trying to protect these valuable resources.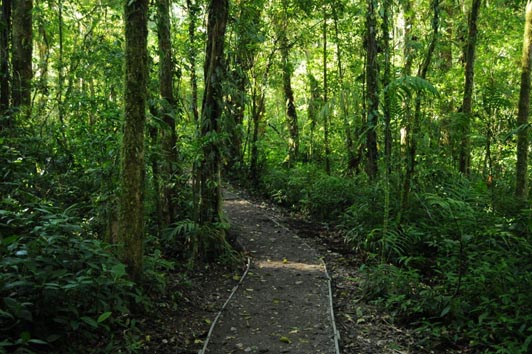 As my time as a tourist in Costa Rica was limited, I chose two days in the Monteverde Cloud Forest Biological Reserve, the best known of the cloud forests that follow the mountain ridges of the Cordillera Tileran. Just before the Korean War, a group of Quakers, mostly from Fairhope, Alabama, along with people who were not Quakers but were pacifists, chose Costa Rica as their new home as the country had no army. As the Monteverde forest region is cooler than the lower altitude areas of Costa Rica, it was an ideal location for dairy farming. The Quakers stewarded and farmed a large region, then later turned it into the reserve now enjoyed by thousands of visitors yearly.
Tourists flock to this region to see the exotic Quetzal birds, Toucans, Scarlet Macaws, parrots and many other tropical birds as well as monkeys, sloths, coati mundis (an amusing diurnal animal related to the raccoon) and other animals. My dream was to see the elusive Quetzal; the rest was frosting on the cake.
The most eco-friendly way to visit the region is via a shuttle or bus. Shuttles pick up riders at their hotels in San Jose. It costs $53 and takes approximately four hours. Costa Rican buses have Mercedes engines and are reasonably comfortable. They cost $6 and take a little more than four hours. Both stop for a twenty minute break along the way. In addition to having clean bathrooms, the rest stops offer cold drinks, meals and snacks. There are two shuttles and two buses a day. The last 45 minutes of the trip is over unpaved roads. The Monteverde community decided on this as a way to discourage private cars and an overabundance of tourists.
Prices for lodging vary dramatically from $20 to more than $300 per night. At Booking.com you can choose what suits your needs and pocketbook. Don't rule out the less expensive places as you'll be outside the majority of the time. I recommend Casa Alquimia Artes, a small airbnb about a mile from the reserve. My room was simple but very clean, with a comfortable bed and a private bath. As I was on the second floor, it felt like I was tucked into a tree house. Breakfast included fresh fruit, local eggs, toast and homemade jams as well as local coffee or a choice of teas. I was there during the slow season so my room and breakfast cost $25 a night. High season runs $50 a nite or more, depending on the room.
The owners, Tarsicio and Marianela are very gracious hosts. Originally from Ecuador, they live on the property with their family and are artists. I took the 6:30 am bus to Monteverde, and a taxi from the bus station to Casa Alquimia Artes ($3.00 flat fee.) Tarsicio invited me into the dining area for fresh fruit and a cup of tea while Marianela prepared my room. The advantage of taking the early bus (6:30 am) is a full afternoon to explore the region. Tarsicio suggested that I walk five minutes into town where there are a variety of dining options, then a visit to the Sanctuario Ecologico. I ate at the charming little restaurant run by Casem, an artisan coop. For less than $6.00 I enjoyed a delicious traditional Costa Rican meal and fresh passion fruit punch. I then caught a taxi to the ecological sanctuary.
The sanctuary is beautiful, never as crowded as the reserve, and a delightful way to begin my stay in Monteverde. The young man at the reception
area was part of the family who own the sanctuary and I assume live there as well. The reception area was the original family cabin. The entry pass costs $10. You can hire a guide but it really isn't necessary for day hikes though highly recommended for the night tour. Trails are well-marked and meticulously maintained. Birds called from the treetops and the coati mundis rustled through the bushes and trees hunting for grubs and worms. The air was filled with large electric blue and yellow butterflies. Along the way there were incredible views of the mountains and gorges. The only strenuous part of the walk wasn't on the main trail. A separate path descended deeply into a gorge to see what sounded like an enormous waterfall. I saw more animals than people during the two plus hours I was there. The pass is good for all day, and there are tables and benches at several spots for picnics.
Capuchin Monkeys and Strangler Fig
When I returned to the reception area to thank the young man, I told him how much I enjoyed the sanctuary but was disappointed that I hadn't seen the Capuchin monkeys. He said, "Actually, one is hanging on the sign by the door." Indeed, a band of Capuchin monkeys arrived from the other direction and were very interested to see if I had something for them to eat. A single coati came down the path toward me and then changed its mind and turned back into the forest.
Tarsicio arranged for another guest and me to go the next day on an early morning bird tour in the Monteverde reserve. The guide picked us up at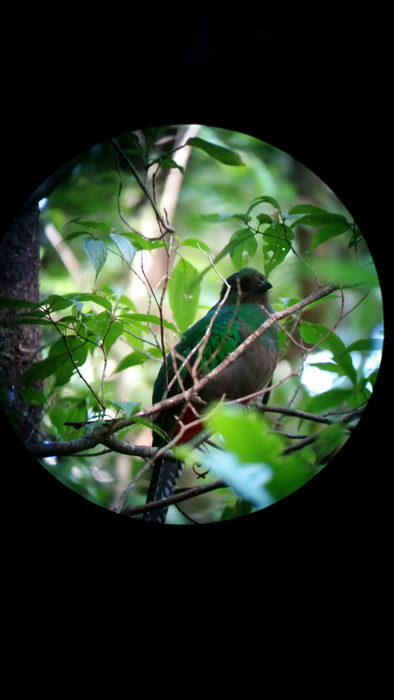 7:00 am and spoke excellent English. He grew up in Monteverde and was a wealth of information. He had a telescope for seeing birds in the canopy and took pictures for us on our cell phones using his telescope as the birds are usually tucked high into the forest canopy. We followed a path that ultimately led to a gorgeous water fall. In addition to the birds, we learned about the unique ecodiversity of the forest, non-native plants brought in by birds, and even the impact of the visitors on the forest. The tour lasted about three hours. We then went as a group to a coffee shop for excellent local coffee and desserts. Bird feeders lined the deck and were filled with several varieties of hummingbirds. We were then driven back to our lodge. The cost? $40 per person, which included our entry fee to the reserve. There are also canopy walks and zipline tours of the reserve as well as night tours, when many of the birds and animals are active. Again, prices vary, but guided tours are highly recommended as you will learn a lot and see many things you would miss on your own.
I passed up the zipline and the canopy walk, choosing instead to meet Nery, the manager of Casem, an artisan cooperative that is celebrating 34 years this summer. The coop's story is so remarkable that it deserves a separate blog. While there were so many exciting options I passed up, my afternoon at the coop was not only inspirational, but provided an excellent model for me to share in my work with women in the developing world.
In addition to the Monteverde biological reserve and sanctuary, you can tour coffee, chocolate and sugarcane farms, cheese and chocolate factories, a butterfly garden, bat jungle, a serpent and frog museum, take a historical and heritage tour and go horseback riding. Also, be sure to visit Casem, the artisan cooperative with over 85 local participants, beautiful handcrafts, and a lovely cafe.
Roughly 1-1/2 hours away (a few ridges over) is the town of Fortuna, famous for its thermal springs. There are a number of spas, all beautiful, with pools of different temperatures, lush gardens and restaurants. One late afternoon after our conference ended for the day, we traveled to Fortuna on a university bus and enjoyed soaking in the warm mineral waters. Fortuna is at the base of Arenal, a volcano that has been active for the last 30 years. When the clouds aren't shrouding the volcano, visitors are treated to watching the hot lava course down the sides of the volcano. After a few very active days, this is a great place to spend some time and soak tired muscles and joints!
Despite all the pluses of ecotourism, there is a downside as well. Many of the preserves and national parks are seeing an over-capacity of visitors, which stresses resources as well as the plants and animals. While tourism has benefited many of the Ticos who work in the service industries, a large number of rural communities have been left out and have experienced a loss of income. There continues to be high unemployment in the big cities and many rural areas. The government has placed crippling taxes on local businesses while allowing tax breaks and special accommodations for multi-national corporations and the very wealthy nationals. And despite strict rules about deforestation (you can be sent to prison for 7 – 11 years for cutting down old growth hardwood trees on your own property), it continues at a troubling rate.
While clearly we can't solve all these problems, by traveling lightly on the land, being mindful of our choices of activities, learning and respecting the local culture and, if the opportunity arises, spending a day, or even a half day doing volunteer work, we can be an asset rather than hindrance toward protecting the environment. To quote the mantra of wise ecotourism, "Take nothing but pictures, leave nothing but footprints and waste nothing but time."
Latest posts by Patricia Rain
(see all)