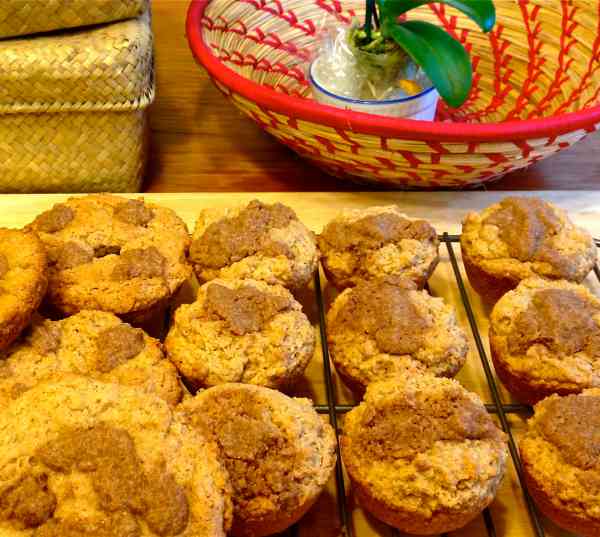 Courtesy of Pat Sinclair
Warm cinnamon aromas drifting from the kitchen will call everyone for breakfast. Prepare the topping like a biscuit dough on these muffins. Cut the cold butter into the flour and sugar. Leave some pea-sized pieces. Lightly grease the muffin cups. I never use paper baking liners for muffins because the muffins tend to stick to the paper and do not come out cleanly. Without liners muffins have a tender golden crust. Serve these fragrant muffins hot from the oven. They are fabulous served warm with apple butter.
Print
Cinnamon Streusel Muffins
2 cups all-purpose flour
3/4 cup sugar
1 tablespoon baking powder
2 teaspoons cinnamon
1/2 teaspoon salt
3/4 cup milk
1/2 cup butter, melted
1–1/2 teaspoons Rain's Choice pure Vanilla Extract
1 egg, beaten
Streusel topping
1/4 cup all-purpose flour
1/4 cup firmly packed brown sugar
1 teaspoon cinnamon
3 tablespoons cold butter
Instructions
Heat oven to 400 degrees F. Place oven rack in center of oven. Lightly grease bottom and slightly up the sides of 12 muffin cups.
Combine flour, sugar, baking powder, cinnamon and salt in medium bowl. Stir several times until the cinnamon is well mixed in. Make a well in the center.
Beat milk, melted butter, vanilla and egg with a wire whisk in a medium bowl. Mixture doesn't have to be completely smooth. Pour milk mixture into flour mixture and stir just until flour is moistened. Do not over mix. Batter can still be slightly lumpy. Divide batter into prepared muffin cups filling about 2/3 full.
Combine flour, sugar and cinnamon for streusel in a small bowl. Add cold butter and cut in with a pastry blender until mixture is crumbly. Sprinkle about 1 tablespoon streusel over each muffin.
Bake 18 to 20 minutes or until golden brown. Toothpick inserted in center of a muffin will come out dry.
Look Delicious?
Pin it for the world to see!
Latest posts by Patricia Rain
(see all)