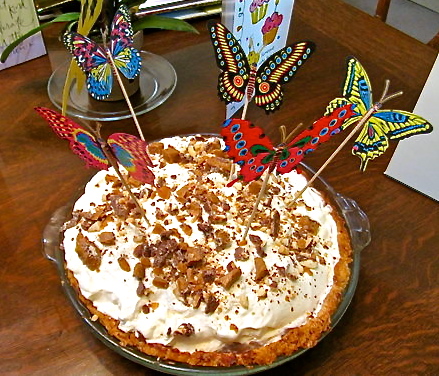 Adapted from Carolyn Weil's recipe from The Baker's Dozen Cookbook
Print
Bittersweet Chocolate Pudding Pie
1 pie crust, baked
Pudding Filling
2–1/2 cups milk
1/2 cup heavy cream
3/4 cup sugar
2 large eggs
2 large egg yolks
1/4 cup cornstarch (preferably non-gmo)
3 tablespoons unsweetened cocoa powder
pinch of salt

7 ounces bittersweet chocolate such as Guittard, finely chopped
3 tablespoons unsalted butter
1 tablespoon Rain's Choice pure Vanilla Extract
Topping
1 cup heavy cream
1 tablespoon sugar
1–1/2 teaspoons Rain's Choice pure Vanilla Extract
1/2 cup English toffee, broken into pieces.
Instructions
Pudding Filling
Bring the milk and cream to a simmer in a non-reactive medium saucepan over medium heat. IIn a medium bwl, whisk the sugar, eggs and yolks. Add the cornstarch, cocoa and salt and whisk well. Gradually whisk in the warm milk. Return the mixture to the saucepan.
Cook over medium heat, whisking constantly, until the filling comes to a full boil. Remove from the heat and add the chocolate, butter and vanilla. Let stand for a few minutes, then whisk until the chocolate and butter are melted. Strain through a wire sieve into a medium bowl to remove any bits of egg white.
Pour the warm filling into the pie shell. Cover with plastic wrap and pierce wrap so steam can escape. Refrigerate until well chilled, at least 2 hours. The pie can be made up to 1 day ahead, covered and refrigerated.
Topping
In a deep, medium bowl, combine the cream, sugar and vanilla. Using a whisk or a hand-held mixer, whip together until soft peaks form.
Spoon the whipped cream into the center of the chilled pie, mounding it casually so cream will spread naturally. Scatter the toffee pieces over the top just before serving. Serve chilled, cut into wedges with a sharp knife.
Notes
Fillings thickened with cornstarch must come to a full boil in order for the cornstarch to be fully activated. The cornstarch in the filling will prevent the eggs from curdling. I personally suggest getting organic cornstarch instead of the conventional as it has been genetically modified.
Also, chocolate brands can vary in sweetness. Taste the warm filling. If it's too bitter, add a little extra sugar.
Look Delicious?
Pin it for the world to see!
Latest posts by Patricia Rain
(see all)