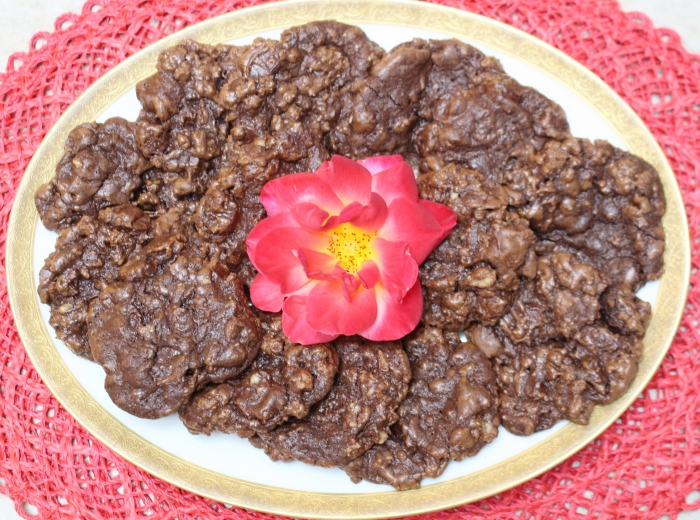 Does anyone ever really get tired of homemade cookies? Whether it's a broken heart, a badly stubbed toe, a big disappointment or a bad day at school or work, a couple of cookies with milk, coffee or tea, can make things right again, or at least, a lot better. And, let's face it: chocolate is a near miracle ingredient for almost everyone. So, when I saw this recipe for Chocolate Whoppers, I knew I had to bake and share it. Thank you, Donna Maurillo for posting this very chocolatey deliciousness in our local paper!
Truth be told, we already have a Chocolate Decadence cookie made with lots of dark chocolate and nuts and it's wonderful, but what I like about this recipe is that it contains cocoa, which accentuates the chocolate flavor, and you can modify it to please children by switching out some of the semi-sweet chocolate for milk chocolate.
The recipe calls for using 3 tablespoon scoops of dough, but you can make the cookies smaller if you prefer. They do spread some, so allow space between cookies. And, of course you can use different nuts or fewer nuts, chocolate chips or chocolate wafers or extra chips and no nuts. However you do it, they're a great way to welcome back the school year or autumn or your birthday or just because.
Print
Chocolate Whoppers
A rich chocolate cookie for lifting your spirits!
6 ounces semisweet (or milk chocolate) baking chocolate
2 ounces unsweetened baking chocolate
3/4 stick (6 tablespoons) unsalted butter
2 large eggs
3/4 cup granulated sugar
2 teaspoons powdered unsweetened cocoa
2 teaspoons Rain's Choice pure Vanilla Extract
1/2 teaspoon salt
1/4 teaspoon baking powder
1/4 cup flour
1 cup (6ounces) semisweet chocolate chips
1 cup (4ounces) walnuts, toasted and chopped
1 cup (4ounces) pecans, toasted and chopped
Instructions
Heat oven to 350 degrees. Place rack in the middle position. Line cookie sheets with foil or baking parchment.
Microwave the first three ingredients in a medium bowl on high for one minute. Stir well. Repeat at 30-second intervals until mixture is almost completely melted. Stir until melted and smooth.
In another medium bowl, beat eggs, sugar, cocoa, vanilla, salt, and baking powder on high speed until light and bubbly, about two minutes. Reduce speed to low. Beat in the chocolate mixture. Add flour. Beat just until blended. Stir in chips and nuts. Chill dough for 15minutes.
Drop dough onto cookie sheets using about 3tablespoons for each cookie. Leave room for them to spread. Bake 10-12minutes, no longer. The surface will be dry, shiny, and crackled. The inside will be soft. Slide foil or parchment off the cookie sheet and onto a countertop. Cool cookies, then remove to a wire rack. Do not remove from the foil until they are cool or they will fall apart.
Notes
Store in an airtight container. Will last up to a week but don't expect to have any that long.
Latest posts by Patricia Rain
(see all)