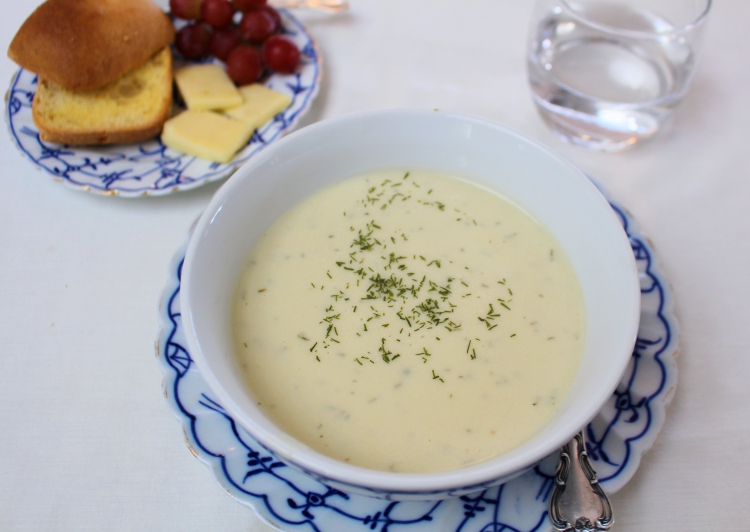 Don't let the title throw you off — Cucumber Soup with Dill and Vanilla is delicious chilled on a hot day; room temperature or heated on a cool day, and refreshing any day. It is mild, with the lovely, subtle flavor of cucumber and the distinctive brightness of dill. If dill isn't you're favorite, substitute nutmeg — or live dangerously and add both.

Did you know that cucumbers are actually a fruit? They're also a super food. High in antioxidants, including flavonoids and tannins, cucumbers prevent the accumulation of harmful free radicals in our bodies. At 96% water, they're hydrating; hydration helps to rev up metabolism. A medium cucumber has about 45 calories. Add sliced cucumber, mint and a few drops of lemon or lime juice along with a splash of vanilla to cold water and you have a refreshing, rehydrating beverage. The list goes on but the point here is that the health properties and delicate flavor are big selling points. It's a three-season favorite of mine; hopefully you'll enjoy it it too. You can make it spicy by adding Siracha or other hot sauce, top it with a bit of creme fraiche or more yogurt, or simply enjoy its delicate sweetness without garnish. Regardless of how you flavor this soup, you will find it refreshing.
Print
Chilled Cucumber Soup with Dill and Vanilla
3 large cucumbers peeled, seeded and chopped into 2-inch pieces
2 medium potatoes, peeled and chopped into 1-inch pieces (Yukon Golds work well)
1 small mild onion, peeled and chopped
5 cups broth (vegetable or chicken broth are best)
lemon or lime juice to taste
1–2 teaspoons Rain's Choice Vanilla Extract (to taste)
3/4 cup Greek Yogurt or heavy cream (or blend of both)
Salt and freshly ground pepper to taste
Fresh or dried Dill to taste
Freshly grated nutmeg (optional)
Instructions
In a 6-8 quart soup pot, add chopped cucumber, potatoes and onion. Add 5 cups of broth and a sprig or two of dill (or add 1 teaspoon of dried dill). Cook on medium-high until soup boils, then lower the heat to a medium simmer and cook until the vegetables are tender. Remove pot from heat and allow to rest. Remove dill sprigs if using. When soup is room temperature it can be refrigerated overnight and finished in the morning or continue finishing the soup.
Blend the vegetables a cup or two at a time in a blender, using just enough broth to create a smooth, semi-thick soup. You will likely have some leftover stock; save it for another purpose. You may also use it instead of yogurt or cream if you wish.
Add yogurt, cream or a blend of both. Taste and add lemon or lime juice and salt and pepper to taste. Add vanilla extract and chopped dill to taste. Season with salt and pepper.
Chill soup for several hours if the weather is hot; serve room temperature or hot if it's chilly.
Notes
Fresh nutmeg to taste gives a warming flavor. To add spiciness, add some Siracha or other hot sauce to taste.
Latest posts by Patricia Rain
(see all)