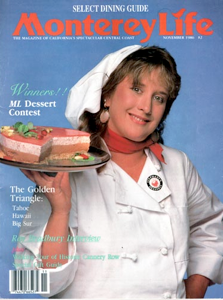 I'm not sure when I first met Stephany Buswell, whether she still had her cake business or whether she was teaching at Cabrillo College and baking for restaurants. Whenever we first met, she was already on her way in creating herself as a local legend, though I'm sure she never saw herself in that light.
Stephany, or Chefany as she's known to her students and colleagues, came up through the ranks the way many of us have, one class and one cake and pie at a time. We grew up during an era when girls learned to cook either at home or in Home Economics classes and we either fell passionately in love with cooking and/or baking or we did it only because we had to. Stephany fell passionately in love with sugar, flour, eggs, butter and spices. As Chefany, she started her professional career working as a baker for a natural foods' store. In the 1980s she apprenticed with a local European-style bakery and expanded her skills and repertoire. She then opened her own bakery until the infamous earthquake of 1989 destroyed the building and her bakery.
Chefany went on to manage two very popular bakeries in Santa Cruz as well as to teach at Cabrillo College. When the Professional Culinary Institute (PCI) in Campbell, California opened and was looking for a pastry chef, I suggested that they interview Stephany: They hired her on the spot! An excellent school with an exemplary staff, Stephany has made a name for herself, training fledgling bakers right out of high school alongside Silicon Valley executives wanting a new career.
Despite her skill in all areas of baking, when asked about some of her favorite baked goods, she's likely to say, "The cheesecake my mother made in the 1950s," or, "A good simple buttercream on a freshly baked cake."
Chefany has a series of culinary videos, a cake and pastry gallery, information on classes at PCI and much more. She also now has a blog, A Sweet Affair, Come Bake with Chefany, with detailed directions and photos to coach you through the recipe. You can also find Chefany on Facebook. Always down-to-earth, accessible and full of humor, cooking with Chefany is a memorable experience.
Still curious about the 1950s cheesecake? How about the freshly baked cake with buttercream? You find these and more recipes by Chefany in our Recipe Section.
Latest posts by Patricia Rain
(see all)