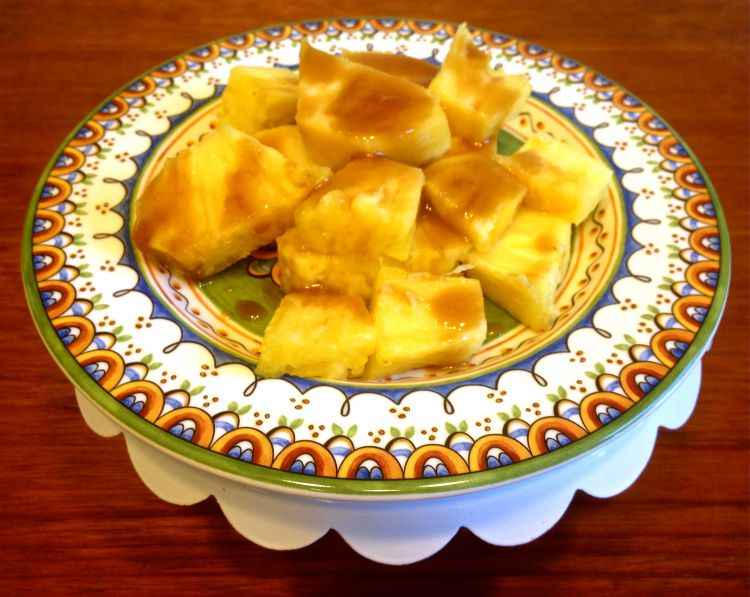 Courtesy of Didi Davis: www.dididavisfoods.com
Classic butterscotch candy is made with butter, brown sugar, and flavored with lemon juice. Butterscotch sauce is an American dessert topping with the flavors of butterscotch candy. Vanilla and brown sugar are a knockout combination, so I have reduced the lemon flavoring and replaced it with vanilla for a richly flavored sauce. Butterscotch sauce, while delicious on pineapple, is tremendously flexible. Serve it on other fruits, such as sliced oranges, bananas, papaya, grapes, peaches, nectarines, or mix the fruits in any combination you like. Try the sauce on baked apples, crepes filled with fruit or ice cream, chocolate-nut tart, pear or apple tart, bread pudding, ice cream or yogurt. It is also wonderful on cakes, such as pound, sponge, or angel food cake. This sauce will keep for a week or two in the refrigerator. Gently heat the sauce to the temperature you desire (room temperature, warm, hot) when you are ready to serve.
Print
Vanilla Flavored Butterscotch Sauce with Fresh Pineapple
1 large pineapple, top and bottom trimmed, body peeled, eyes removed, quartered lengthwise, core removed lengthwise
3 tablespoons unsalted butter
3 tablespoons, plus 2 teaspoons water
1 teaspoon fresh lemon juice
1 cup light or dark brown sugar
1/2 Vanilla Bean, split lengthwise
1/2 cup heavy cream
1 tablespoon Rain's Choice pure Vanilla Extract
Instructions
Cut the pineapple quarters crosswise into roughly ¼- to ½-inch-thick slices. Pile the slices into a bowl, cover it, and set aside. The fruit is at its best when served at room temperature. If you prepare it ahead and need to refrigerate it, take it out about 30 minutes to one hour before serving so that it may warm up.
To make the sauce, melt the butter in a 1-quart, non-reactive saucepan. Add the water and lemon juice and stir to mix.
Add the brown sugar and stir until it is dissolved.
Scrape the vanilla bean halves to remove the tiny seeds. Add the seeds and bean halves to the pan.
Bring the mixture to a boil over medium-high heat, stirring occasionally, lower the heat, and boil gently until thickened, about 7 minutes.
Remove the pan from the heat and let it sit for a couple of minutes until the syrup has stopped boiling.
Whisk in the cream until the mixture is smooth. Add the remaining tablespoon vanilla extract to taste, adding 1 teaspoon at a time, mixing well, tasting, and adding more as you like.
Remove the vanilla bean halves, scraping off the sauce, and set aside. (Rinse and dry the pods and save for another use.)
Pour the sauce into a bowl or pitcher. At this point, you may serve the sauce warm, or cool to room temperature.
When ready to serve, place the pineapple slices in individual bowls and pour the sauce over the fruit.
Notes
Serves 6 to 8
Sauce makes approximately 1-1/4 cups
Latest posts by Patricia Rain
(see all)