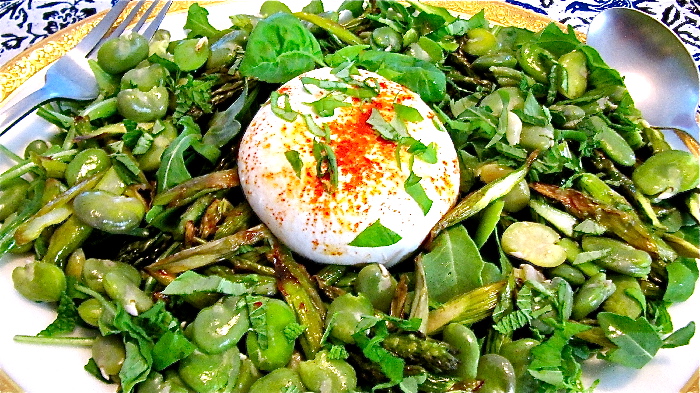 Burrata, how I love thee and all your creamy deliciousness! If you've never tasted burrata, it may be time to treat yourself. It's the rich cousin of fresh mozarella, which by the way, is infinitely more delicious than its other cousin, the more easily available, rubbery, vacuum-packaged mozarella. Burrata has an outer shell made from Mozarella, that is like a pouch. Cream and stringy curd pieces are stuffed into the pouch, so when it's cut open, there's a wonderful creaminess that keeps the interior of the ball deliciously soft and rich and leaks out onto the plate.
I encountered this recipe in a magazine that had adapted it from David Tanis, a food writer for the New York Times. David admitted that there's nothing wrong with simply serving burrata with fresh bread, but it can also be the center of a festive seasonal salad. Being a big fan of burrata, I purchased some, made my version of the salad and served it with fresh, warm sourdough bread.
David's recipe included fennel, celery and fava beans. As I made the salad in late June, I chose roasted asparagus to replace the fennel and skipped the shallots as I served it at a potluck. The reality is that any vegetables in season would be delicious in this salad, most especially fennel, roasted squash or sweet potatoes, green beans, peas, or cannellini beans and tomatoes — essentially whatever is available that you enjoy and that you think would be enhanced with the burrata. I made a vinaigrette as I used more vegetables and arugula than in the original recipe. If you don't like arugula, substitute baby greens or spinach leaves. Served with fresh, warm bread with or without butter, this can be a lovely, light midday meal or supper or the first course of a more substantial meal. A crisp white wine perfectly complements the cheese and salad. The asparagus and fava beans can be prepared the day ahead and returned to room temperature to complete the salad.
Print
Burrata with Fresh Asparagus and Fava Bean Salad
2 pounds fresh fava beans
1 pound fresh asparagus, sliced on the diagonal into 2 – 2-1/2 inch slices. If asparagus is thick, slice asparagus as thinly as possible
1 medium shallot, finely chopped
1/2 cup celery (thin inner stalks) thinly sliced
4 – 5 ounces arugula (can substitute mixed baby lettuces or spinach leaves)
8 ounces of Buratta, drained and brought to room temperature
Mint or basil or a blend of both, sliced into thin ribbons for garnish
Smoked paprika for garnish
Dressing
1/4 cup fruity olive oil
2 tablespoons olive oil, separate use
3 tablespoons fresh lemon juice
1 garlic clove minced (optional)
1 large pinch sugar
1/2 teaspoon Rain's Choice pure Vanilla Extract
Sea salt and freshly ground pepper to taste
Instructions
Heat oven to 375 degrees. Place asparagus on a baking sheet, drizzle 1 tablespoon (or a little more) olive oil over it, mix with a spatula, then lightly salt. Roast for 15 – 20 minutes or until lightly browned and tender. (This can be done a day in advance and refrigerated. Bring asparagus to room temperature before making salad.)
While the asparagus roasts, place a steamer insert into a medium-large saucepan and bring water to a boil. Shuck fava beans from pod. Drop beans into the steamer and cook for 3 – 5 minutes depending upon size of the beans or until just tender. Remove pot from stove, pull out steamer, and place under cold water to stop the cooking process. Slit gray skin of each bean with a knife top and pop the beans out of the skins. (This also can be done a day in advance and refrigerated. Bring beans to room temperature before making the salad.)
In a small bowl add 1/4 cup olive oil, lemon juice, garlic if using, sugar, vanilla, sea salt and pepper. Whisk until dressing comes together. Whisk in shallot. Adjust flavors to taste.
In a mixing bowl add fava beans, asparagus, and celery and mix with a large spoon. Pour dressing over the vegetables and set aside.
On a serving platter place arugula or other greens evenly. Spoon vegetables over arugula and add balance of dressing. Leave space in the middle for the burrata. Place burrata on the platter, drizzle with last tablespoon of olive oil, lightly sprinkle on paprika. Sprinkle mint or basil ribbons over all.
Serve with warm bread.
Notes
Inspired By David Tanis, New York Times
Latest posts by Patricia Rain
(see all)