Cory Ybarra is a dynamic woman with a big heart and enormous determination. In 2006 she launched Building For Generations, a non-profit organization based in Santa Cruz, California. The mission of her organization is to collaborate with marginalized communities in developing countries to establish sustainable programs and opportunities for members with special needs. They then raise the funds necessary to build facilities that will serve these individuals, their families and the community. In addition to building the facilities and providing services for clients, they make certain that there is also vocational training to increase economic opportunities for those with special needs.
In developing countries, special-needs people are frequently hidden away from the public. There is still a sense of family shame surrounding those with mental disabilities and there often is no one to care for them at home. Building For Generations is dedicated to changing this perception and to creating a healthy presence for special needs people within their communities.
What's remarkable about Building for Generations is that within four years, they have already launched three sustainable programs!                                                                                                    
The first is the Naurei Project in Tanzania, Africa. A three-classroom block serving 56 students with special needs was built onto an existing school. This special unit includes a vocational training room where students are producing and selling products to the community. Additionally, Building for Generations built an auditorium to serve the entire school of 1500 students. The auditorium is a part of the special unit and is rented to the community for events. The revenue pays for the resources needed in the classrooms. Cory says, "By September 2009, we will be funding a lunch program to extend the school day for our students. This will enable the families to work an extra three hours and increase their income. We believe the lunch program will sustain itself after the first year." The cost of this project: $38,000.
Abriendo Caminos Clinic in Filandia, Colombia includes a therapy center for children with special needs. Through the therapy center, a musical group of 13 teenagers playing traditional Colombian music, was created. The group Chirimia now plays and performs at events around the country. Building for Generations recorded their music along with a short DVD to sell at the events where they perform. All proceeds go to these delightful and talented musicians. Project cost: $1400.
3-The Chincha Baja Project was completed June, 2009. Located near the epicenter of the August 2007, 8.0 earthquake, this area was one of the most badly damaged. To date, many families are still living in plastic tents. The community members with special needs were traumatized by the disruption to their lives caused by the earthquake.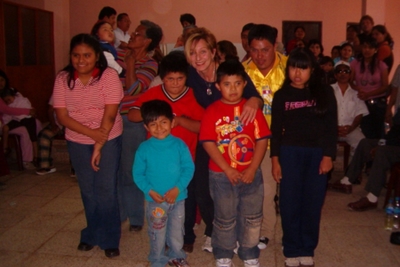 Building For Generations completed a resource and rehabilitation center to serve all ages. The mayor has written the salary of a therapist into the budget and Building For Generations is coordinating with volunteers in the area to further serve the center. Project cost with equipment is estimated at $22,000.
Most often we don't choose the subject of our life's work; instead, the subject chooses us. This is certainly true in the case of Cory. This energetic woman, who has brought love and possibility into the lives of many people across the world, was given the challenge of a son born with Down's Syndrome. Raising a special-needs child requires enormous dedication and hard work, and at times, the responsibility can seem overwhelming.
Cory embraced the challenges with vigor and made certain that Joaquin was actively engaged in the community and enrolled in the excellent programs available in Santa Cruz. Now 31, Joaquin has a job in the community and a reasonably normal a life. With Joaquin grown and thriving, Cory turned her challenges into a gift for other children with disabilities. She has focused her attention on communities in tropical countries where children such as Joaquin have few options for quality-of-life.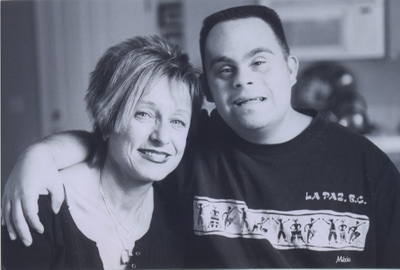 In order for Building For generations to continue their work, donations are always needed and welcomed. Visit www.buildingforgenerations.com for more information and to donate.
Latest posts by Patricia Rain
(see all)