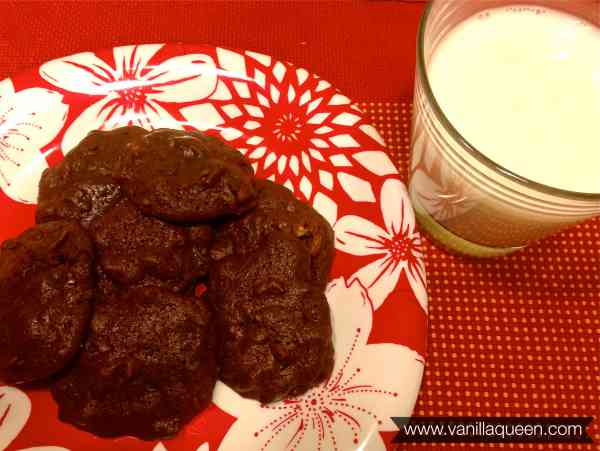 Courtesy of Alice Medrich, Chewy Gooey Crispy Crunchy Melt-In-your-Mouth Cookies
About these cookies Alice says, "Richer than sin, with an irresistible jolt of unrelenting bittersweet chocolate, these cookies are slightly crunchy on the outside with chunky but divinely gooey centers. For the best gooey texture. and balanced flavor, pay attention to the amount of chocolate vis-à-vis the specific cacao percentages called for in the first part of the ingredient list and the sugar adjustment. For the chocolate chunks, I like to chop my own from a bar of bittersweet with 70% or up to 82% cacao for a deeply dramatic contrast to the flavor and sweetness of the batter. This ultra chocolaty batter begins to stiffen almost as soon as you mix it. Your cookies will look best if you scoop them ASAP, while the batter is still soft."
Print
Bittersweet Decadence Cookies
1/4 cup (1.125 ounces) unbleached all-purpose flour
1/4 teaspoon baking powder
1/8 teaspoon salt
8 ounces bittersweet or semisweet chocolate with up to 60% cacao or 7 ounces chocolate with 61% to 64% cacao, chopped
2 tablespoons unsalted butter
2 large eggs
1/2 cup(3.5 ounces) sugar (plus 1 tablespoon [0.375 ounces] if using chocolate with 61% to 64% cacao)
1 teaspoon Rain's Choice pure Vanilla Extract
6 ounces semisweet or bittersweet chocolate with any percentage cacao you like, chopped into generous-size chunks, or purchased chocolate chunks
2 cups (7 ounces) walnut or pecan halves or large pieces
Cookie sheets lined with parchment paper
Instructions
Preheat the oven to 350 degrees F. Position racks in the upper and lower thirds of the oven.
Combine the flour, baking powder, and salt in a small bowl and mix together thoroughly with a whisk.
Place the 8 ounces of chocolate and the butter in a large heatproof bowl set directly in a wide skillet of barely simmering water. Stir frequently just until melted and smooth.
Remove the chocolate from the skillet and set it aside. Leave the heat on under the skillet.
In a large heatproof bowl, whisk the eggs, sugar, and vanilla together thoroughly. Set the bowl in the skillet and stir until the mixture is lukewarm to the touch. Stir the egg mixture into the warm (not hot) chocolate. Stir in the flour mixture, then the chocolate chunks and nuts.
Scoop slightly rounded tablespoons of batter and place 1-1/2 inches apart onto the lined cookie sheets.
Bake for 12 to 14 minutes, until the surface of the cookie looks dry and set and the centers are still gooey. Rotate the sheets from top to bottom and from front to back halfway through the baking time to ensure even baking. Set the pans or just the liners on racks to cool. Let the cookies cool completely before storing or stacking. May be kept in an airtight container for up to 3 days.
Notes
To make the dough ahead, refrigerate or freeze scoops of batter until hard. Place them in an airtight bag and refrigerate for up to 3 days, or place in a second freezer bag or airtight container and freeze for up to 3 months. When ready to bake, thaw frozen scoops in the refrigerator. Place scoops on lined pans, bring to room temperature, and bake as directed.
Look Delicious? Pin it for the world to see!
Latest posts by Patricia Rain
(see all)