Add a spoonful of whipped cream or a pitcher of Creme Anglaise to a slice of dense, lemony cake, and everything in the world seems just a little bit better. That's why I made two of Maida Heatter's Best Damn Lemon Cakes — one as a thank you to a friend, and one to serve to friends this last weekend.
If the name Maida Heatter doesn't resonate, you are probably under 30. Or maybe you weren't a big baker when you were younger. In the 1960s Maida lived in Miami Beach with her husband, who owned Inside Restaurant, and she did all the baking for the restaurant from her home. In 1968 the Republican Convention was held in Miami Beach. She told her husband that if he made an elephant meat omelet that he would get a lot of publicity. (Remember, this was 1968 when no one thought about endangered species.) He told her she was crazy.
She persisted, found canned elephant meat, contacted some chefs for preparation ideas, then called the Miami Herald. Within a few hours, every news service was all over the story. Then she received a call from Craig Claiborne, who was the food editor of the New York Times for thirty years. He said he hadn't planned to come to the Convention until he heard about the elephant meat omelet. If she would grant him an interview, he'd be there.
Maida met him at the airport the following day, brought him to her home where she had all of her desserts laid out on the dining table, and he told her she needed to write a cookbook. She later said that she hated writing but since Craig Claiborne told her she should write a cookbook, she did. Her first book was Maida Heatter's Book of Great Desserts. It was a big hit and she went on to write several more books. Even better, every dessert I've ever made from her recipes was excellent!
In case you were hopeful, no recipes here for elephant (or donkey) meat omelets. However, the Best Damn Lemon Cake (her title) will likely appeal to more guests than the omelet and you don't need to search for it in today's more enlightened marketplace. What you do need is lemon oil, though even that could probably be traded out for more fresh lemon juice. I like the addition of the oil as it reinforces the brightness of the lemon flavor without adding additional acidity or sharpness.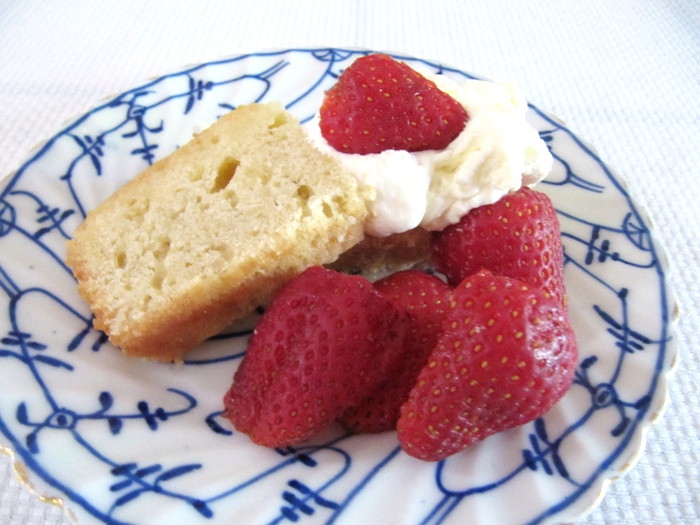 This is a great cake to make in the winter because lemons are in abundance. However, it's really good with fresh berries. That said, who doesn't like a lemony-fresh, dense, slice of cake that has been partially covered with strawberries or raspberries soaked in raspberry wine?
A few comments about this recipe. First, I don't use breadcrumbs; I simply spray or grease the pan so that the cake slips out easily. While Maida said you really need to make this in a loaf pan, I've baked it in a round cake pan, and it worked just fine. Also, I accidentally had an extra lemon's worth of juice when I most recently made it so the glaze was a little too tart. I added honey instead of more sugar to the lemon glaze and it created a beautiful sheen to the top. Consider using a tablespoon of honey along with a tablespoon of sugar instead of two tablespoons of sugar. Adjust the sweetening to taste. And finally, you don't need to use blanched almonds. It's an unnecessary, extra step and the skins are nutritious, so just use whole, raw almonds.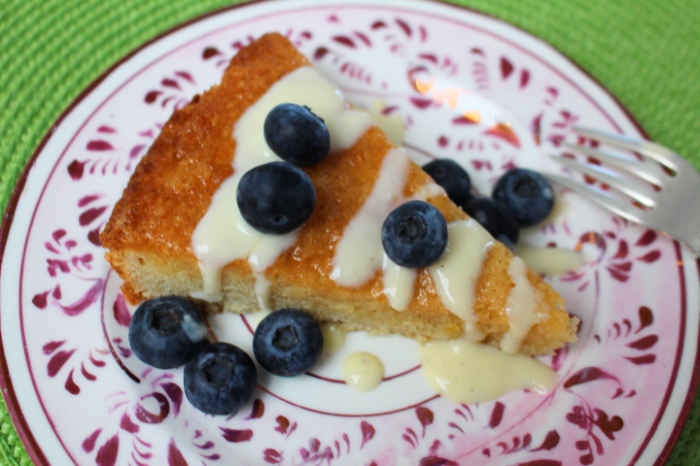 Print
Maida Heatter's Best Damn Lemon Cake
1 tablespoon butter, plus 8 tablespoons melted
2 tbsp. fine dry bread crumbs (optional)
1/2 cup whole raw almonds
1–1/2 cups flour
1 teaspoon baking powder
3/4 teaspoon salt
1–1/3 cups plus 2 tablespoon sugar
2 eggs
1/2 cup milk, at room temperature
2 tablespoons lemon extract
1–1/2 teaspoons Rain's Choice pure Vanilla Extract or 1 teaspoon Rain's Choice ground Vanilla Bean Powder
Zest and juice of 2 lemons*
Instructions
Heat oven to 350°. Grease a loaf pan measuring 8 1/2″ x 4 1/2″ x 2 3/4″ with 1 tbsp. of the butter and dust it with the bread crumbs. Invert and tap out excess crumbs; set aside. In a food processor, grind the almonds until very fine, about 1 minute; set aside. In a bowl, sift together flour, baking powder, and salt and set aside.
Put the remaining butter into a large bowl and add 1 cup of the sugar. Mix with an electric mixer on low speed until combined, about 1 minute. Add the eggs, one at a time, beating just long enough to incorporate, about 30 seconds. Add the flour mixture and milk mixture in 3 batches, beginning and ending with the flour. Beat until mixed after each addition, scraping down the sides of the bowl with a rubber spatula, about 3 minutes total. Mix in the lemon extract and vanilla. With the spatula, fold in the lemon zest and ground almonds. (The mixture will be thin.) Turn batter into prepared pan and bake until a toothpick inserted in the center of the cake comes out clean and dry, about 65 minutes.
Transfer the pan to a cooling rack. Prepare the glaze: Combine remaining sugar and lemon juice in a small saucepan over medium heat and cook, stirring, until sugar is dissolved, about 2 minutes. (Do not boil.) Brush the glaze over the hot cake. (The excess liquid may pool along the sides of the pan; it will absorb completely as it sits.) Once the cake has absorbed all the liquid, turn it out of the pan and allow it to cool upright on a rack. Once it's cool, wrap the cake with aluminum foil and let stand at room temperature for 24 hours before serving.
Notes
* Meyer lemons are sweeter than Eureka and other lemons. When making the lemon syrup add more sweetening if needed. I like using 1 tablespoon of honey along with the sugar as it gives the cake top a lovely sheen.
When the cake has cooled and is wrapped, refrigerate it until you are ready to slice it for serving.
Look Delicious?
Pin it for the world to see!
Latest posts by Patricia Rain
(see all)