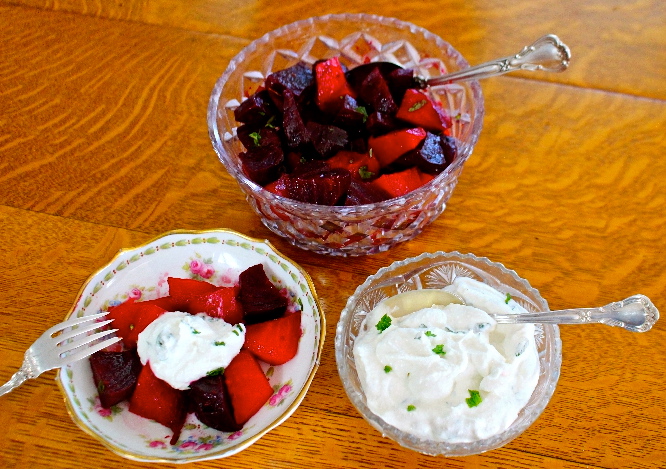 Every January I go to San Francisco for a few days to see friends and celebrate my birthday. I time my visit to coincide with the San Francisco Specialty Food Show though this year I didn't attend. Instead I spent time visiting friends, dining out and enjoying the City.
Some friends, who have a booth at the show, and I have a tradition of meeting at Soto Mare in North Beach for our Northern California delicacy — dungeness crab. Unfortunately, this year we planned to meet Sunday evening — but Soto Mare — which we love, was closed! We ended up at Betty Lu's, a family owned business where the waitstaff was wonderful and they had fresh, cracked crab, but it had been cooked in heavily-salted water and the delicious sweetness of the crab was overwhelmed by the salt. Our visit was wonderful and festive, but we will hopefully meet again at Soto Mare on a weeknight next year.
The second restaurant I visited was Lupa off of Castro and 24th in Noe Valley. It's a small restaurant with maybe 14 tables at the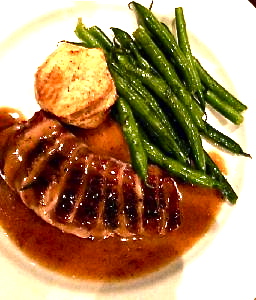 most. The name Lupa is for the legendary she-wolf who nursed Romulous and Remus, the founder twins of Rome. The food was exquisite, a lovely wine list of primarily Italian wines, and service was impeccable. This is a well-kept secret that clearly wasn't known by those attending the food show as it wasn't overcrowded. I would return in a heartbeat.
Four of us enjoyed Cha-ya, on Valencia Between 17th & 18th. It's a vegetarian Japanese restaurant with a well-balanced selection of simply-prepared, healthy food They do serve sake and beer. I always choose Hangetsu, portabella mushrooms that are quartered and made into tempura and served with a kiwi sweet-and-sour sauce. Tucked into the meaty mushroom quarters are small pieces of tofu. They make perfect tempura at this restaurant, but they also have such a variety of delicious options, it's difficult to choose just one or two plates, which is why it's fun to go with friends. Prices are very reasonable but be prepared as they only accept cash.
The last night in the City my friend Diana, with whom I stay in SF, and I went to Uvo Enoteca, an Italian restaurant down the street from her apartment on Haight. On weeknights, they have a Happy Hour with a full bar and they offer a few small plates as well. We shared an exceptional beet salad, that was so good, I came home and replicated it with some simple changes It's the perfect winter salad for anyone who lives where finding baby lettuces and crisp greens in January is a major undertaking, but if you are lucky enough to have greens — or micro-greens — at hand, add them to this salad if you want. I added citrus to the beet marinade to give it extra brightness and to remind us all that spring will eventually be here again!
Print
Roasted Beet Salad with Whipped Ricotta and Mint
2 – 2-1/2 pounds of beets
Vegetable oil such as avocado oil or olive oil plus additional oil as needed
2 tablespoons or more fresh lemon juice
1 – 2 tablespoons tangerine or orange juice
Zest of 1 lemon and 1 orange or tangerine
1/4 teaspoon Rain's Choice pure Vanilla Extract
salt and freshly cracked white or black pepper
1 cup whole milk ricotta cheese
1 tablespoon fresh cream or milk
fresh mint finely minced
Instructions
Heat oven to 375 – 400 degrees F
Wash beets and remove root end, leaves and tops, then cut into quarters. Place beets in a baking dish and add enough oil so that beets are well oiled on cut sides and there is enough oil that they don't stick to the baking dish.
Roast the beets, basting them every 20 minutes or so with the oil, until they knife tender when tested but not super soft.
Remove the beets from the oven and allow to cool until they are easy to handle. Remove their skins then cut them in chunks and place in a medium-sized bowl. Pour any leftover oil into a small bowl, adding more oil if needed to make dressing.
Add lemon juice, orange or tangerine juice, citrus zest, vanilla, and salt and pepper. If the dressing is too acidic, add a small pinch of sugar and whisk. Pour over warm beets.
In another bowl, whisk the ricotta cheese with cream or milk until the ricotta is smooth and creamy. Add finely minced mint.
Serve the beets at room temperature or chilled, with the ricotta on the side. You can also place the beets on individual small plates with a base of baby greens. Add an ample spoon full of ricotta to each plate.
Latest posts by Patricia Rain
(see all)