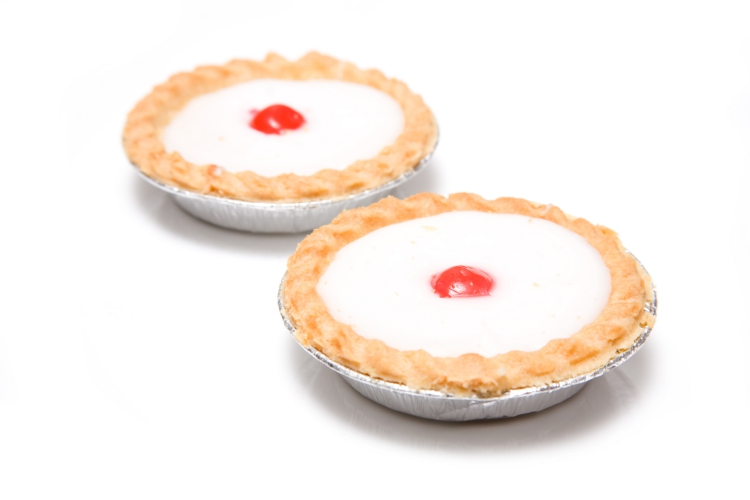 This recipe comes from, A Baker's Passport, written by Susie Norris. Susie says, "Before the 'British Bake-Off' television show, a competition smoldered in Bakewell, Derbyshire in the United Kingdom. Much like Sacher Torte in Vienna, rivalries about the origins of the Bakewell Tart (also known as Bakewell Pudding or Bakewell Pudding Tart, depending on which shop in town you visit) are part of its allure.

"Start with rich, sweet pastry crust, then cover it with raspberry jam, frangipane (a sweet almond and lemon custard), and add a layer of slivered almonds on top. Its hyper-sweet appeal is nowhere in dispute, only which shop makes the original and/or best one."
I first had — and fell in love with — Bakewell Tarts in Devonshire at a castle where I spoke at a fascinating culinary show several years ago. I'm a fool for both frangipane and raspberry jam, so I purchased several small tarts for my friends and I to have at breakfast the next morning. We enjoyed them with hot tea as we watched the sun rise over Stonehenge. The combination of the two places and this very beloved tart, was a quintessential English experience. For those of you not familiar with the usage of "pudding" in the UK, it means any dessert, including, but not necessarily, what we Americans call pudding. I'm here to say that it is very delicious no matter the recipe!
Print
Bakewell Pudding Tart
A delicious UK specialty originally from Derbyshire, England, this recipe is from A Baker's Passport, by Susie Norris, based on the award-winning culinary travel blog, Food Market Gypsy.
For the Tart Dough:
2 cups (9 ounces) all-purpose flour, sifted
1 teaspoon salt
½ cup (4 ounces/1 stick) cold unsalted butter
1 vanilla bean, split and scraped
½ cup (6 ounces) sugar
1 egg
1 egg yolk
2 tablespoons heavy cream
For the Frangipane Filling:
½ cup (4 ounces /1 stick) butter, cubed
¼ cup (2 ounces) sugar
3 medium eggs, beaten
1 egg yolk
1¾ cups (7 ounces) almond meal
Zest and juice from 1 medium lemon
1 cup (8 ounces) raspberry jam
1½ cups (4 ounces) sliced almonds, lightly toasted
Cherry halves (for decoration)
Instructions
Combine all the dough ingredients in an electric mixer fitted with the paddle attachment. Beat just until the dough comes together, less than 1 minute, then transfer the dough to a floured work surface.
Knead until the dough is smooth. Roll out the dough to a 10-inch circle, about ½-inch thick and place in a 9-inch tart pan. Cover and refrigerate.
Preheat the oven to 325°F. Rinse the mixer bowl and beat the butter, sugar, eggs, egg yolk, almond meal, lemon zest, and lemon juice until smooth, which creates Frangipane. Spread the raspberry jam on the tart dough, then spoon the frangipane filling over the jam. Smooth the top and bake for 1 hour, or until the edges are brown. Decorate with almond slices while the tart is still warm. Serve at room temperature.
Notes
Equipment: electric mixer 1 (9-inch) tart pan Time: 1 -2 hours Yield: 1 (9-inch) tart
Skills Level: Medium
Latest posts by Patricia Rain
(see all)