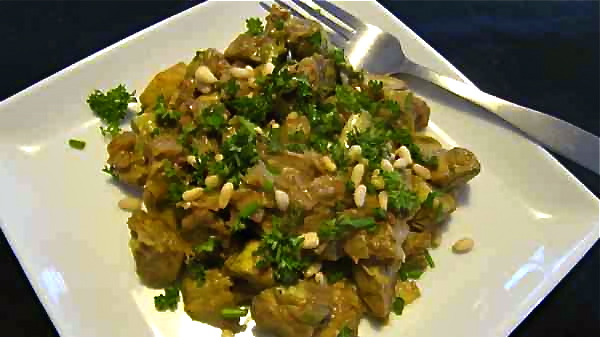 If you are fortunate enough to live where you can get the small artichokes, here's a delicious recipe for you. And if you can't get baby artichokes, check your market for frozen artichoke hearts. You can substitute two packages of frozen artichokes for the fresh ones. They won't be quite the same, but they'll most certainly be tasty.
In 1985 my first cookbook, The Artichoke Cookbook (Celestial Arts) came out and was a big hit on the Central California Coast where artichokes are grown. I did demos in markets for the Artichoke Advisory Board and on stage at the Artichoke Festivals in Castroville. This was one of the most popular recipes as the little artichokes are especially sweet and delicious. In fact, one year just before Easter, I sold a specialty food market out of the little artichokes and they sent someone off to the other markets in the region to round up more artichokes as everyone wanted to make this with their Easter roasts!
The only trick you need to know is how to properly prepare the baby artichokes. If you have them, put on a pair of thin culinary gloves. This isn't a prerequisite, but it will save your fingers and nails from being stained. You need to peel the baby artichokes by hand to the pale green and yellow leaves. The hearts are not fully developed, so there's no need to scoop out the "fuzz." Next, using a knife, cut off 1/3 of the tip of each baby artichoke and carefully go around the base and remove any remaining dark green. If the baby artichoke is on the large side, cut it in half or quarters.
In the recipe above I substituted pine nuts for the almonds. Use whichever you prefer. Pistachios would also be a nice nut to use.
Print
Artichoke Saute with Honey Mustard Sauce
2/3 cup almonds, coarse chop
5 tablespoons olive oil, divided use
24 small fresh artichokes peeled and trimmed to light green leaves and halved or quartered if necessary or 2 packages frozen artichoke hearts, thawed and drained
1/2 cup dry white wine (can use broth or water if preferred)
2 tablespoons Dijon mustard
1 tablespoon honey
1/2 teaspoon Rain's Choice pure Vanilla Extract
1 tablespoon lemon juice
2 tablespoons fresh parsley, finely chopped
2 tablespoons fresh chives, finely chopped
Sea salt and freshly ground pepper to taste
Instructions
In a large skillet or Dutch oven, saute almonds in1 tablespoon oil until crisp. Set aside.
Add 2 tablespoons oil to skillet and add artichokes. Saute until partially cooked, then add wine. Cover and allow to simmer until the hearts soften and the liquid is almost gone.
Add mustard, honey, vanilla extract and lemon juice and blend well. Taste and adjust seasonings, adding salt and pepper.
Mix in almonds, parsley chives and balance of olive oil.
Notes
This recipe makes a lovely pasta topping. Just add freshly grated Parmesan.
Look Delicious? Pin it for the world to see!
Latest posts by Patricia Rain
(see all)