It was difficult to leave Italy. It felt as if we had barely scratched the surface and there were so many more places to visit! But a ferry in Bari was waiting for us to board for an overnight ride to Patros
, then on to Athens. We arrived at the Sorrento station with a little spare time to catch the Metro to Naples. Or so we thought.
Trains sat idle on the tracks heading toward Naples; nothing coming south. Turns out a strike was called at the next station to the north and everything had ground to a halt. While it might be possible to catch a cab to the next station, there was the distinct possibility there would be a rolling strike. This was not good news as we needed to make a train in Rome at noon and the ferry before 8:00.
We quickly discovered there was an airport bus heading to Naples. Where there's an airport, there's bound to be a cab to get us to the train. There was room for us on the lovely, first-class bus, so instead of riding on the aging Metro, we toured the Coast in an air-conditioned coach. Even better, our bus stopped 10 feet from a bus to the airport so we made it with time to spare. We transferred in Rome and spent the afternoon relaxing as we rolled through mostly rural Southern Italy.
There are two ways to go from Italy to Athens; by plane or by ferry and bus. As we had Eur-rail passes, we qualified for a discount on the ferry. While it took longer, it was an adventure to travel through the Adriatic.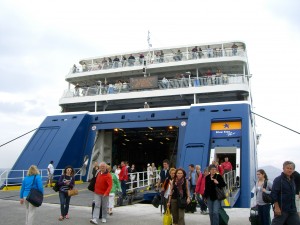 The literature touted a disco-bar on the ferry, spacious cabins and fine dining. As it turns out, our ferry had no disco and the cabins were snug. There were a fair number of choices in the cafeteria style dining room. While it hardly qualified as fine dining, the portions were large enough to feed hard-working young stevedores. But after spending most of the day on trains and buses, we didn't care. We were happy for a warm meal and a bed.
The next morning we watched as island after island appeared, some inhabited, some empty and some hardly more than an uplift jutting from the sea. The sun shone early, but as our trip continued, the skies filled with clouds. By the time we arrived in Patras around 1:00, it was threatening to rain. Of course, it never rains in Greece in late May as it's a Mediterranean country.
We caught our bus and settled in for our ride, traveling through mist, then drizzle, then rain, then a torrent. It was unclear how long we would be on the bus from Patras to Athens. Even if we had been given an itinerary, time tends to be elastic on the road.
After roughly three hours we came to a roadside stop that served Greek fast food. We were there a half-hour and, as we had no idea when we'd arrive in Athens, we ate. Twenty minutes later, we were there. And, the rain had stopped.
The view from each of the windows of our modern hotel looked
out on the Acropolis. In Greek, Acropolis means "the sacred rock" and "high city." The magnificent ruins were constructed as both a fortified citadel and as a sanctuary. First built during the Bronze Age, this remarkable site became the first temple of Athena Polias in the 8th century BC. At night, spotlights shine on the ancient marble ruins, which are now being painstakingly rebuilt with archeologists overseeing the work. There is a rooftop garden at our hotel where you can sit out in the evening and watch Athen's lights come on and gaze at this most remarkable structure rising over the now sprawling capital of more than four million inhabitants.
We were ready for a real meal. We walked a few blocks to a lovely outdoor/indoor restaurant with a domed church across the walkway and shade trees all around. We settled in to our table under a canopy when a full-on thunderstorm burst forth.
In a few minutes it was clear that this wasn't going to work, so we moved indoors. This was a good move as there was live music complete with a woman who played a drum and sang Greek songs, old and new.
The food was excellent and we felt thoroughly welcomed, first by Zeus
and his pantheon of gods, and second, by the very warm treatment we received at the hotel and restaurant. The gods continued the storms throughout the night and the Acropolis was repeatedly back lit by lightning. A dramatic introduction to Greece.
We left early the next morning for Naxos, but it's easier to first write about our time in Athens and then about Naxos.
The most popular and historical neighbourhoods of Athens are located in the city center: Syntagma, Plaka, Monastiraki, Acropolis, Thissio and Gazi. It's easy to walk as the neighborhoods run together, with narrow, winding streets, a plethora of shops, tavernas, bakeries, small groceries, funky tourist stores and tony boutiques, with the sights changing street-by-street.
We spent a warm morning at the Acropolis, hiking up from the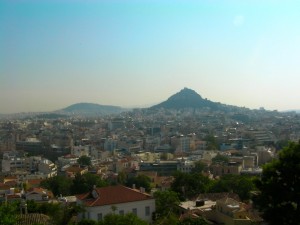 Plaka. The view from the top is exceptional; as the city is largely flat, you can see for miles. I was impressed by the number of trees and green belts throughout the city and some of the architecture is quite interesting.
There are intriguing ruins everywhere. Like Rome, the excavations are frequently one or more stories below street level. Unlike Rome, there are few markers except for the larger sites.
The Acropolis is absolutely a must-see though the earlier you go the better as it was packed even though we left around 8:00 am. Only a few years ago it was free and was open until 9:00 or so. With the massive reconstruction underway as well as financial austerity measures, there is a fee and the Acropolis closes at 2:30 or 3:00 in the afternoon.
We discovered the hard way that most of the parks and sites containing ruins, such as Hadrian's Library and the Temple of Hercules, also close early. Regardless, nearly everything is out in the open and we were at least able to walk around the perimeters.
The museums were also closed when we were there, but there is so much to see in the historical neighborhoods, that we were busy from early until late.
We had a so-so meal in a little cafe — the food was so heavily salted we could barely eat it — but I had one of my favorites: gigante beans in tomato sauce, a classic Greek dish even though the beans originated in Guatemala (they're a relative of the lima!).
We then discovered an excellent natural foods store, which became our go-to spot for healthy food. We also found a great bakery in near Syntagma Square, with too many fabulous things to choose from. I tried baked goods I'd never had before and I don't have recipes for these. However, here is my favorite recipe for Karadopita, Greek Walnut Cake. We brought our spoils back to the hotel and dined on our roof-top perch.
It was interesting to note the crossover of Greek and Italian food. I suspect this has been going on forever, but I was amused to see so many Italian delicacies — gelato being one — in Greece. A greater use of cucumbers and eggplant in Greece and also lemon juice in vinaigrettes instead of red wine or balsamic vinegar. I had also assumed that our dessert choices would be baklava and other phyllo-based desserts, but there were wonderful chocolate and cream desserts at our favorite bakery.
Syntagma Square was filled with white tents, the temporary home of hundreds of protesters. There was a police presence throughout the Plaka and Syntagma but we didn't see any violence while we were there.
While the Greeks were hurting for business and distressed about the financial situation they're faced with, we were truly impressed by the care and warmth we experienced from everyone there. And although we were told by several people back home to spend as little time in Athens as possible, I would have enjoyed at least two more days there to experience more of what this ancient city has to offer. However, Naxos was a treasure and more than made up for city life. We'll go there next.
Latest posts by Patricia Rain
(see all)