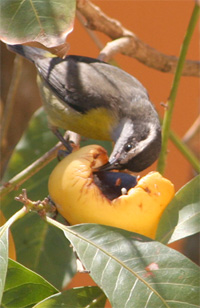 The Abiu is a member of the Sapotaceae family that originated along the Amazon of South America.  The tree averages 33 feet but can grow as tall as 115 feet.  Each tree produces up to a thousand fruits annually.  The abiu is known as the yellow star apple in Engish. (It is not related to the star fruit.)  However it has numerous names in Spanish and Portuguese: caimito amarillo, camio, luma, temare, madura verde, avio and abieiro.
When ripe, the abiu has smooth bright yellow skin and contains one to four oval seeds. The inside of the fruit is translucent white and has a creamy, jelly-like texture, with a caramel-sweet flavor.
The abiu is usually eaten fresh or made into ice cream. Its subtle flavor can easily be overwhelmed by other fruits or ingredients, so its best served plain, or in yogurt or ice cream.  It has a sticky, latex-like residue (the sapote family is related to chicle from which we get chewing gum). The wood of the abiu tree is dense, heavy and hard.
 In its native habitats the pulp is used to relieve coughs, bronchitis and other lung complaints. It is considered a good anti-inflammatory and can help stop fever and diarrhea.
Latest posts by Patricia Rain
(see all)